First Read is a morning briefing from Meet the Press and the NBC Political Unit on the day's most important political stories and why they matter
Hillary's potential governing nightmare
If Hillary Clinton beats Donald Trump on Nov. 8, the good news for her is that she will have won the White House. The bad news? She won't have much of a honeymoon -- in fact, it could look more like a governing nightmare. Let's start with the right, which is ALREADY preparing legal and congressional battles against Clinton if she wins, as NBC's Alex Seitz-Wald and Benjy Sarlin write. "You're going to still have a clamor for a serious criminal investigation of Mrs. Clinton's conduct with respect to her emails and the [Clinton] Foundation," Tom Fitton, the president of Judicial Watch, says in the article. "There's been no systematic investigation of various issues."
Related: Hillary Clinton's Victory Prize: Congressional Investigations
Then there's an emboldened left, which isn't going to give a Clinton administration any benefit of the doubt. Per the Washington Post, Bernie Sanders "said he would not stay silent if Clinton nominated the 'same old, same old Wall Street guys' to regulatory positions that are important in enacting and overseeing the financial policies he supports. 'I will be vigorously in opposition, and I will make that very clear,' Sanders said." And then there's Clinton unpopularity (40% positive, 50% negative in this month's NBC/WSJ poll), which suggests she won't get a big bounce if she wins. Add it all up, and it's a difficult governing situation.
New Bloomberg poll has Trump ahead in must-win Florida
But before we start thinking about Clinton's inauguration and presidency, she's got to win the White House first. And this morning, there's a new Bloomberg poll of Florida, which shows Trump ahead. He's leading Clinton by two-points in a four-way contest, 45%-43%, and by one point in a two-way race, 46%-45%. That's good news for Trump in this must-win battleground state. The bad news is that this poll is the first one that meets our methodological standards showing him in front since the first presidential debate. And the tea leaves on the early vote numbers suggest that the Clinton campaign is ahead of where the Obama campaign was in 2012, when Obama carried the state by one point.
Trump promoting his DC hotel, Pence campaigning in Utah -- tell-tale signs of the 2016 race?
But if Trump loses on Nov. 8, today's schedule -- 13 days before Election Day -- will be an anecdote journalists and historians will be telling for years. At 11:00 am ET, Trump participates in a ribbon-cutting ceremony at his new DC hotel before he heads to campaign in North Carolina. What's more, VP running mate Mike Pence holds a campaign rally in Salt Lake City, UT (in addition to stumping in Colorado and Nevada).
When you add the story about a Mitch McConnell-linked Super PAC throwing an additional $25 million into key Senate contests, these events probably tell you more about the current state of the 2016 race than a single Florida poll does. On "Today" this morning, Trump campaign manager Kellyanne Conway defended Trump's ribbon-cutting ceremony at his hotel, saying it shows voters the kind of president he would be. "He is someone who builds things; he is someone who fixes things." And Conway added, "Hillary has time to go to an Adele concert." Oh, there's one more interesting event in DC today: Mitt Romney is giving a keynote speech to the U.S. Chamber of Commerce at noon ET.
Has Trump's presidential bid been bad for business?
Speaking of Trump's hotel, the AP writes how the presidential race has been a drag on Trump's businesses. "Rates for rooms at Trump's new D.C. hotel are being slashed as travelers weigh their options, and smartphone data suggest fewer people are visiting his properties compared to rival venues nearby. The Republican nominee for president is in danger of losing not just the election, but something dear to a man who claims the marketing value of his name alone is worth $3 billion: the many customers, mostly wealthy, who have stayed at his hotels, played a round at his golf courses or held galas at his oceanside resorts. Experts say the Trump brand is tarnished and at a tricky crossroads as his appeal shifts from the well-heeled, high-income people he has long courted to a more middle-class base, including the fervent fans he cultivated during the campaign."
McConnell-linked Super PAC throws extra $25 million to save the Senate
As for that extra $25 million that the McConnell-linked Super PAC is spending in Senate contests, NBC's Leigh Ann Caldwell writes, "The $25 million is going to run television advertisements in six states: Nevada, Pennsylvania, North Carolina, New Hampshire, Missouri and Indiana. All seats except Nevada are held by a Republican and at risk of a Democrat winning. The news was first reported by Politico. Ian Prior, spokesperson for the super PAC, told NBC News, 'Holding the Senate in this environment is going to be tough, but if Hillary Clinton and Chuck Schumer want the majority they're going to have a hell of a fight on their hands for the next two weeks.' They would not detail who their last-minute donors are, and it's notable that the super PAC got a huge infusion of cash last month when Sheldon Adelson gave the super PAC $20 million." With all of the ad saturation in New Hampshire, North Carolina, and Pennsylvania, the best bang for the buck this new money will be in Indiana and Missouri, which aren't key presidential battlegrounds.
Team Clinton maintains 3-to-1 ad spending advantage -- and is outspending Trump by 2-to-1 margin for this week
Two weeks out until Election Day, Hillary Clinton continues to outspend Donald Trump over the airwaves by nearly a 3-to-1 margin, according to ad-spending data from Advertising Analytics. Clinton's campaign has spent almost $142 million on TV and radio ads, and outside groups have chipped in an additional $103 million, bringing Team Clinton's total to more than $245 million. That's compared with nearly $96 million for Team Trump -- $59 million from the campaign and an extra $37 million from pro-Trump outside groups. In battleground states alone, Team Clinton has outspent Team Trump, $220 million to $85 million. And in battleground states for just this week, it's Team Clinton $22 million, Team Trump $9.8 million -- a 2-to-1 margin.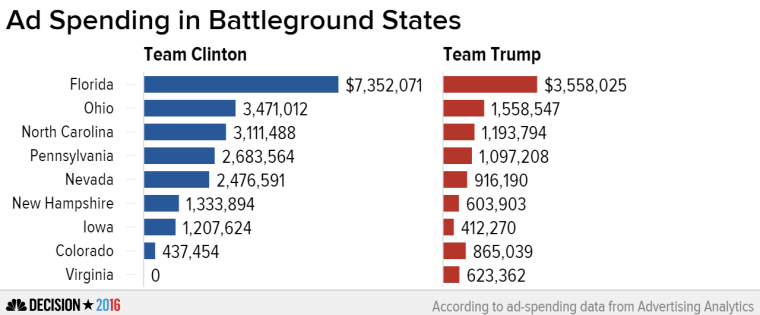 On the trail
Hillary Clinton, in Florida, campaigns in Lake Worth at 11:00 am ET and Tampa at 2:45 pm ET… Donald Trump participates in the ribbon cutting at his Washington, DC hotel and then stumps in Kinston, NC at 7:00 pm ET… Mike Pence hits Utah, Nevada, and Colorado… Tim Kaine is in Pennsylvania… And Bill Clinton stumps in North Carolina.
Countdown to Election Day: 13 days