WASHINGTON — The Tuesday after Labor Day came the Bob Woodward book, which portrayed the Trump White House — once again — as chaotic, confusing and a place of infighting and name-calling. And Wednesday brought us that anonymous New York Times op-ed from a senior administration official, who said that Trump is amoral, erratic and ill-informed.
"The dilemma — which [Trump] does not fully grasp — is that many of the senior officials in his own administration are working diligently from within to frustrate parts of his agenda and his worst inclinations. I would know. I am one of them," the anonymous official writes.
After these back-to-back revelations, it's hard to disagree with conservative columnist Ross Douthat: Trump has lost control of his White House – and he's weak. "Some of that weakness is invisible because we simply take it for granted; it's just part of the scenery, for instance, that this White House has no legislative agenda, no chance of advancing any policy priority on the hill, barely two years into the president's first term. Some of the weakness shows up in his attempts to play the tough guy. The child-separation policy, for instance, was abandoned scant days after it was publicized, because the president lacked the support within his own party and within his own White House to actually see a draconian measure through."
But it's also hard to disagree with Douthat's conclusion that Trump's weakness could turn out to be dangerous. (Remember, Trump hates the perception of weakness.) Is Trump trapped in a cage (by his own staff)? Or can what's in a cage eventually get out?
The only reason we're not in a constitutional crisis right now is that the current Congress doesn't want to participate. But what happens if/when that changes?
"Volcanic" Trump lashes out at staff
"President Donald Trump, forced to contend with the possibility that a senior member of his administration, along with others, may be trying to undermine his authority, erupted in private on Wednesday, according to multiple aides and allies familiar with his thinking. They described his mood as 'volcanic,'" NBC's Hallie Jackson, Kristen Welker and Peter Alexander report. "[T]hose close to the president said he was enraged by both the book and the anonymous opinion piece, and one senior administration official expressed anger at the 'betrayal' by an unnamed colleague."
"Some close to the president speculated the story could add fuel to the president's ongoing battle with the media. Trump is "not just furious with the person (who wrote it) but furious The Times would run an unsigned op-ed," said one person close to the White House."
Yesterday, Trump fired off this tweet: "TREASON?" And another: "Does the so-called 'Senior Administration Official' really exist, or is it just the Failing New York Times with another phony source? If the GUTLESS anonymous person does indeed exist, the Times must, for National Security purposes, turn him/her over to government at once!"
And this morning, Trump wrote: "The Deep State and the Left, and their vehicle, the Fake News Media, are going Crazy - & they don't know what to do. The Economy is booming like never before, Jobs are at Historic Highs, soon TWO Supreme Court Justices & maybe Declassification to find Additional Corruption. Wow!"
Brett Kavanaugh had a very bad day yesterday
The best thing that happened to Brett Kavanaugh was that anonymous op-ed. Why? Because had it not come out, the top political story in America this morning would be his rough day on Capitol Hill yesterday.
Per Politico, "Nearly 12 hours into Brett Kavanaugh's Senate confirmation hearing, Kamala Harris opened with a tantalizing query: Has the Supreme Court nominee ever discussed Robert Mueller's probe with a lawyer at Kasowitz Benson & Torres, President Donald Trump's longtime law firm? 'Be sure about your answer, sir,' Harris asked Kavanaugh. Trump's high court pick appeared nonplussed, responding that 'I'm not sure I know everyone who works at that law firm,' but the California Democrat – a veteran prosecutor known for her tenacious questioning and high on her party's 2020 presidential short lists — would not let up."
"'How can you not remember whether you've had a conversation about Robert Mueller or his investigation with anyone at that law firm?' Harris asked, suggesting that Kavanaugh was 'thinking of someone and you don't want to tell us.'" More from Politico: "Harris offered no further context for her line of questioning with Kavanaugh, which suggested that he may have discussed an investigation affecting Trump with Trump-connected lawyers but lacked any solid proof."
How Harris' line of questioning eventually plays out might be as important for her (and her 2020 future) as it is for Kavanaugh.
NBC/Marist poll of Indiana: Donnelly leads by 6 points
One of us writes: "Democratic Sen. Joe Donnelly has a slight advantage over Republican challenger Mike Braun in Indiana's closely watched Senate contest, according to a new NBC News/Marist poll. In a head-to-head race, the poll finds Donnelly with the support of 49 percent of likely voters, compared with 43 percent who back Braun. Among all registered voters, it's a similar margin — 48 percent for Donnelly and 42 percent for Braun.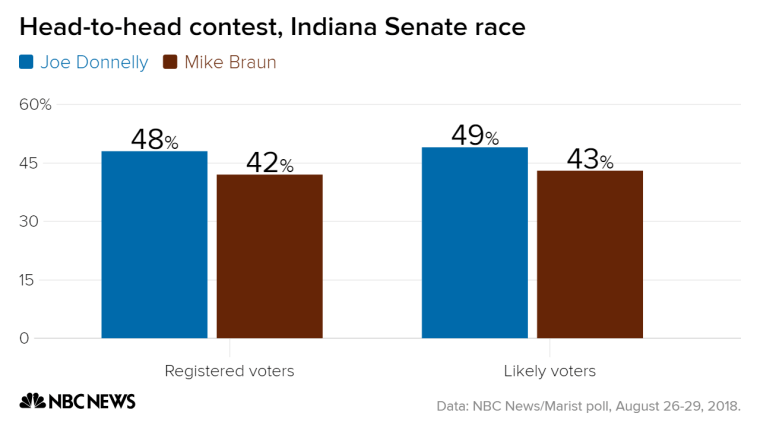 Donnelly ... has long been considered one of the most vulnerable Democrats in the chamber. And Trump remains above water in the state with likely voters now, with the poll finding his approval at 48 percent approve, 46 percent disapprove… But the poll also shows that Donnelly is being buoyed by relatively favorable personal ratings among Indiana voters. His favorability rating with likely voters stands at 48 percent positive, 31 percent negative. That includes a favorable rating of 79 percent among all Democrats who are likely voters, 50 percent of independents and 24 percent of Republicans."
We will be releasing one more NBC/Marist poll later today…
It's Primary Day in Delaware. Can Carper hang on to his job?
After Ayanna Pressley's primary victory in MA-7 over incumbent Rep. Mike Capuano, D-Mass., the political world will see if there's an even BIGGER upset in Delaware today, when incumbent Sen. Tom Carper, D-Del., faces off against challenger Kerri Harris.
"An Air Force veteran, Ms. Harris, 38, is running to Mr. Carper's left, arguing that his penchant for conciliation and his willingness to accommodate Delaware's financial service and pharmaceutical industries is wildly out of step with the expectations of the restive left," per the New York Times. "Yet even as Mr. Carper tries to accommodate his party base, he and other moderate Democrats here are plainly uneasy about the implications of Ms. Harris's candidacy. They fret out loud that if such primary threats grow routine in both parties, the demands for ideological purity will only worsen the gridlock in Washington."
If Carper loses today, it won't be because he didn't see this coming…
Some shady stuff in VA-2
"In a ruling with potentially serious ramifications for the re-election campaign of Rep. Scott Taylor, R-2nd, a judge on Wednesday found 'out-and-out fraud' in signatures Taylor's campaign staff gathered to help get an independent spoiler candidate on the ballot," the Richmond Times-Dispatch says.
"Richmond Circuit Judge Gregory L. Rupe ruled that independent Shaun Brown should be removed from the 2nd Congressional District ballot. Campaign staffers for Taylor helped gather signatures required to get Brown on the ballot. Investigations by news media and the Democratic Party showed forged signatures, including from voters who had died or no longer lived in the congressional district."