The Justice Department on Monday filed a lawsuit against Texas and its Republican governor for placing buoys in the Rio Grande as part of the state's effort to deter migrants from crossing into the United States.
The suit said Gov. Greg Abbott violated federal law by installing the barrier and asked a judge to order the defendants to "promptly remove the unauthorized obstruction" at their own expense.
The lawsuit cites the Rivers and Harbors Appropriation Act of 1899, which bars the "creation of any obstruction not affirmatively authorized by Congress, to the navigable capacity of any of the waters of the United States."
It also alleges that Abbott had failed to obtain a permit through the U.S. Army Corps of Engineers before installing the barrier in the Rio Grande as required by federal law.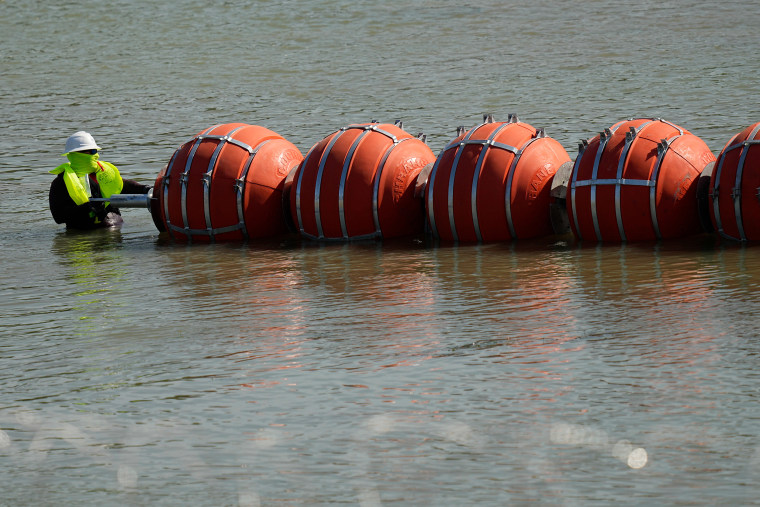 The governor's office did not immediately respond to a request for comment on the lawsuit, which comes after the Justice Department on Thursday notified Abbott of its intent to sue unless Texas acted to remove the buoys by Monday afternoon, arguing that the barrier endangered public safety and could obstruct the federal government's official duties, among other concerns.
Earlier Monday, Abbott sent a letter sent to President Joe Biden accusing him of attempting to hamstring his state's "sovereign interest" in securing its border.
"In a late-night letter sent to me last Thursday, your lawyers at the Department of Justice threatened to sue the State of Texas over the floating marine barriers we have deployed in the Rio Grande River in Eagle Pass," Abbott wrote. "Texas will see you in court, Mr. President."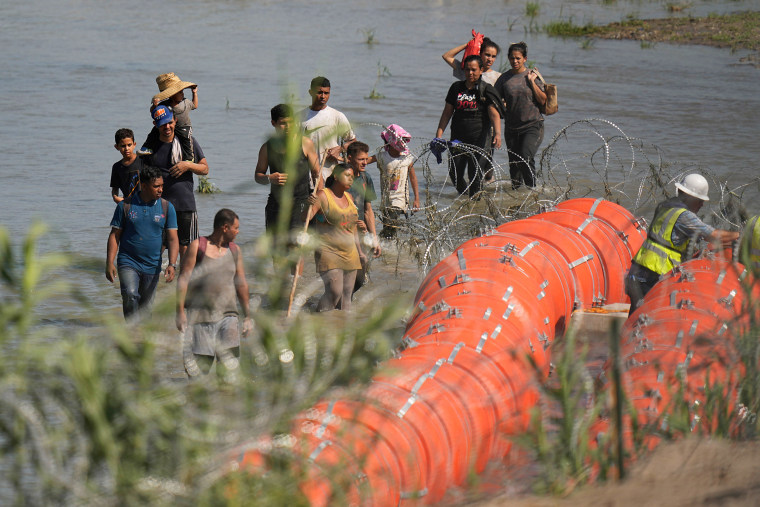 Abbott also argued that Rivers and Harbors Appropriation Act doesn't apply to Texas' actions, adding that while he shares the administration's concern for migrants' welfare, Biden's "finger points in the wrong direction."
"Neither of us wants to see another death in the Rio Grande River," Abbott wrote. "Yet your open-border policies encourage migrants to risk their lives by crossing illegally through the water, instead of safely and legally at a port of entry. Nobody drowns on a bridge."
When reached for comment about Abbott's letter, a spokesperson for the Justice Department's Environment and Natural Resources Division pointed to Monday's lawsuit and declined further comment.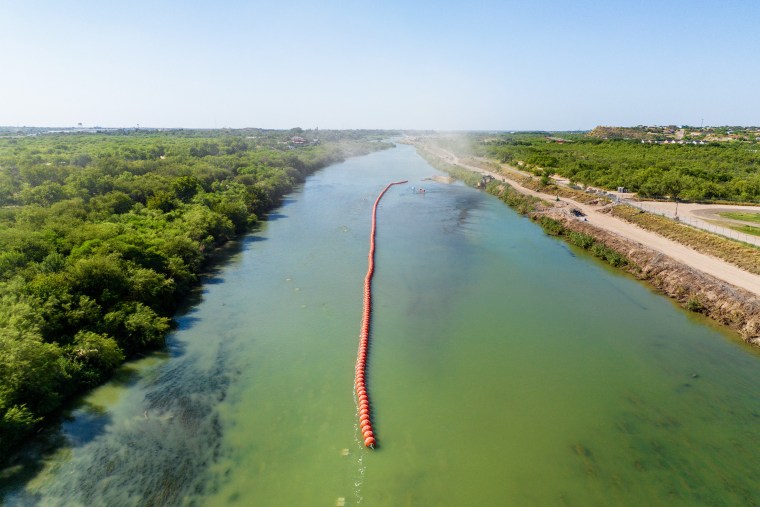 White House spokesman Abdullah Hasan defended Biden's border policies in a statement, arguing Abbott's "dangerous and unlawful actions are undermining that effective plan." Hasan said such actions were "making it hard for the men and women of Border Patrol to do their jobs of securing the border, and putting migrants and border agents in danger."
Vice President Kamala Harris also blasted Abbott and immigration enforcement in his state, which a Texas trooper has said included orders to push nursing women and young children back into the river and denying them water in scorching heat.
"Across our nation, extremist so-called leaders demonize, target, and attack immigrants," Harris said Monday at an annual conference for the Latino civil rights and advocacy group UniDos, where she called the actions in Texas "inhumane, outrageous, and un-American."
Briefing reporters on Monday before the lawsuit was announced, White House press secretary Karine Jean-Pierre accused Abbott of "sowing chaos" and staging inhumane "political stunts."
"He's actively undermining our border enforcement plan," she said, adding that illegal border crossings are at their lowest level since Biden took office.
Abbott is "not operating in good faith here," she added.
The Texas governor has previously made immigration policy a focal point of his administration. Last month, Abbott sent 42 migrants by bus to Los Angeles and touted in a statement the transport of more than 21,000 migrants from Texas to cities across the country since last year — an effort that he said provided "much-needed relief" to the state's small border towns.
The DOJ's letter to Texas last week asked officials to respond by 2 p.m. ET on Monday with an indication that the state planned to "expeditiously remove" the buoys. If Texas did not provide such a response, "the United States intends to file legal action," the letter said.
Abbott, in his response, made clear that he did not intend to comply with the DOJ's request.
"Texas will fully utilize its constitutional authority to deal with the crisis you have caused," Abbott said.
CORRECTION (July 24, 2023: 8:10 p.m. ET): A previous version of this article misstated when the Justice Department first threatened to sue Texas. It was in a letter on Thursday, not Friday.