The 1,000-foot string of buoys that the state of Texas placed in the Rio Grande to deter migrants began as a Trump administration idea and may be a precursor of policies to come if Trump or another immigration hardliner is elected president, three former Trump officials said.
In early 2020, Rodney Scott, who had just become chief of the U.S. Border Patrol, heard about buoys being used in other countries as barriers to protect ships in harbors. Soon after, Scott told NBC News, he began reviewing applications from contractors who could create a similar system along the Pacific coast in San Diego and along the Rio Grande.
Scott deployed the members of the Border Patrol's special operations team to test buoys, first in a pool and then in an "operational setting" much like what they would encounter in the field.
"Our guys would go up to it, jump on it, hit it," Scott said.
They soon realized, he said, "It's a deterrent. We were sold."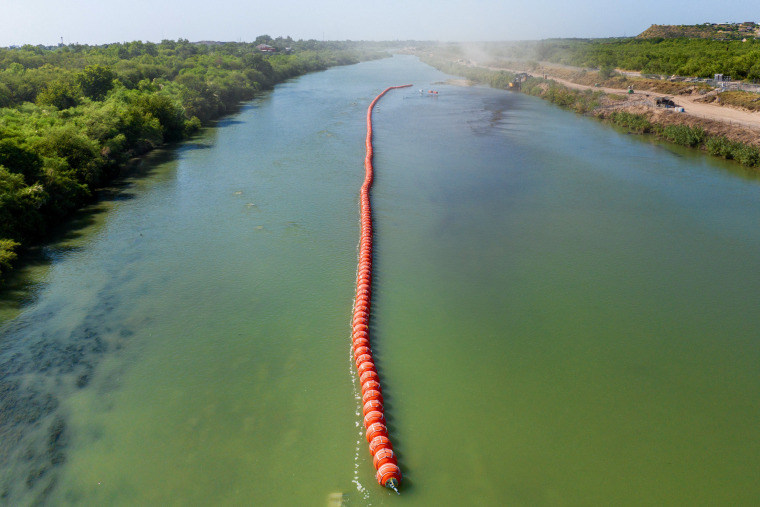 They decided to use flat "spin discs" between the buoys to keep migrants from climbing between them. They decided against using buoys or discs with spikes and barbs, although that equipment was available from vendors they researched. 
"We needed to make sure [migrants] couldn't get across or climb on them," Scott said. "We elected to go with something that was uncomfortable to touch, but did not lead to injuries."
The Biden administration recently sued Texas over its use of a buoy system near Eagle Pass, saying it raises humanitarian concerns, poses a risk to public safety and is in violation of the federal Rivers and Harbors Act. The government of Mexico said Texas is violating its sovereignty by placing the buoys in a river that borders both countries.
A former Border Patrol official who retired before Scott's tenure spoke to NBC News on condition of anonymity and said the buoy system had been talked about but never considered as seriously as the border wall because of concerns it might violate a treaty with Mexico.
"We weren't sure we could put something in the water," the former Border Patrol official said. "We just wanted to acquire land and build a [land] barrier in accordance with the treaty."
But by 2020, Scott said, the idea of a floating barrier was particularly appealing in Texas because it helped the Border Patrol address a problem that had hampered efforts to build more wall in the state: Much of the border land is privately owned.
By building a barrier in the river, they could get around that problem. It was also faster to construct than the wall. 
"We thought it might be the long-term solution," said Scott.
In March 2020, as the Covid pandemic changed the world and the ways of doing business, Customs and Border Protection paused the project, Scott said.
And when restrictions began to lift that would have allowed the construction of buoys to begin, Scott said, Biden had been elected and was promising to cancel wall construction.
So Scott and his staff at the Border Patrol put the idea on hold. But one member of his staff, Mike Banks, joined the office of Texas Gov. Greg Abbott as the state's new "border czar" in January 2023.
Banks continued Abbott's Operation Lone Star, pulling the state's National Guard and state troopers to the border to assist the Border Patrol.
According to Scott and two other former Trump officials, Banks was also able to bring some of the "tactical" ideas of the Trump administration, including border buoys, into Abbott's office and begin executing them at the state level.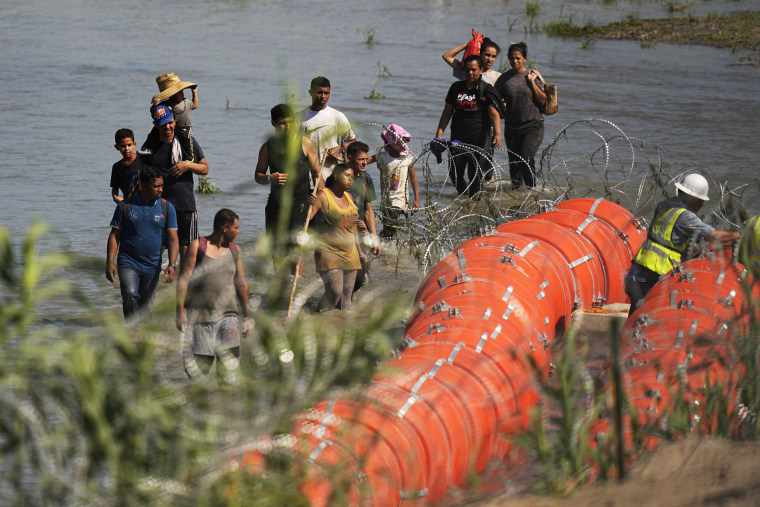 Earlier this month, two migrants were found dead after drowning in the Rio Grande near the buoys. Mexico blamed the buoy system for the deaths, but Abbott shot back in a statement, saying that was "flat out wrong" and that the migrants perished away from the buoys and one body had drifted into the barrier.
Scott said Abbott's use of the same model he developed at Border Patrol is intentional. With Banks at the helm of Operation Lone Star, all border barriers, whether they be on land or water, are designed to be expanded upon by a future administration that believes they should be in place, Scott said.
The Texas Department of Public Safety, which placed the buoys in the river, declined to comment. Abbott's office did not immediately respond to a request for comment.