REHOBOTH BEACH, Del. — Almost as soon as Donald Trump was officially hit with a new federal indictment, Joe Biden was ready to go nuclear.  
Before he could catch a 6:30 p.m. showing of "Oppenheimer," the blockbuster summer movie about the development of the first atomic bomb, the president and the first lady settled in for a quick early dinner Tuesday night.
As special counsel Jack Smith was addressing the nation, accusing the former president of trying to steal the election from the current president, Biden was seated across from his wife in a booth at a seafood restaurant waiting for their entrees.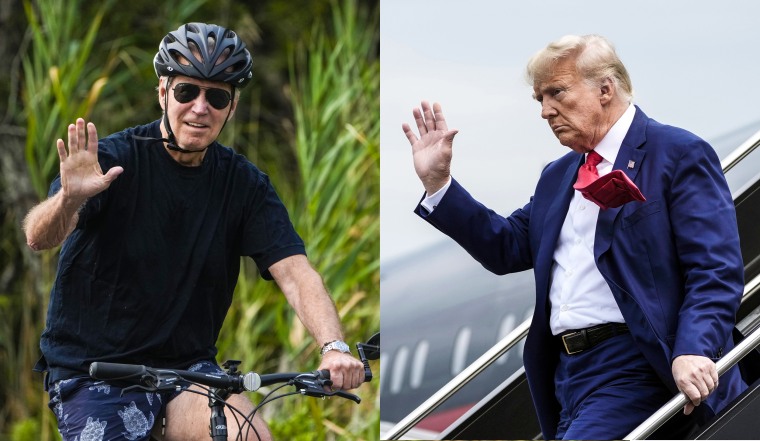 Summer vacations have at times invited unwelcome split screens for Biden and his predecessors, as unforeseen events demand attention just as a president hopes to step out of the spotlight. 
But whether unintentionally or by design, Biden's vacation agenda — bike rides, walks on the beach and, yes, even a date night — have served to illustrate what the White House has said repeatedly: Biden is far removed from the process being carried out by a Justice Department he technically oversees. 
Advisers were well aware that, as the Bidens were about to leave their oceanside retreat for what would be an hourslong date night outing, another Trump indictment was imminent. 
Biden's motorcade left his oceanside vacation home at 5:26 pm on Tuesday and was driving along Delaware's Route 1 when Smith's office issued a press release alleging that Trump "attempted to, and did, corruptly obstruct and impede" the counting of electoral votes making Biden's victory official. 
Biden's campaign and his White House quickly issued "no comments." But, as the first couple was dining at Matt's Fish Camp — which describes itself as "a relaxed seafood spot" featuring local dishes like its famous lobster Cobb salad — Trump's campaign issued its blistering response: "The lawlessness of these persecutions of President Trump and his supporters is reminiscent of Nazi Germany in the 1930s." 
From there it was just up the road to Movies at Midway for a screening of "Oppenheimer." From the seventh row, among a couple dozen other moviegoers, Biden watched the three-hour film that didn't quite offer a full escape from his day job. Beyond just the weighty subject matter, settings included (spoiler alert!) the Oval Office as well as a confirmation hearing featuring senators like Warren Magnuson and Gale McGee, whom Biden called colleagues years after the scenes depicted. 
"It was compelling," Biden told reporters after leaving the theater.
That was one of a small handful of matters Biden chose to comment on this week. Wednesday, after spending some time on the beach on a brilliant summer day, he also offered this: "Hard to complain about this weather."
Biden advisers have long felt that an underappreciated part of his political appeal in 2020 was a contrast with Trump that went well beyond policy and party. They argue that this contrast in style will also work in 2024 — that as Trump continues his wrecking-ball approach to national politics, Biden has been heads down, more often behind the scenes and focused on implementing his agenda.
Last week, a fellow Democrat put it another way, saying Biden was focused on "normal" Americans while many in Washington were playing to "weirdos."
The split screens continued on Thursday. While news outlets captured every moment of Trump's journey to Washington for his arraignment, the only actual glimpse of the president was another early morning bike ride. 
When the 45th president of the United States emerged in public view Thursday, he was wearing a dark suit and his trademark bright red tie. The 46th president was seen earlier sporting a helmet, aviator sunglasses and a bathing suit with turtles on it.
A reporter in the press pool asked Biden if he would stop to take questions from them on the momentous day. Biden answered dryly: "Probably not." 
And the contrasts weren't limited to the two leaders themselves. While Trump's social media feeds were full of attacks on Biden and the legal fight, Biden's presidential Twitter account included posts about "Bidenomics" and the United States assuming the presidency of the United Nations Security Council. His campaign account did offer a more subtle troll of a video of the president drinking from a "Dark Brandon" mug, a beloved Democratic meme — co-opted from what was originally a GOP insult — depicting an edgier alter ego of Biden with red lasers for eyes. 
"I like my coffee dark," Biden says in the video. 
Not long after, just before 2 p.m., the White House called a lid — Biden would not be seen at all the rest of the day.