WASHINGTON — A former California police chief who called for the execution of Donald Trump's political enemies after the 2020 election and spread conspiracy theories about Jan. 6 after having taken part in the Capitol attack was found guilty of four charges Thursday.
Alan Hostetter, who was arrested in June 2021, was found guilty of conspiracy to obstruct an official proceeding, obstruction of an official proceeding, entering or remaining on restricted grounds with a deadly or dangerous weapon, and disorderly or disruptive conduct on restricted grounds with a deadly or dangerous weapon.
Hostetter, U.S. District Judge Royce Lamberth found, possessed a hatchet when he joined the mob that broke police lines, saying he didn't believe Hostetter's claim that he didn't have the hatchet on Jan. 6, 2021, because it was stolen out of his truck.
"Mr. Hostetter has a right to believe whatever he likes about the 2020 presidential election and to voice those opinions," Lamberth said, according to notes prepared for his oral ruling that were filed on the court docket. "But the First Amendment does not give anyone a right to obstruct or impede Congress by making it impossible for them to do their jobs safely. And it certainly does not give anyone a right to enter a restricted area while carrying a dangerous weapon."
Hostetter "has not presented any evidence that could make out an entrapment defense on the theory that the January 6 riot was a staged event," Lamberth said.
Hostetter was a pro se defendant, meaning he represented himself with the assistance of standby counsel. Two other pro se defendants were also on trial this week in other courtrooms in the Washington federal courthouse: Brian Mock was found guilty on all 11 charges he faced, while "Jesus Christ Superstar" actor James Beek was acquitted on all charges.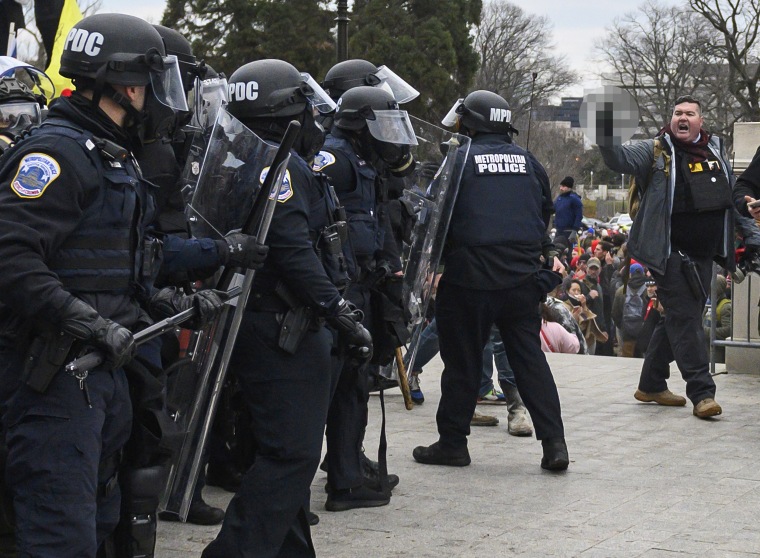 Hostetter's bench trial, which unfolded over two weeks, featured testimony from Russell Taylor, one of his co-defendants. Other defendants asked to be severed from the case and tried separately after Hostetter filed a series of conspiracy theory-laced court filings that invoked John F. Kennedy's assassination to the Sept. 11 attacks to Tucker Carlson's departure from Fox News.
"My opinion is that the entire thing was staged," Hostetter said at the trial.
Taylor pleaded guilty in April and testified as part of a plea agreement with federal prosecutors. Hostetter questioned Taylor about whether he was surprised that the Capitol wasn't better secured; Taylor said he was.
Hostetter recorded a video after the 2020 election saying "traitors need to be executed" and repeatedly promoted Jan. 6 as a day when self-proclaimed "patriots" could make their last stand.
"Some people, at the highest levels, need to be made an example of: an execution or two or three," Hostetter said in a video in November 2020. "Tyrants and traitors need to be executed as an example so nobody pulls this s--t again."
More than 1,000 people have been charged in connection with the Jan. 6 attack, and hundreds more have been identified by online sleuths but haven't been arrested. The total number of people who could be charged in connection with the attack surpasses 3,000, according to sources close to the investigation.