A Connecticut politician who admitted to an NBC affiliate last year that he entered the U.S. Capitol during the Jan. 6 attack now faces federal charges.
Derby, Connecticut, Alderman Gino DiGiovanni appeared in federal court Tuesday afternoon in New Haven and turned himself in, NBC Connecticut reported.
DiGiovanni, who is the Republican nominee for mayor, was charged with four misdemeanor counts: two counts of entering a restricted building, one count of disorderly conduct inside a Capitol building, and one count of parading, demonstrating or picketing inside a Capitol building.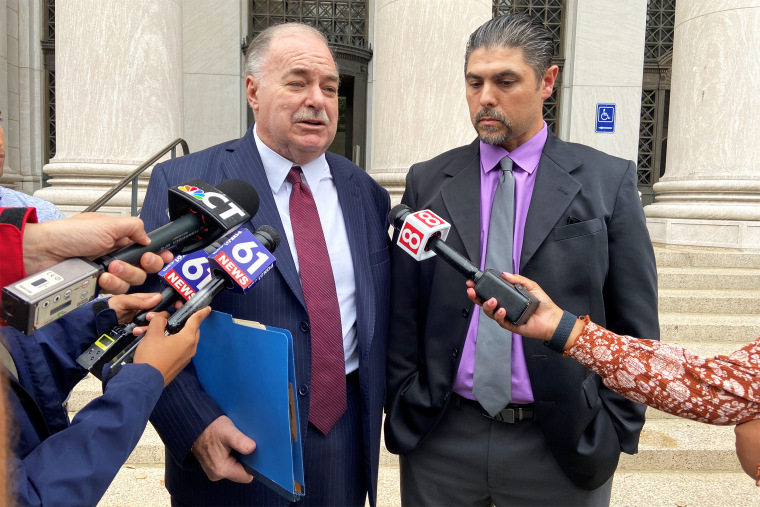 Most defendants who entered the Capitol and didn't engage in any aggravating conduct have been charged with four misdemeanor counts. About 1,100 defendants have been charged in connection with the Capitol attack, and more than 300 have been sentenced to incarceration.
Online sleuths known as "Sedition Hunters," who have identified hundreds of participants in the attack on Jan. 6, 2021, tipped off NBC News about DiGiovanni, who was wearing a "DiGiovanni & Sons" jacket when he entered the Capitol unmasked.
"I was there, I went inside there, and, you know, I didn't damage or break anything," DiGiovanni told NBC Connecticut last year.
DiGiovanni isn't the only Republican candidate to be charged in connection with the Capitol attack. Last month, former Michigan governor's candidate Ryan Kelley pleaded guilty to a misdemeanor count of entering and remaining on restricted grounds. He will be sentenced in October.
DiGiovanni said last year that he was "going to have to deal with that" if he got a call saying he would be charged.
"I wouldn't want to be arrested for it," DiGiovanni said last year. "I guess hindsight is 20/20."