WASHINGTON — From music festivals to sporting events, the cancellations that have accompanied the spread of COVID-19 seem likely to give a shock to the economy — or at least important parts of it.
While the anger of fans and devotees of events such as the NCAA Basketball Tournament or the SXSW Festivals has made headlines, the real-world economic impacts for communities around the country may be dramatic. And when you add up all the cancellations there are signs a major economic hit is coming, with the biggest hits falling on people who are likely not well-equipped to handle them.
Start with some of the biggest headlines in the last few weeks, the major sporting events and festivals that have already been put on ice.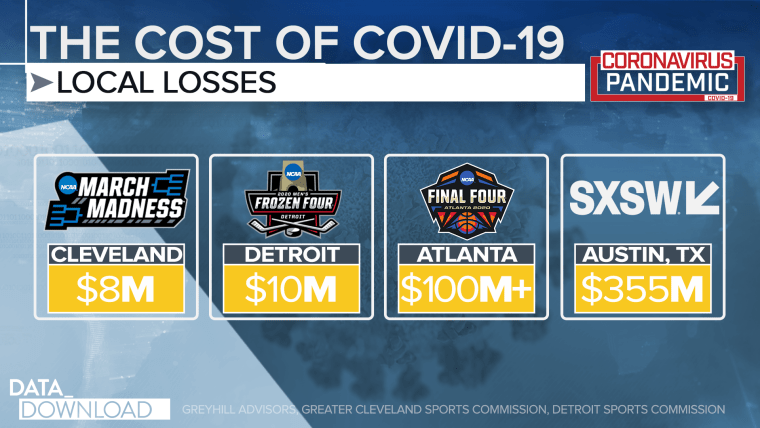 The massive SXSW festival in Austin, Texas brought in about $355 million to the area in 2019 according to an analysis by the firm Greyhill Advisers. That's a lot of empty hotel beds and meals not served this year.
The Final Four for the NCAA was supposed to bring more than $100 million into Atlanta in early April. And those are just for the semifinal and championship games. Across the country, there were other cities that were going to host first and second-round games — Albany, Cleveland, Greensboro, Omaha, St. Louis, Sacramento, Spokane and Tampa. In Cleveland they estimated the city would derive $8 million from the event, so figure similar hits in those other cities.
And in Detroit, the NCAA's hockey equivalent, the Frozen Four, was estimated to bring in about $10 million to the area with a few small NCAA events, all of which are canceled.
The losses of those events, and countless others, are about more than performers or coaches and league officials not getting paid. There are a lot of ripple effects — fewer drinks being poured at bars, fewer cabs rides around town
One place the virus impacts are already clear is in air travel. No events mean no need for transportation to those events.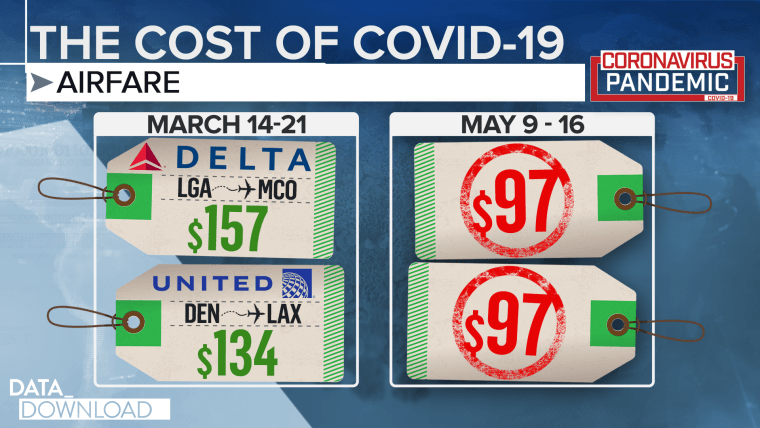 A look at some a random selection of flights on Friday found some very low fares. Looking to go somewhere warm from New York? On Friday afternoon, roundtrip airfare from LaGuardia to Orlando from Saturday to Saturday was $157 on Delta. If you wanted to fly in two months, the roundtrip fare from May 9 to May 16 was only $97.
There were similar fares for other routes. Chicago to Dallas (on American) and Denver to Los Angeles (on United or Delta) were also both $97 if you traveled roundtrip May 9 to May 16.
Those are great deals if you're looking to fly, but those are also deep cuts for airlines to take in their fares. Those numbers over a prolonged period of time are going to have serious impacts for airlines. Flight schedules have already been slashed to levels even lower than they were after the September 11, 2001 terrorist attacks. That means fewer days of work for pilots, crews and mechanics. Unpaid leave is already being discussed.
And then there are the hotels where people stay in those places. The numbers this week showed cancellations were already spiking, according to the site Knowland.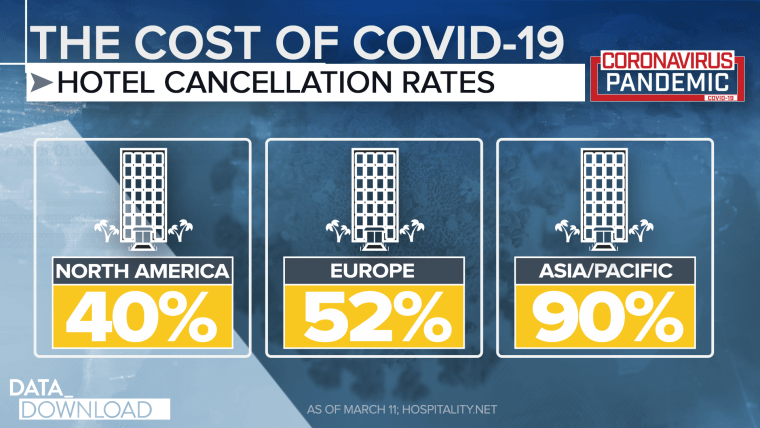 In Asia, where the pandemic has been a story for much longer, the cancellation rate of hotel rooms over the next few months is 90 percent. In Europe the figure is just over 50 percent. And here, in the United States, the cancellation rate is about 40 percent — or it was as of March 11. That's compared to a rate after July 1 of only about 20 percent.
Those are steep drops and they likely mean fewer people needed to clean rooms or work in hotel kitchens or at front desks.
When you add all those declines together and factor in a timetable no one yet truly knows, the economic picture — macro and micro — looks challenging to say the least. And remember, none of this adds in the impacts of the suspended NBA, NHL or Major League Baseball seasons. That will bring drops in revenues in neighborhood bars and restaurants every game day.
Also missing here are all the impacts of workers telecommuting to their jobs. That means fewer work lunches and fewer cups of coffee being purchased. The workers at those establishments, in turn, have less to spend in their pockets.
The point is these impacts can grow remarkably fast.
And with all that in mind, remember this figure: $25,580. That's the mean annual income for a worker in the Food Preparation and Serving Related Occupations for 2018, according to the U.S. Census.
There were a lot of eyes on the stock market this past week and a lot of complaints about 401(k) plans. But the numbers here show how far-reaching the coronavirus outbreak could be and how quickly the impacts could be felt — all in a year with a presidential race.
The COVID-19 story is first and foremost about the health and well-being of Americans, but its impacts seem likely to extend into other areas long after the virus is eventually tamed.