WASHINGTON — President Donald Trump is conducting a "purge" of the intelligence community, the ranking Democrat on the Senate Intelligence Committee says in a letter obtained by NBC News that echoes concerns raised by his House counterpart.
In the letter to Richard Grenell, the acting director of national intelligence, Sen. Mark Warner of Virginia expresses dismay about the recent firing of the inspector general of the intelligence community. That move came on the heels of Trump's ousting of the director of national intelligence and his deputy, along with the head of the National Counterterrorism Center and his deputy.
"You explicitly committed to us that you were undertaking a review of ODNI, but that we should '[R]est assured that this review is not an effort to purge ... the ODNI, as some have erroneously suggested,'" Warner wrote in the letter, dated Thursday. "However, a mere 10 days later, that is exactly what is occurring."
Warner asked Grenell whether Trump consulted with him about the firing of Michael Atkinson, the intelligence community's inspector general, or ICIG, which the president later said was due to Atkinson's handling of the whistleblower complaint that sparked his impeachment.
Click here to read Warner's letter
"By his actions and the reforms he had undertaken at the office of the ICIG, Mr. Atkinson demonstrated an unwavering commitment to empower those who witness potential waste, fraud, or abuse, to come forward," Warner wrote. "His firing now leaves no Senate-confirmed leaders in the Office of the Director of National Intelligence. What message do you believe this conveys to the American people in terms of the importance of leading and overseeing intelligence in support of our national security?"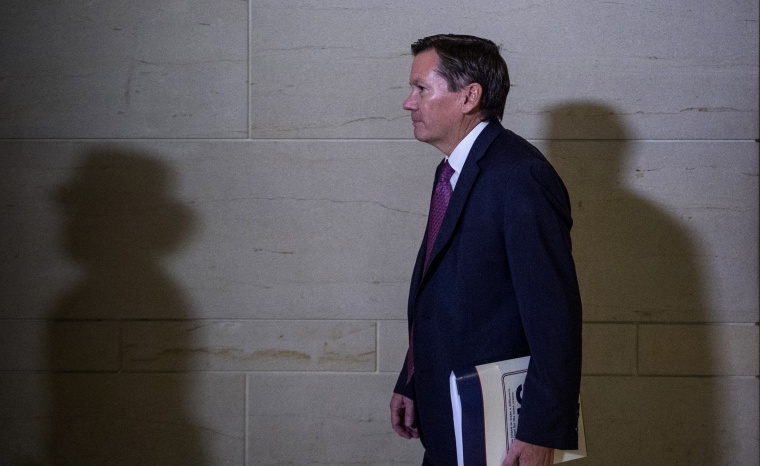 On Tuesday, House Intelligence Committee Chairman Adam Schiff, D-Calif., sent Grenell a similar letter, accusing him of "undermining critical intelligence functions."
Click here to read Schiff's letter
Schiff asked Grenell whether the termination of Atkinson was intended to impede any ongoing investigations.
An ODNI official said, "The letter has erroneous assumptions and we look forward to responding."