Drunken rants, flamethrowers, dead canaries and newfangled pants.
No, that's not a summary of deleted scenes from "The Hangover."  It's a list of some of the more interesting highlights from our nation's rich history of past presidential inaugurations.
Besides the pomp and circumstance, the inauguration -- with its associated balls and parades -- is a logistical puzzle, complete with all the potential chaos that comes with organizing a heavily attended event in wintertime, in a swamp of an East Coast city.
Recommended - Inauguration playlist: Jam to Beyonce, Kelly Clarkson and more
From mishaps to glory, here are a few pieces of inaugural trivia you can use to impress your friends and neighbors.
** As vice president, an ill Andrew Johnson became so intoxicated on the day of Lincoln's inauguration that he gave a rambling speech about himself before becoming too confused to perform his duty swearing in the new senators. "The inauguration went off very well except that the Vice President Elect was too drunk to perform his duties & disgraced himself and the Senate by making a drunken foolish speech," wrote Sen. Zachariah Chandler of Michigan at the time.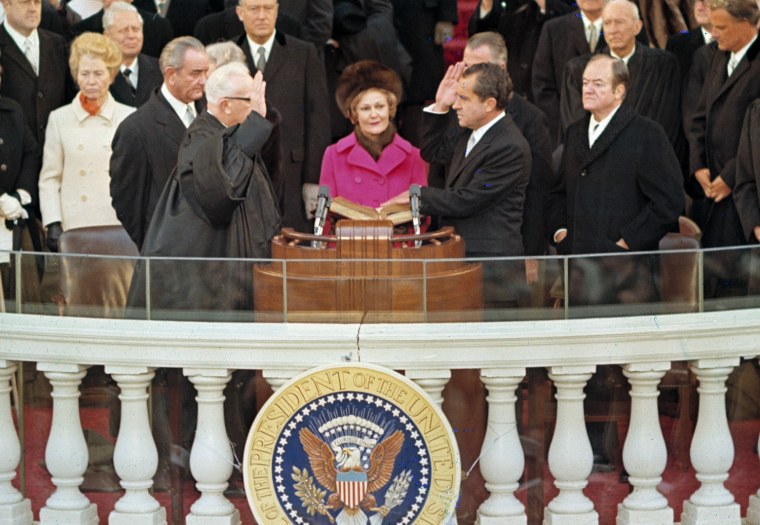 ** Good trivia: First president of the United States who was not born a British subject? Martin Van Buren, inaugurated 1837.
** Even better trivia: First president to wear long trousers instead of knee breeches? John Quincy Adams, 1825.
** At the very first inauguration in 1789, the Bible used by President George Washington was hastily opened to Genesis 49:13, which reads, "Zebulun shall dwell at the haven of the sea; and he shall be for an haven of ships; and his border shall be unto Zidon."
** In 2009, President Barack Obama used the Lincoln Bible, used by Abraham Lincoln at his presidential inauguration. The book, published in 1853, has 1,280 pages.
** For John F. Kennedy's inauguration in 1961, a morning snow left an accumulation of about eight inches. Army flame throwers were used to clear it from Pennsylvania Avenue.
** The estimated temperature at Ronald Reagan's first inaugural was a balmy 55 degrees Fahrenheit. At his second, it was a frigid seven -- the coldest inauguration on record -- and the ceremony had to be held inside.
** At another chilly celebration, in 1873, guests at President Ulysses S. Grant's ball had to dance in their coats because the temporary structure built for the occasion was so frigid. Champagne became Slurpee-like in consistency, and the flock of canaries brought in for guests' enjoyment ended up freezing to death.
** After the assassination of Abraham Lincoln, Andrew Johnson was sworn in at his residence at the Kirkwood House on Pennsylvania Avenue. The site is now a high-rise.
** After Kennedy was assassinated, Lyndon Johnson took the oath of office on Air Force One. It was the first time the presidential or vice presidential oath of office was administered by a woman, U.S. District Judge Sarah T. Hughes.
Related: Watching the presidential inauguration with NBC News
** The first televised inaugural ceremony was Harry Truman's in 1949. The first broadcast nationally by radio was Calvin Coolidge's in 1925. The first known photographs from an inauguration were in 1857 at the ceremony for James Buchanan.
** The tradition of inaugural balls is traced to the first one thrown for James and Dolley Madison. Tickets to the 1809 gala, held at Long's Hotel, were $4 apiece. 
** A grand ball for James Buchanan in 1857 included 400 gallons of oysters, 75 hams and $3,000 worth of wine. (That's more than $70,000 in today's money.) 
Sources: Joint Congressional Committee on Inaugural Ceremonies, Senate Historical Office.