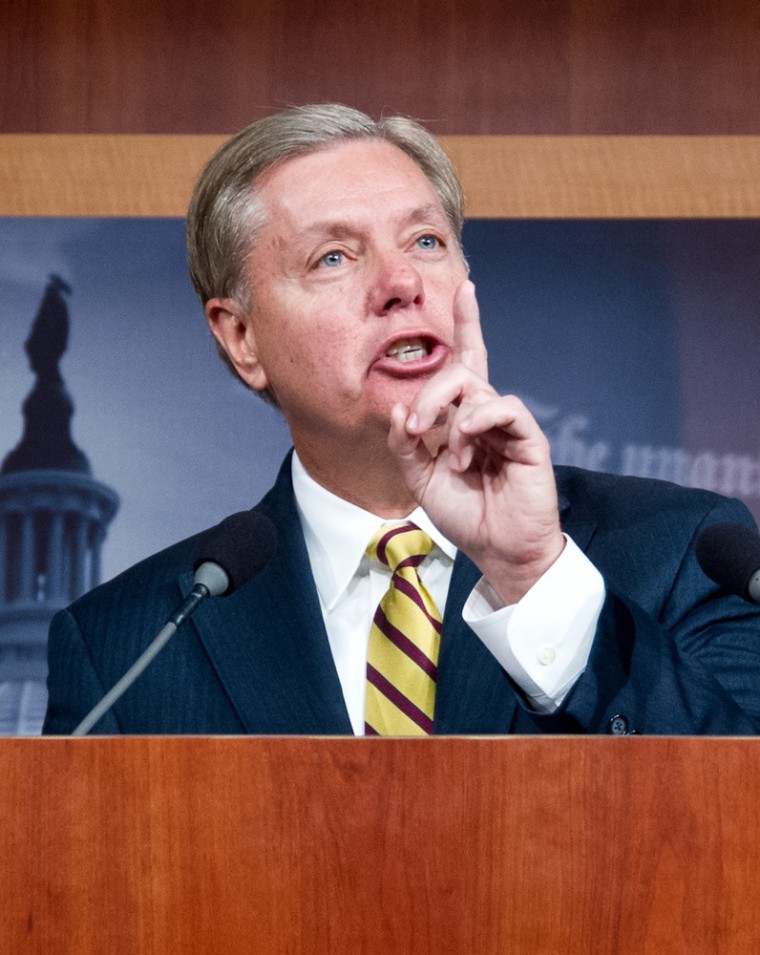 A Republican senator said Sunday "it's fair to ask my party to put revenue on the table" as part of the solution to avoid the looming automatic tax increases and across-the-board spending cuts known as the "fiscal cliff."
South Carolina's Lindsey Graham said he's "willing to generate revenue" by steps such as capping tax deductions, which he says would most affect upper-income Americans. But he says he won't agree to higher taxes — a position shared by most Republicans in Congress.
President Barack Obama wants to let tax rates rise for wealthy families while sparing middle- and low-income taxpayers.
Graham told ABC's "This Week" that "for the good of the country," he's ready to violate an anti-tax pledge followed by most Republicans if Democrats agree to big changes in entitlement programs.
Rep. Peter King, R-N.Y., said a pledge signed years ago should not necessarily apply in economic conditions that have changed greatly.
"The world has changed, and the economic situation is different. Ronald Reagan and Tip O'Neill realized that in the 1980s. I think everything should be on the table," he said on NBC's "Meet the Press."
King added: "Let's find a way to get resolved as much as possible between now and the end of the year so both the new Congress and the president, in his second term, can start off with a clean slate."
Dick Durbin, the No. 2 Senate Democrat, said lawmakers have made little progress in the past 10 days toward a compromise to avoid the harsh tax increases and government spending cuts scheduled for Jan. 1.
Without action by lawmakers and Obama, roughly $600 billion in tax increases and spending cuts will start to hit households and companies in early January.
"Unfortunately, for the last 10 days, with the House and Congress gone for the Thanksgiving recess ... much progress hasn't been made," Durbin said on ABC's "This Week." 
Still, lawmakers in both the Democratic and Republican parties have been trying to convince the public - and financial markets - that they are willing to compromise and can reach a deal before the end of the year. 
The Associated Press and Reuters contributed to this report.