Religious leaders and state officials are squaring off in court over how to worship during the coronavirus pandemic.
Numerous churches around the country have filed lawsuits claiming that banning religious gatherings is a violation of the First Amendment, a fight that presses the question of what limits officials can place on religious practices in the name of public safety.
So far, lawsuits claiming that state restrictions on religious gatherings infringe on freedom of religion have been filed in Kentucky, California, Louisiana, Virginia and elsewhere. Now, the Trump administration is weighing in.
The Department of Justice filed a statement of support this week — its second such intervention — for a rural Virginia church's lawsuit that claims the state improperly discriminated by insisting the church permit no more than 10 people to attend services while allowing businesses to accommodate larger groups.
Asked about Attorney General William Barr's pledge to get involved when government social-distancing restrictions discriminate against houses of worship, Vice President Mike Pence voiced strong support for such intervention and said he "couldn't be more proud" of the department.
"The liberties enshrined in the Constitution still apply to every American, even in the middle of a national emergency," Pence told conservative radio talk show host Hugh Hewitt on Wednesday.
Referring to Lighthouse Fellowship Church in Virginia — which claimed only 16 people who were properly socially distanced were attending the Palm Sunday service that resulted in a criminal citation against its pastor — the vice president said he had "every confidence" that as states start to reopen, Americans would convene for religious services in responsible ways.
"We can do the social distancing," Pence said. "People can, you know, sit a couple of seats apart. I'm sure churches and synagogues may consider adding additional services to be able to spread people out." He added, "The compassion and care of communities of faith through the course of this epidemic have been incredibly inspiring."
As in several of the cases, a federal judge in Virginia ruled against the church earlier this month, saying Democratic Gov. Ralph Northam's social-distancing order did not single out religious practices for discriminatory treatment but instead prohibits "all social gatherings of more than 10 individuals, secular and religious." The church is seeking an appeal.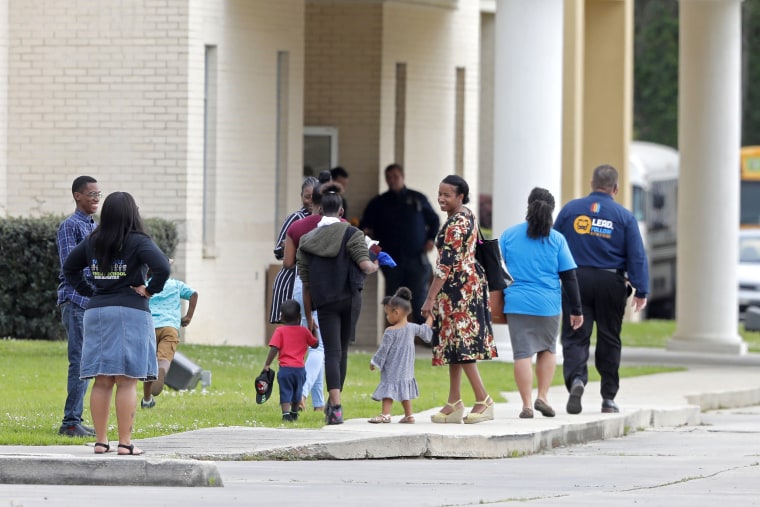 In a win for houses of worship fighting against emergency restrictions, however, two churches in Kansas reached a settlement with Democratic Gov. Laura Kelly after they sued over her 10-person limit for religious services and a federal judge had ruled the state appeared to have "singled out" religious activities for "stricter treatment." Now, the churches can hold those services so long as they abide by protocols for businesses and other establishments, such as providing hand sanitizer and face masks and requiring proper social distancing.
Meanwhile, numerous states allow exemptions to social-distancing rules, even though places of worship have been linked to the spread of the coronavirus in California, Kentucky and Arkansas.
While some houses of worship are voluntarily choosing to stay closed, others say they shouldn't be limited to online or drive-in services, especially if they adhere to social-distancing measures.
In Kentucky, Pastor Jack Roberts of Maryville Baptist Church, outside of Louisville, sued Democratic Gov. Andy Beshear over his ban on mass gatherings after vowing not to abide by the order — a refusal the governor had said would likely cause "the death of Kentuckians." Roberts filed the lawsuit after defying the governor's mandate on Easter Sunday and, along with congregants, ripping up notices to self-isolate that state police left on churchgoers' windshields.
A federal appeals court partially blocked Beshear's order last weekend, upholding the prohibition on in-person gatherings but saying congregants could attend drive-in services — something Beshear has claimed his order allows despite the actions of the state police toward cars parked at the church.
In the ruling, the three-judge panel of the 6th U.S. Circuit Court of Appeals expressed support for the church's argument that it wasn't being treated fairly, noting "hundreds" of cars were parked in the lot of a nearby grocery store on the same day the police informed the churchgoers they were violating the law.
"The breadth of the ban on religious services, together with a haven for numerous secular exceptions, should give pause to anyone who prizes religious freedom," the judges wrote. "But it's not always easy to decide what is Caesar's and what is God's — and that's assuredly true in the context of a pandemic."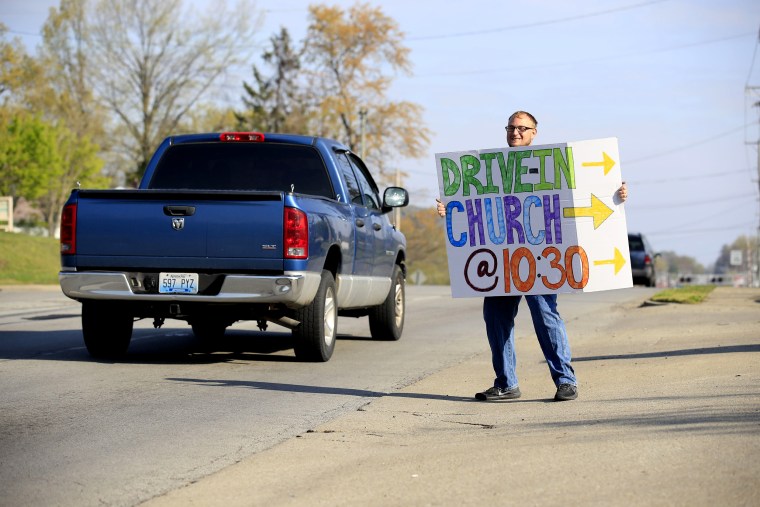 Then, in separate rulings Friday, one U.S. district judge granted an injunction to Maryville Baptist Church specifically and another district judge to churches across the state, allowing in-person services to proceed provided the churches abide by public health requirements.
Harmeet Dhillon, who represents three churches in a lawsuit over Democratic California Gov. Gavin Newsom's ban on mass gatherings, told NBC News she's received dozens of calls from other places of worship that want to file similar lawsuits. She argued the order cuts off social services to vulnerable members of society, noting in one case, a Sikh temple handing out food on Easter was told to stop by local police, despite the fact that all volunteers were wearing face masks and practicing social distancing.
"Faith organizations are centers of community activity, reinforcement and support in times of need," Dhillon said, adding, "People need faith more than ever in difficult times."
John Inazu, a professor of law and religion at Washington University in St. Louis School of Law, said the public health crisis should take precedence over religious liberties. He added that he believes it's perfectly legal for state governments to keep houses of worship closed so long as they are not singling them out, and most states have banned mass gatherings because they are a clear public health risk to the community, he said.
"There's no such thing as an absolute right, whether it be religion, speech or even the Bill of Rights," Inazu said. "Every right can be limited in some way, under some circumstance."
Still, he said, the argument for closing houses of worship will get more complicated as states ease stay-at-home orders and retail stores and other businesses are allowed to reopen.
"As the government starts allowing other nonreligious institutions to operate, they need to have a very clear reason as to why those are allowed and churches aren't," Inazu said. "And the key is that most churches want to open with social distancing, which has been allowed for other seemingly nonessential businesses."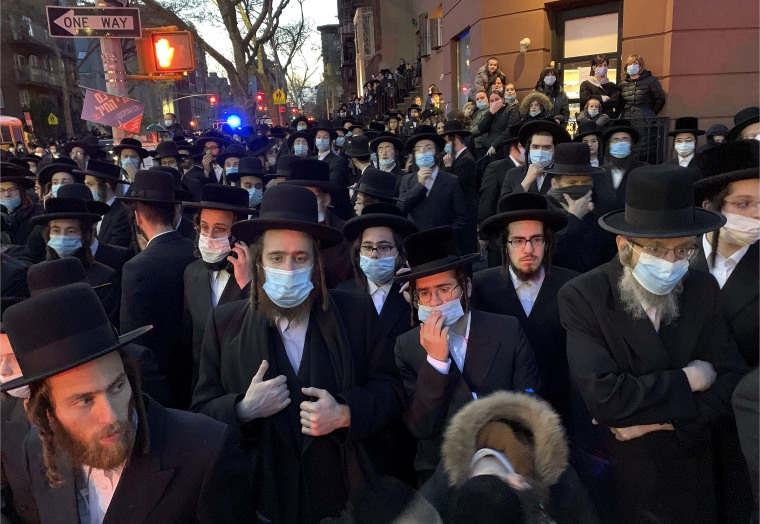 Social-distancing orders are also running into criticism that they need to be handled sensitively to avoid any appearance of laying blame for the actions of some members of a religion on the broader religious community.
After the funeral of Rabbi Chaim Mertz drew a crowd of thousands in Brooklyn, New York, Mayor Bill de Blasio took heat for showing up in person to disperse the crowd and decrying the lack of social distancing on Twitter.
In response, the synagogue that held the funeral said it had planned to enforce social distancing protocols, but too many people showed up. While online reaction to the mayor's actions were split, with some supporting his moves, the Orthodox Jewish Public Affairs Council slammed de Blasio for generalizing about "the Jewish community" in his tweets.
"There are plenty of photos of people in ethnic groups violating the rules but how often do you mention them by name as done tonight to Jews?" the group tweeted.
Still, the potentially fatal consequences of religious gatherings have prompted some groups that otherwise could hold them to reconsider.
Prominent members of the Muslim community in Georgia have decided not to reopen mosques despite getting the green light to do so. The director of the Georgia chapter of theCouncil of American-Islamic Relations, Abdullah Jaber, said the decision was made after looking at medical and religious opinion, which pointed to the protection of life before worship.
But it was an especially hard decision to make during the month of Ramadan, which is rooted in community gathering, as Muslims usually break their daily fast together, Jaber said.
"We've also had Muslims in the greater community who have passed away fighting in the front lines," he said. "We know that this isn't just about us — it's about endangering someone else."