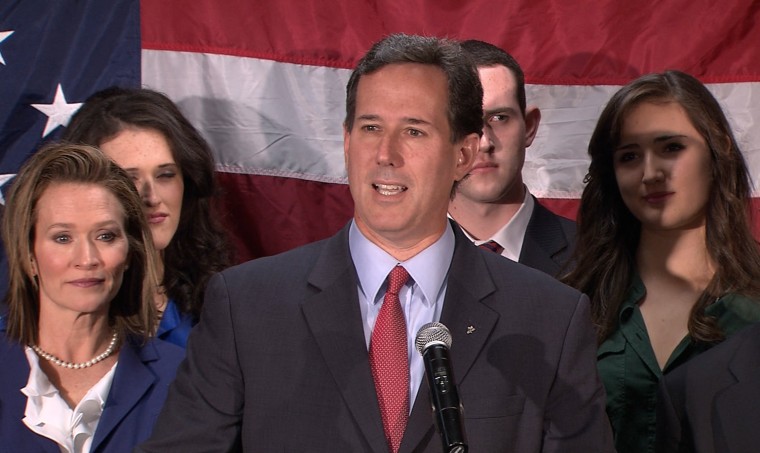 Updated 3:02 p.m. - Former Pennsylvania Sen. Rick Santorum suspended his campaign on Tuesday, clearing Mitt Romney's path to the Republican presidential nomination.
Citing weekend reflection with his family, prompted in part by a hospital stay for his youngest daughter, Santorum suspended his campaign, effective today.
"Ladies and gentleman, we made the decision to get into this race at our kitchen table against all the odds," Santorum said in remarks to reporters in Gettysburg, Pa.
"We made a decision over the weekend that while this presidential race for us is over for me and we will suspend our campaign effective today. We are not done fighting."
The announcement effectively stifles opposition to Romney from within the GOP; amid signs that the Republican establishment has started to rally around Romney, the former Massachusetts governor no longer faces any serious conservative challenger.
Former House Speaker Newt Gingrich and Texas Rep. Ron Paul remain active candidates, though neither of them have a plausible path to winning the 1,144 delegates needed to secure the nomination.
The decision comes two weeks before the Pennsylvania presidential primary. Santorum had faced the prospect of an embarrassing loss to Romney that threatened to short-circuit any of his future political aspirations, either statewide or nationally.
Santorum's announcement also follows the second health scare of the year for his daughter Bella who suffers from the chromosomal disorder Trisomy 18.
RELATED: What 'suspending' a campaign means
However, the former senator also huddled with conservative supporters recently to mull whether a path forward for his campaign truly existed. As recently as April 3, when he lost the Wisconsin primary to Romney, Santorum vowed to press forward, and described the race for the nomination as only having reached "halftime."
Still, the course of the primary campaign meant a remarkable political resurrection for Santorum since his landslide defeat in 2006, when he sought a third term in the Senate. His presidential campaign offered a path to political redemption that had been unthinkable, even as recently as the end of last year.
Santorum called Romney earlier today to relay news of his decision.
"Senator Santorum is an able and worthy competitor, and I congratulate him on the campaign he ran. He has proven himself to be an important voice in our party and in the nation," Romney said in a written statement following Tuesday's announcement. "We both recognize that what is most important is putting the failures of the last three years behind us and setting America back on the path to prosperity."
First Read: Santorum's surprising ride
From non-factor to Iowa victor
Santorum was a non-factor in the campaign for most 2011 until a last-minute surge in Iowa, where he had traveled more than any other candidate.
The former Pennsylvania senator had done the first nominating state the "traditional" way, having traveled to all 99 of Iowa's counties.
Still, a series of candidates – Rep. Michele Bachmann, Texas Gov. Rick Perry, Herman Cain and former House Speaker Newt Gingrich – had taken turns surging to the top of the polls in the Hawkeye State before Santorum got his boost, in late December, on the eve of the state's caucuses.
Santorum battled Romney to a virtual tie in Iowa before the state's Republican Party crowned Romney the apparent winner by a slim, eight-vote margin.
It wasn't until Jan. 21 – the day of the South Carolina primary – that the Iowa GOP reversed itself due to unaccounted votes and declared Santorum the actual winner of the caucuses. By then, Romney had steam-rolled his opponents to win the New Hampshire primary, and Gingrich had re-emerged as the leading conservative challenger to Romney in the Palmetto State.
Santorum re-emerged as Romney's biggest threat on Feb. 7, when he stunned the front-runner by winning contests in Minnesota, Colorado and Missouri.
Santorum as chief Romney alternative
Santorum's victories in those states again laid bare fissures in the Republican Party over Romney's candidacy. The most conservative elements of the party appeared unwilling to line up behind Romney. And with Gingrich fading in the aftermath of an onslaught of negative advertising in Florida, Santorum again claimed the mantle of chief Romney alternative. 
The emergence of a supportive super PAC – the Red, White and Blue Fund – helped Santorum make his case. Much of that group's financing came from investor Foster Friess.
The turning point in the Santorum-Romney battle came in at the end of February.  Rather than skip the primary in Michigan – the state where Romney was raised and where his father had been an iconic Republican governor – Santorum decided to take his battle to Romney's home turf.
The campaigning turned heavily on issues of class, and Santorum emphasized his commonness with the state's hard-hit working and middle classes.
He was aided by Democratic-led efforts to remind voters of Romney's opposition to the 2009 bailouts of General Motors and Chrysler, along with Romney's own missteps (among them, a highly-touted address to a cavernous Ford Field).
But Santorum also found himself the victim of tough ads launched by Romney and Restore Our Future, the pro-Romney super PAC.
The former senator was also dogged by questions about hot-button social issues, including contraception – a subject that was at the center of an intense national debate over women's health issues.
Romney eventually eked out a three-point victory of Santorum, but carried momentum from Michigan (and Arizona, where he won a primary the same day) into Super Tuesday's slate of 10 contests on March 6. There, Romney used the same strategy he had in Michigan to win six of the states, including Ohio, where Santorum had also sought to challenge Romney.
But Santorum was again able to beat back Romney, who gained some separation from his challengers in the delegate count after Super Tuesday, by way of winning Mississippi and Alabama's primaries. Romney campaigned fleetingly in the states, but the deep conservatism of both states tilted the contests toward Santorum.
The Gingrich factor
Those primaries also made clear, though, that Gingrich's continued presence in the race had eaten into Santorum's support among conservatives.
Backers of the former senator started demanding Gingrich's exit from the race, but the former House speaker defiantly vowed to continue with his campaign through the Republican convention this summer in Tampa.
All the while, Romney continued to amass delegates by winning caucuses and primaries in far-flung U.S. territories.
And it was one U.S. territory, Puerto Rico, where Romney finally trounced Santorum, despite the ex-senator having campaigned there. He subsequently paraded into Illinois, where he won the March 20 primary in the Land of Lincoln.
Romney's decisive win in Illinois prompted many national party leaders who had remained neutral – former Florida Gov. Jeb Bush, Florida Sen. Marco Rubio and Wisconsin Rep. Paul Ryan, among others – to get off the fence and endorse Romney in hopes of hastening the end of the primary campaign.
Santorum persevered through the April 3 primaries in D.C., Maryland and Wisconsin, then left the campaign trail when his daughter was admitted to the hospital last week.
The ex-senator was reflective in his remarks announcing the suspension of his campaign.
"Miracle after miracle, this race was as improbable as any race you'll ever seen for president," he said, referencing the 11 states and millions of votes won over the course of his campaign. He made no mention of Romney.
Romney still faces token opposition in his march to formalize the nomination. Both Gingrich and Santorum signaled that they would continue – for now – with their campaigns in the aftermath of Santorum's announcement.
"I am committed to staying in this race all the way to Tampa so that the conservative movement has a real choice.  I humbly ask Senator Santorum's supporters to visit Newt.org to review my conservative record and join us as we bring these values to Tampa," said Gingrich, whose persistence in the race had divided votes with Santorum in some pivotal contests.
Paul's campaign manager said that the Texas congressman would "plan to continue running hard" through the August convention in Tampa.