WASHINGTON — The Justice Department asked the Supreme Court on Thursday to put a stop to a massive environmental lawsuit, just over a week before it is scheduled to go to trial.
The suit was filed in 2015 by a group of young people, ranging in age from 10 to 21, who said the federal government has failed to stop climate change by promoting the use of fossil fuels for more than 50 years. They claim that policy violated their constitutional right to "a climate system capable of sustaining human life."
They seek sharp reductions in carbon dioxide emissions and a national plan for restoring the earth's energy balance. Despite repeated efforts by the federal government — under both the Obama and Trump administrations — to get the lawsuit tossed out, lower courts have allowed it to go forward. It is now set for 50 days of what the plaintiffs call the trial of the century, beginning Oct. 29 in Oregon.
Solicitor General Noel Francisco said that by allowing the case to proceed to trial, the judge overseeing the case wrongly found in favor of the young people's claim that they have a right to certain climate conditions.
"Their alleged injuries stem from the cumulative effects of CO2 emissions from every source in the world over decades," Francisco said. "Whatever additions to the global atmosphere that would somehow be attributed to the government" would be minimal.
And even if the courts were to recognize a legal right to have a better environment, he said, only Congress has the authority to impose the kind of sweeping reduction in use of fossil fuels that the lawsuit seeks.
In July, the Supreme Court declined a similar request from the government to put the case on hold but called the breadth of the lawsuit's claims "striking" and said it's debatable whether the courts have the authority to entertain them.
One of the young people behind the lawsuit, Xiuhtexcatl Martinez of Colorado, defended the sweeping nature of the case in an NBC News interview. "I think addressing our climate crisis is one of the most important things we have to do. Politicians — Democrats, Republicans — aren't doing the best job of representing our future."
Federal courts typically do not allow lawsuits to go forward unless the parties making a claim can establish that they face some specific harm, unique to them, caused by a government action. Generalized claims are disfavored, and the young people filing this lawsuit don't allege that they are affected differently than anyone else.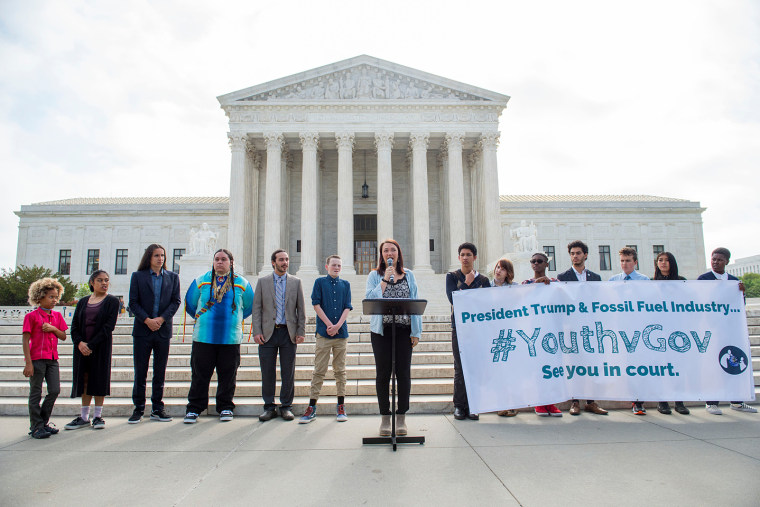 "The plaintiffs are asking the judge to order the complete restructuring of the U.S. economy, and the chance of them prevailing in court I think is zero," said Jeffrey Holmstead, a former assistant administrator of the Environmental Protection Agency.