The Air Force is investigating allegations that a mortuary worker at its base in Delaware made Defense Department inspectors a ghoulish offer they refused — a peek at John Glenn's body before the astronaut and American hero was buried.
It allegedly happened while Glenn's remains were at the Dover Air Force Base "pending his interment at Arlington National Cemetery on April 6, 2017," Air Force spokesman Col. Patrick Ryder said in a statement on Friday.
"The inspectors declined the offer and at no time viewed the remains," Ryder said.
But when they reported the alleged offer, Air Force brass was outraged.
"The Air Force takes extremely seriously its responsibility to fulfill the nation's sacred commitment of ensuring dignity, honor and respect to the fallen and care, service and support to their families," Ryder added. "If any allegations of misconduct are substantiated, those involved will be held accountable."
Several hours later, Glenn's daughter Lyn released a statement.
"The Air Force is taking complete responsibility and is conducting an investigation," she said. "We are asking that our privacy be respected."
Ryder did not identify the worker. But two defense officials confirmed to NBC News he is Bill Zwicharowski, the chief mortician at Dover Air Force Base.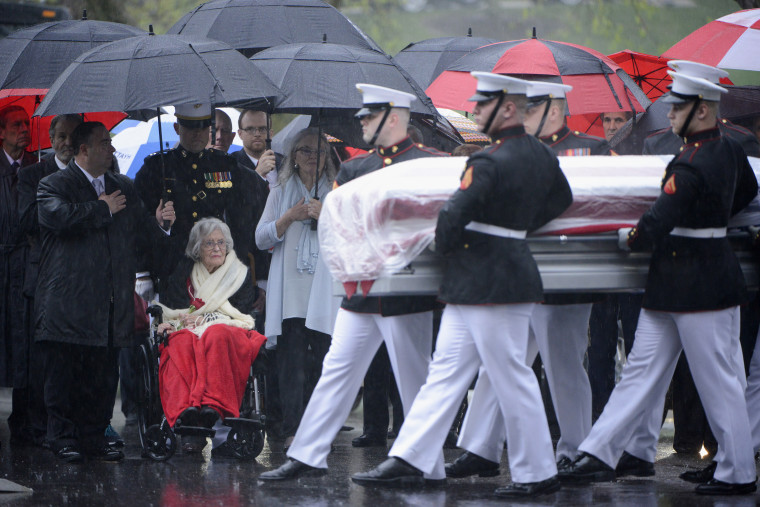 Zwicharowski could not be reached for comment. However, in an interview Friday with the Washington Post he said he was being punished for blowing the whistle back in 2011 on how the bodies of slain soldiers were being mistreated.
"I have a target on my back," he told the paper. "It's continued retaliation."
Zwicharowski also said he did nothing wrong when he offered to show Glenn's body to the inspectors.
"I was proud of the job we did and wanted them to see our care and work," he told the paper. "After all, that was what we were being inspected for."
Glenn, a war hero who became the first American to orbit the earth and later served four terms in the U.S. Senate, died in December at age 95 in his home state of Ohio. Thousands of people filed into the Ohio Statehouse rotunda to pay their respects before Glenn's body was flown to Delaware, its first stop on the way to Arlington National Cemetery.
The story was first reported by the Military Times.