In a move that could signal an impending shift in the special counsel investigation being conducted by Robert Mueller, former national security adviser Michael Flynn's legal team has formally cut ties with lawyers around President Donald Trump and his family.
Citing four people involved in the case, The New York Times first reported the development Thursday. Mueller is the special counsel leading a probe into Russian interference in the 2016 presidential election.
Legal experts say defense teams will often share information and materials they have in common while advocating for separate clients until no longer willing or able under the law to do so.
Jay Sekulow, a member of Trump's personal legal team, said Thursday that "no one should draw the conclusion that this means anything about General Flynn cooperating against the president."
Sekulow described the change in communications as no surprise. "What was not entirely unexpected was that Flynn may be discussing a plea with special counsel," Sekulow added.
A White House official and a person close to the White House who spoke to NBC News on the condition of anonymity Friday were divided on the question of whether Trump's team is concerned about the prospect of Flynn cooperating with Mueller.
"Flynn's indictment and/or guilty plea has been anticipated for weeks and there is no angst at the White House about the fact that general Flynn is taking whatever steps he is taking that seem to be in his best interest in light of the facts unique to him," the White House official said.
"The presumption is that Flynn may be cooperating, likely on Turkey, but there is no concern at the White House that Flynn will implicate the president," that official added.
But the person close to the White House said there are real concerns about the possibility that Flynn is cooperating with Mueller, or will be soon.
Related: Flynn business partner Bijan Kian now subject of Mueller probe
Flynn, a retired Army lieutenant general who Trump fired as national security adviser for misleading the vice president about his communication with Russia's ambassador, has been said to be under scrutiny in Mueller's investigation.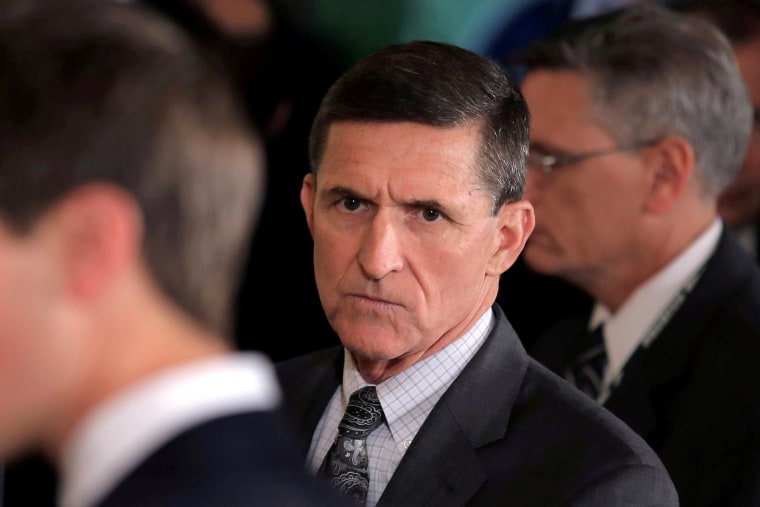 Flynn's attorney declined to comment Thursday. Because this matter involves the private defense of the president, White House special counsel Ty Cobb had no comment.
Sources familiar with the investigation have told NBC News that federal investigators have gathered enough evidence to bring charges against Flynn and his son.
NBC News reported earlier this month that investigators were examining more information surrounding Flynn's lobbying work, including whether he laundered money or lied to federal agents about his overseas contacts, according to three sources familiar with the investigation.
Related: Mueller probing possible deal between Turks, Flynn
Sekulow repeated a point he has made before that Flynn's security clearance was first granted under the Obama administration.
The Obama administration fired Flynn in 2014 from his position as head of the Defense Intelligence Agency, largely because of mismanagement and temperament issues.
Mueller's probe has so far resulted in the indictments of former Trump campaign chair Paul Manafort and his deputy, Rick Gates, on money laundering and other charges. They have pleaded not guilty. The indictments center on their lobbying work before Manafort joined the Trump campaign.
Former Trump campaign adviser George Papadopoulos has also pleaded guilty to lying to federal agents about his contacts with Kremlin-connected Russians.