SINGAPORE — President Donald Trump and North Korean leader Kim Jong Un signed a joint statement Tuesday agreeing to pursue the denuclearization of the Korean Peninsula.
The pact came at the end of a historic half-day round of negotiations that marked the first time a sitting U.S. president had met with his North Korean counterpart. "From the beginning, we got along," Trump later told reporters.
Trump also confirmed military exercises involving American and South Korea forces would be put on hold for now. He said sanctions imposed against the Kim regime would not be removed until "we are sure that the nukes are no longer a factor."
While the agreement fell short of outlining concrete measures that would lead to Kim giving up his nuclear weapons program — the stated long-term goal of U.S. negotiators — it gave Trump and Kim a piece of paper to point to as a sign of progress and a symbol of goodwill.
In the document, Kim reaffirmed a previous promise made in April to "work toward complete denuclearization of the Korean Peninsula."
Rather than addressing a timeline or specific steps Kim would take to rid himself of nuclear weapons, the agreement calls on the countries to continue their negotiations.
He said reducing the number of U.S. troops in South Korea was "not part of the equation right now," but said that joint military drills regularly held there — which North Korea believes are a precursor to an invasion — would be stopped. Trump said axing the war games would save the U.S. "a tremendous amount of money," adding: "Plus, I think it's very provocative."
The president said the pair had "developed a very special bond," describing Kim as "a very talented man."
Trump characterized their meetings as "very intensive," and said he would Kim had accepted his invitation to the White House. Kim is the leader of one of most brutal and repressive regimes in modern history — a country that has committed "unspeakable atrocities" on a vast scale in a manner reminiscent of Nazi Germany, according to a 2014 United Nations investigation.
At a 4:15 a.m. ET news conference that lasted more than an hour, Trump said his meeting with Kim was "honest, direct and productive," adding: "We are ready to write a new chapter between our nations ... Yesterday's conflict does not have to be tomorrow's war."
According to the president, "vigorous negotiations" would take place to implement the contents of their joint statement "as soon as possible."
Trump said he would consider visiting Pyongyang and denied that meeting with Kim gave him legitimacy on the world stage and was a betrayal of the thousands of North Koreans imprisoned in gulags. "I think I helped them. I think things will change," he added.
The two leaders also committed to new relations between their countries in the name of "peace and prosperity;" "join their efforts to build a lasting and stable peace regime on the Korean Peninsula;" and to identify, recover and repatriate the remains of soldiers killed in the Korean War.
Earlier, Trump said the agreement would "absolutely" lead to the denuclearization of North Korea — and "very quickly."
"We had a historic meeting and decided to leave the past behind and sign a historic document," Kim said through a translator. "The world will see a major change."
The first in a series of dramatic moments came as Trump and Kim shook hands Tuesday morning.
As the two men approached each other on a colonnade at the Capella Hotel on Sentosa Island here, with American and North Korean flags interspersed behind them, reporters could hear Kim or his interpreter say, "Nice to meet you, Mr. President."
Then, they posed for photographs, stern-faced, before making their way to a meeting room where they spoke briefly to the media.
"We will have a terrific relationship," Trump said. "I have no doubt."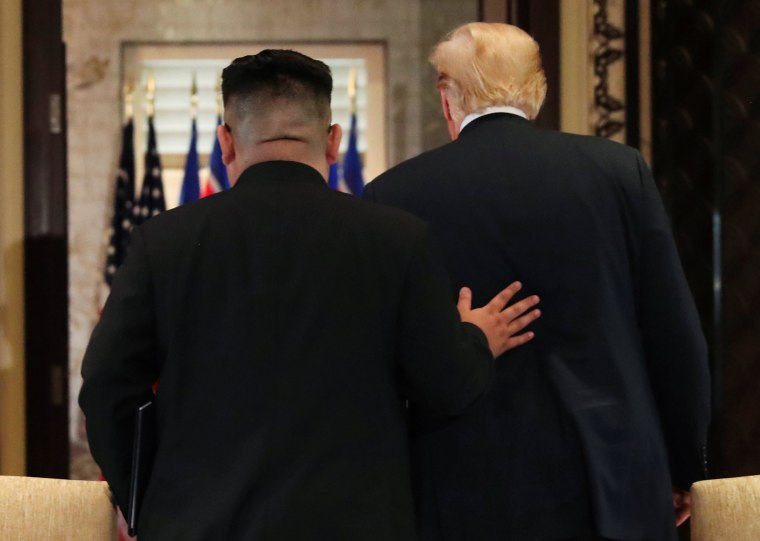 Kim noted the nascent relationship already has survived serious obstacles — this meeting was planned, canceled and put back on the calendar — in getting to the point where the leaders could talk with each other in person.
"It was not easy to get here," but the two sides "overcame" obstacles, the North Korean leader said through a translator.
"That's true," Trump replied.
That first meeting lasted about 45 minutes. Trump said afterward that their relationship was "very, very good" and "excellent."
Trump had placed his emphasis on the personal dynamics of the relationship he forges with Kim, whom American officials say will have to give up his nuclear arsenal and his ability to develop new weapons in order to get relief from crippling U.S. economic sanctions and assurances that the U.S. will not take military action against him.
"It's a great honor to be with you, and I know we'll have tremendous success together," Trump said at the start of a second meeting, which featured the two leaders and their aides. "We'll solve the big problem, the big dilemma, that until this point has been unable to be solved."
Kim did not respond to questions from the media about whether he would give up his nuclear program.
The summit got its official kickoff Tuesday after staff-level talks in recent days "moved more quickly than expected," the White House said.
Before arriving here, Trump said it wouldn't take him long to gauge whether Kim is just looking for a photo-op or is willing to make the kinds of concessions that would end North Korea's decades of isolation.
"I think within the first minute, I'll know — just my touch, my feel," Trump said recently.
The second meeting, which got under way about 10 a.m. local time, was attended by North Korean officials, Secretary of State Mike Pompeo, White House chief of staff John Kelly and national security adviser John Bolton, in addition to Trump and Kim. The leaders wrapped up their talks with a working lunch.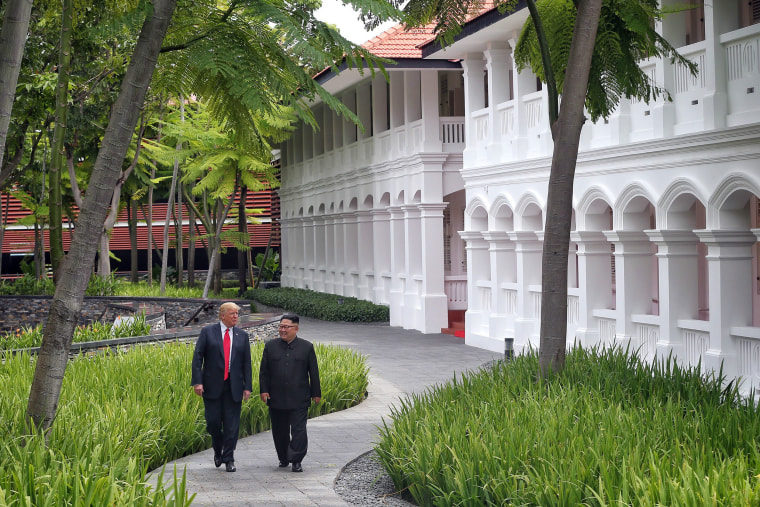 Pompeo and Bolton have played the good cop/bad cop roles in the administration's negotiations with Pyongyang.
Pompeo has previously met with Kim and, as the nation's top diplomat, has a lot invested in striking a deal. Bolton raised eyebrows last month when he began openly discussing using a "Libya model" in negotiations with Kim.
When Bolton worked in President George W. Bush's administration, Libyan leader Moammar Gadhafi gave up his nuclear program under the threat of U.S. military action against him and the promise of sanctions relief. To that point, the parallel could be appealing to Kim.
But Gadhafi ended up dead within a decade following a U.S.-led bombardment of his country. Bolton's use of the Libya phrasing, reiterated by Vice President Mike Pence in an interview, contributed to a tiff between the two nations and the brief cancellation of the summit by Trump. But it was quickly put back on track.