WASHINGTON — President Donald Trump said Thursday that his previous promise of "fire and fury" in response to threats from North Korea may have not gone far enough, vowing "trouble" for the country if its actions don't change.
"If anything, maybe that statement [about "fire and fury"] wasn't tough enough," Trump told reporters from the steps of his golf resort in Bedminster, N.J. He added, "We're backed 100 percent by our military."
"I will tell you this: if North Korea does anything in terms of even thinking about attack — of anybody that we love or we represent, or our allies or us, they can be very, very nervous," Trump warned. "And they should be, because things will happen to them like they never thought possible."
Trump said the North Korean regime, currently headed by Kim Jong Un, has "been pushing the world around for a long time."
"North Korea better get their act together or they are going to be in trouble like few nations have ever been in trouble," he said.
In a second press availability inside his club less than an hour later, Trump signaled that he was watching the situation in Guam closely.
"Let's see what he does with Guam," Trump said. If Pyongyang launched missiles against Guam — which the North Korean army has said it's considering — Trump warned a retaliatory "event the likes of which nobody's ever seen before, what will happen in North Korea."
Asked if he were daring the North Koreans, Trump said: "It's not a dare, it's a statement. Has nothing to do with dare…it's a statement of fact."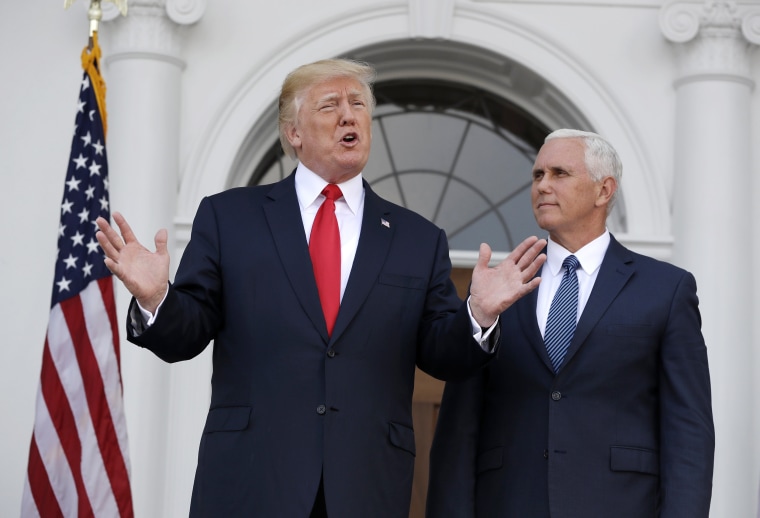 The president declined to talk about potential preemptive strikes against North Korea, but left the door open for possible action.
"We'll see what happens," Trump said, adding a jab at the Obama administration for what the president said was telegraphing pending military actions in the press.
"We don't talk about that, I never do," he said. "I'm not like the other administration that would say we're going into Mosul in four months. I don't talk about it."
Trump was briefed by National Security Adviser H.R. McMaster prior to speaking with press and was joined during public remarks by Vice President Mike Pence.
While talk has turned heavily to the question of nuclear war this week, Trump offered Thursday that he "would like to de-nuke the world," though until such time that that's possible the U.S. "will be the most powerful nuclear nation in the world, by far."
"Nobody, including North Korea, is going to be threatening us," he assured.
Kim Jong Un "has disrespected our country greatly. He has said things that are horrific, and with me he's not getting away with it."
The State Department issued new travel restrictions Thursday after Trump's comments, limiting U.S. passport use through North Korea without special validation.
NBC News reported Thursday that the CIA and other U.S. intelligence agencies are in agreement that North Korea may have successfully miniaturized a nuclear weapon that can be placed on a ballistic missile in what would be a significant advance.
White House officials said Wednesday that while the president's words about "fire and fury" were his own, top advisers in the West Wing and in National Security Council "were well aware of the tone of" what the president intended to say.
Should the president decide to act preemptively in the region, NBC News learned Wednesday that the Pentagon has prepared a specific plan for such an attack — one that relies heavily on the use of B-1B bombers.
The president and his top Cabinet members' comments on the North Korea issue have varied in tone — Secretary of State Rex Tillerson said Americans "should sleep well at night" when asked by reporters earlier this week about worries over North Korea's nuclear provocations.
Trump on Thursday said there were "no mixed messages" coming from his administration.
He was also explicit about tying trade practices to China's willingness to act on the North Korea issue.
"I think China can do a lot more, yes, China can," Trump said, predicting it will do more in the future.
"Look, we have trade with China. We lose hundreds of billions of dollars a year on trade with China," he said. "They know how I feel. It's not going to continue like that. But if China helps us, I feel a lot differently toward trade, a lot differently toward trade."