Kim Jong Un has accepted an invitation to the White House, President Donald Trump said Tuesday, raising the prospect of the U.S. welcoming the leader of one of the most brutal and repressive regimes in modern history.
The North Korean dictator has a "great personality" and is "a very talented man," the president told reporters overnight.
Trump's effusive praise and warm smiles provided a notable contrast to the weekend's acrimonious G-7 summit where he was pictured sitting with folded arms opposite Angela Merkel.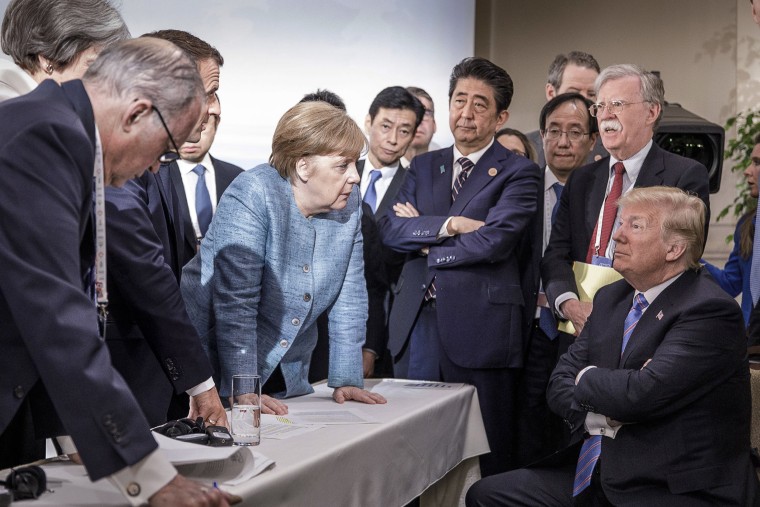 In contrast to the friendliness with Kim, Trump doubled down on his criticism of Canadian Prime Minister Justin Trudeau, whom he last weekend accused of being "weak" and "dishonest."
Trudeau incurred Trump's wrath by describing White House trade tariffs as "insulting" and stating that Canada would not be "pushed around" by Washington.
"That's going to cost a lot of money for the people of Canada," Trump told reporters Tuesday. "He learned. You can't do that."
In Singapore, the leaders' historic handshake lasted about 13 seconds. "It's a great honor to be with you," the president told Kim.
Trump even joked to photographers, saying: "Getting a good picture, everybody? So we look nice and handsome and thin? Perfect."
"You don't need to call him your best friend to sign a deal about nuclear weapons."
It was a remarkable change in dynamics from only months ago, when Trump was threatening "fire and fury" against Kim, who in turn scorned the president as "mentally deranged" and a "dotard."
North Korea has committed "unspeakable atrocities" on a vast scale in a manner reminiscent of Nazi Germany, according to a 2014 United Nations investigation that said Kim's regime was guilty of murder, extermination, enslavement, forcible transfer, imprisonment, torture, sexual violence, persecution, enforced disappearances and other inhumane acts.
Next week marks the first anniversary of the death of 22-year-old American student Otto Warmbier who was tortured in a North Korean labor camp.
At Trump's post-summit news conference, the first question came from NBC News' Hallie Jackson, who asked: "Why are you so comfortable calling [Kim] very talented?"
The president responded: "Well, he is very talented. Anybody who takes over a situation like he did at 26 years of age and is able to run it, and run it tough. I don't say it was nice."
Trump said Warmbier was "a very special person" and that his death had been one of the events that led to the summit.
"I think without Otto, this would not have happened," he said. "Otto did not die in vain. He had a lot to do with us today."
The president also said he had raised the issue of human rights with Kim.
"I believe it's a rough situation over there, there's no question about it. We did discuss it today, pretty strongly," the president said. "We'll be doing something on it. It's rough. It's rough in a lot of places, by the way, not just there. But it's rough."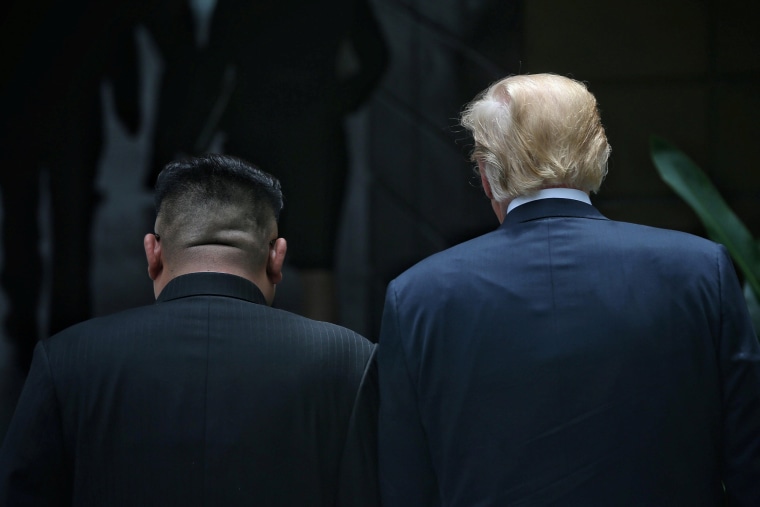 Experts have raised questions over how the U.S. and its allies will be able to confirm North Korean claims to have given up its nuclear weapons, when anyone who might talk to international inspectors risks being send to a prison camp.
Michael McFaul, a former U.S. ambassador to Russia, said he was uncomfortable with the warmth of the Trump-Kim photo opportunity.
"There's no reason you have to use that language to sign that deal," he said on MSNBC. "You don't need to call him your best friend to sign a deal about nuclear weapons."
For his part, Kim's biggest moment on the world stage also betrayed a sense of awe and wonder.
"Kim looked a bit like a kid in a theme park: not intimidating, excited and a bit nervous," said Allan Pease, an Australian body language expert.