WASHINGTON — The Trump administration unveiled a new plan on Friday to overhaul USDA rules for meat inspection at pork processing plants, proposing changes that have drawn praise from industry leaders and criticism from advocates who fear they will harm workers and increase food-borne illness.
The USDA's proposal would allow hog slaughter plants to opt into a new inspection system that officials say would be more modern and efficient. Under the new system, plant employees would be the first to identify and remove unfit carcasses coming down the line, replacing USDA inspectors who would be freed up to conduct off-line inspection activities that are "more effective in ensuring food safety," the administration said in the proposed rule.
Plants that opt into the new inspection system would be exempt from the maximum line speed under current federal rules, which is 1,106 hogs per hour.
The National Pork Producers Council, a trade association representing meatpackers, welcomed the proposed changes. The plan "is another step forward in the industry's ongoing focus on continuous improvement of food safety and cost efficiency," said Ken Maschhoff, the group's president. "We applaud the USDA for taking this step to strengthen our competitive position."
But consumer and worker-safety advocates say the proposed changes will harm those already working in a dangerous industry and make food contamination more likely.
"Every worker will be processing more hogs per hour, because everything will go faster. For workers, it will definitely increase the number of serious injuries they already face," said Debbie Berkowitz of the National Employment Law Project, a Washington-based research and advocacy group.
Berkowitz, a former Labor Department official under Obama, said the plan will also reduce federal oversight that is critical to protecting public health, leaving the industry to police itself. "There will just be fewer inspections going on, and there are serious concerns regarding food safety because of that," she said.
Related: Another Obama Decision Reversed? Now It's About Food Safety.
A handful of pork plants have already adopted the proposed changes under a long-standing USDA pilot program. Food and Water Watch, an advocacy group, says the changes haven't proven to be safe, pointing to a 2013 Inspector General report that said it could not determine whether the pilot program had met its goals because the USDA did not provide sufficient oversight.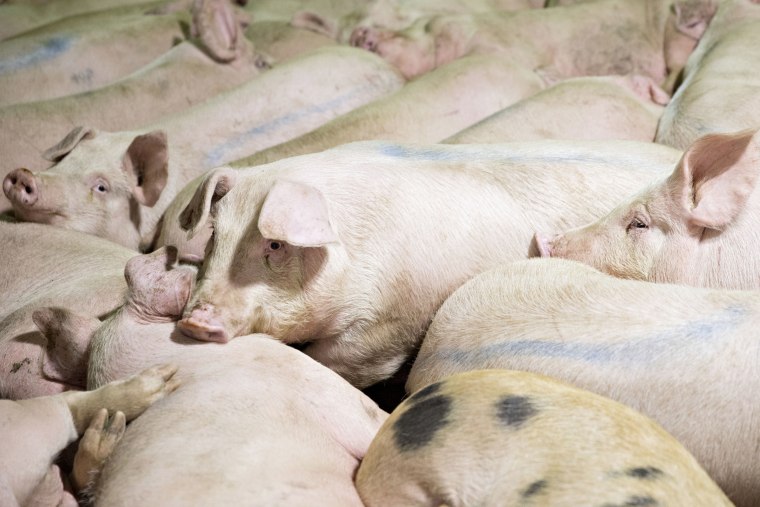 "It is irresponsible for the USDA to expand a radical change to food safety responsibility in the pork industry based on a pilot program that clearly failed to show that allowing companies to inspect themselves can produce safe food," said Wenonah Hauter, Food and Water Watch's executive director.
The administration says that plants in the pilot program had lower worker injury rates on average, according to the USDA's preliminary analysis of data from 2002 to 2010. (The analysis was based on self-reported data from a small fraction of all pork plants.) The changes are also likely to reduce contamination by shifting USDA inspectors from visual inspection tasks to off-line testing for pathogens like salmonella, officials said in the proposal.
"There is no single technology or process to address the problem of food-borne illness, but when we focus our inspections on food safety-related tasks, we better protect American families," Carmen Rottenberg, USDA's acting deputy undersecretary for food safety, said in a statement.
Industry groups also contested the notion that eliminating the cap on line speeds would harm workers or consumers.
"Under the proposed rule plants don't have free rein to run as fast as they want," said Jim Monroe, a spokesman for the National Pork Producers Council. "They are still required to meet the letter of the law when it comes to animal welfare, food safety and employee safety."
The Obama administration implemented similar changes to the poultry industry in 2014 but decided against a line-speed increase. Industry groups are now lobbying the Trump administration to allow poultry plants in the new inspection program to be exempt from the current cap on line speeds, which is 140 birds per minute.
CORRECTION (Jan. 23, 1:40 p.m. ET): An earlier version of this article misstated the final year of data used in a USDA analysis. The last year of the data used in the analysis was 2010, not 2015.