WASHINGTON — The White House supports efforts to strengthen background checks for gun purchases in the wake of last week's shooting at a high school in Parkland, Florida.
Press Secretary Sarah Huckabee Sanders said President Donald Trump is open to bipartisan legislation to shore up the background checks system, which is supposed to prevent people with severe mental illness and serious criminal records from purchasing firearms.
"The President spoke to Senator Cornyn on Friday about the bipartisan bill he and Sen. Murphy introduced to improve Federal Compliance with Criminal Background check Legislation. While discussions are ongoing and revisions are being considered, the President is supportive of efforts to improve the Federal background check system," Sanders said in a statement.
A senior administration official told NBC News over the weekend that while Trump supports the concept of improving the background check system, the language may end up needing to be tweaked.
Sen. John Cornyn, R-Texas, the Senate's second-ranking Republican, and Sen. Chris Murphy, D-Conn., an outspoken proponent of gun control, have been working on the bill since late last year, which was developed in response to mass shootings in Las Vegas and in Sutherland Springs, Texas.
Murphy, responding on Twitter, said he was encouraged by Trump's support for the bill and saw it as "another sign the politics of gun violence are shifting rapidly," but added that more sweeping policy changes are still necessary.
The bill is designed only to make the National Instant Criminal Background Check System (NICS) function more effectively, rather than expand its reach. It would create new incentives to push states and federal agencies to upload information about people who are supposed to be barred from purchasing guns to the federal system, which currently suffers from gaps in its data.
While modest, the bill is seen as one of the only pieces of gun-related legislation that actually has a chance of passing the Republican-controlled Congress. Trump would need to sign it, and his support would likely be necessary to get GOP lawmakers on board.
Still, gun control proponents expressed little enthusiasm about Trump's support.
"If all Congress does is pass the Fix NICS Act, then lawmakers will have failed to meet this moment and do their job," said John Feinblatt, the president of Everytown for Gun Safety, a group backed by former New York City Mayor Michael Bloomberg. "This bill is a small step forward. Congress needs to do much more."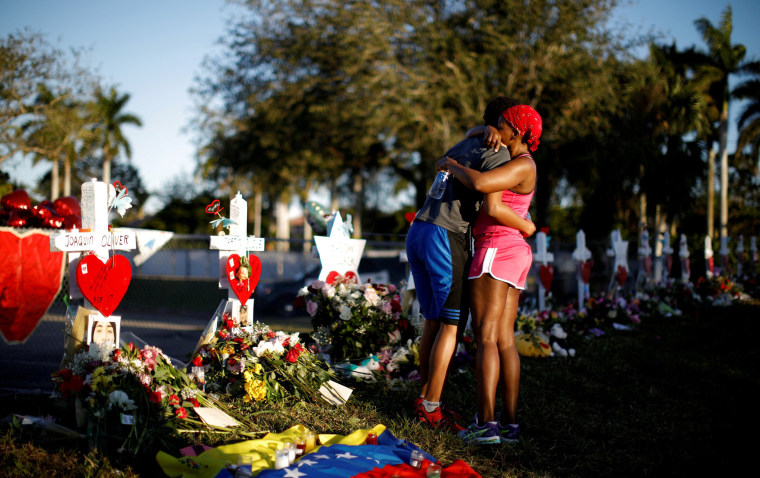 The House already passed a similar version of the bill, know as the Fix NICS Act, but it was paired with language to allow concealed-carry gun permits to work across state lines — a top priority of gun-rights advocates. The Senate has not taken up that package.
Congress is on recess this week for the President's Day holiday, and it is unclear when lawmakers might take up a bill on background checks.
In the wake of the Las Vegas shooting last year, a rare moment of bipartisan energy around gun legislation came and went without congressional action.
Students at Parkland's Marjory Stoneman Douglas High School, which saw 17 killed in the Valentine's Day violence, have been leading a renewed push for gun restrictions.