Janet Protasiewicz may have just won a seat on the Wisconsin state Supreme Court, flipping the ideological balance of the court to the bench's liberal bloc for the first time in 15 years.
But if a newly elected Republican state senator gets his way, that could all come crashing down.
A GOP win in another Wisconsin race this week — the state Senate's 8th District — gave Republicans a supermajority in the chamber. With that power, Republicans there will have the ability to pursue removal proceedings of certain elected officials if the Assembly votes to impeach them.
In the closing days of his campaign, Republican Assemblyman Dan Knodl, who won that exurban state Senate district outside Milwaukee, said that he would consider impeaching Protasiewicz from her current position as a judge on the Milwaukee County Circuit Court.
Now, with Protasiewicz's victory Tuesday, the comments quickly spurred concerns among Democrats in the state that Republicans in the Legislature would make a move against Protasiewicz's seat in the Supreme Court.
In an interview last week with WISN-TV, Knodl said that a Republican supermajority in the state Senate would give the party "more authority in the areas of oversight and accountability of elected officials and appointed officials."
"If there are some that are out there that are corrupt, that are failing at their tasks, then we have the opportunity to hold them accountable … up to impeachment," Knodl said. 
"Janet Protasiewicz is a Circuit Court judge right now in Milwaukee, and she has failed," he continued. Asked whether he "would support impeaching her," Knodl replied, "I certainly would consider it."
It remains unclear whether Knodl was referring only to her position on the Milwaukee Circuit Court, or whether he would also consider impeaching her if she won the Supreme Court race.
Spokespersons in Knodl's state Assembly office and state Senate campaign did not respond to questions from NBC News.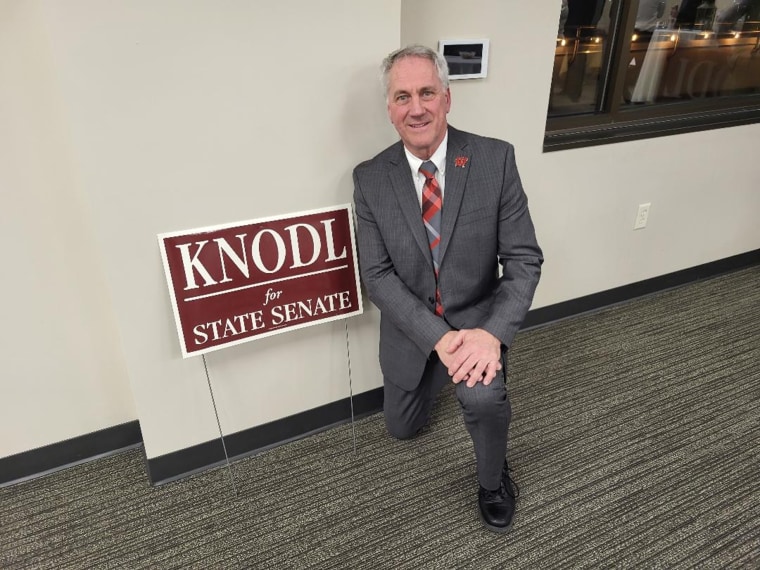 Democrats, however, have expressed concerns that the remarks — as well as similar threats from other state Republicans — foretell a GOP strategy of trying to impeach statewide elected officials, including Protasiewicz, with their new Senate supermajority.
"There's going to be a supermajority in the state Senate that will allow the legislators in control of the state Senate to do what they were threatening back in November, which is to start impeachment proceedings," Jodi Habush Sinykin, who lost to Knodl on Tuesday, said in an interview with WISN-TV before the election.
Knodl — one of 15 Wisconsin GOP state lawmakers who urged then-Vice President Mike Pence to refuse to certify the 2020 presidential election results — narrowly won election, The Associated Press projected Wednesday morning. The seat had been left vacant after Republican incumbent Alberta Darling retired in November. Because her retirement took place after Election Day, Evers scheduled a special election.
Knodl's win gave Republicans 22 votes in the Senate — an amount equivalent to a two-thirds majority in the chamber of 33 seats. This affords the party the ability to override vetoes from the governor, if the state Assembly also votes to do so, as well as to convict and remove officials in impeachment trials.
Under the Wisconsin Constitution, the state Assembly can impeach with a simple majority "all civil officers of this state for corrupt conduct in office, or for crimes and misdemeanors." The Wisconsin Supreme Court has previously ruled that those civil officers include the governor, lieutenant governor and judges.
Republicans currently hold 64 of the 99 seats in the lower chamber. If the Assembly votes to impeach, the Senate can then remove that official from office with a two-thirds majority. 
A spokesperson for Republican Assembly Speaker Robin Vos, who would have to approve such proceedings in that chamber, did not immediately respond to questions from NBC News. A spokesperson for the Wisconsin Republican Party referred NBC News to recent comments from another GOP state senator who indicated that the Senate would not advance any prospective impeachment proceedings against Protasiewicz.
While the state Supreme Court and its members are both technically nonpartisan, the race between Protasiewicz, a liberal, and Dan Kelly, her conservative opponent, took on a bitter and especially partisan tone.
Throughout her campaign, Protasiewicz made it clear that her positions on many issues — most prominently abortions rights — aligned with those of the Democratic Party. She was endorsed by the Democratic abortion rights group Emily's List, Hillary Clinton, former Attorney General Eric Holder and several other prominent Democrats.
She faced relentless criticism from Kelly and Republican officials in the state for having so prominently telegraphed her positions on political issues like abortion and the state's gerrymandered legislative maps, as well as other hot-button topics the state Supreme Court is all but certain to decide in the coming years.