They were almost famous.
While "Star Wars" transformed Harrison Ford, Carrie Fisher and Mark Hamill from heroes in a galaxy far, far away into enduring pop culture icons, the sci-fi space epic didn't quite alter the lives of its background actors in the same stratospheric manner.
Most of them barely got any screen time — save for a handful of seconds when they were dressed head-to-toe as nameless stormtroopers or obscured in elaborate alien makeup. In some heartbreaking cases, scenes with actual dialogue ended up on the cutting-room floor.
Now, 40 years after the first installment of the "Star Wars" franchise brought "the force" to American theaters on May 25, 1977, those who labored as so-called extras opened up to NBC News about a magical time on set — and how it has shaped them ever since.
'My Blood Is Part of That Film'
Derek Lyons was 18 and studying in university when he heard about a gig as a "supporting artist" for "Star Wars," which was being filmed outside London by American director George Lucas. He had just joined British Actor's Equity and was offered a $50 a day wage.
"It was my first job and I was quite happy to be in a movie," Lyons said.
Related: 'Star Wars: The Force Awakens' Hits Global Ticket Sales of $250M
His most vivid memories were of the set. It was May 1976 and the weather was unseasonably warm. Lyons breathed in the smell of plaster, glue and dust. There was Fisher — the daughter of Hollywood actress Debbie Reynolds — in costume as the character Princess Leia. She was 19 at the time.
"She was very unassuming, very normal."
Lyons recalled Fisher, who had been wearing sandals, complaining of a splinter that had lodged into her foot from the wood fixtures on set.
"I said, 'You OK, Carrie?' And she said, 'I think I have something in my foot.' I went on my knees. I was really embarrassed," Lyons said. "I saw this little thing on her heel. It was a little piece of wood."
Lyons gingerly tweezed it out, and Fisher repaid him with a kiss on the cheek, he recalled.
"She was very unassuming, very normal," he said of Fisher, who died suddenly in December after suffering a heart attack on a plane.
He also bonded with Hamill, who played Luke Skywalker. The pair explored neighboring sets that were used for the films "Oliver!" and "The Pink Panther Strikes Again." Lyons, who had a camera with him on set, had pictures of him and Hamill taken together while dressed in their "Star Wars" costumes.
"He became a friend," Lyons said.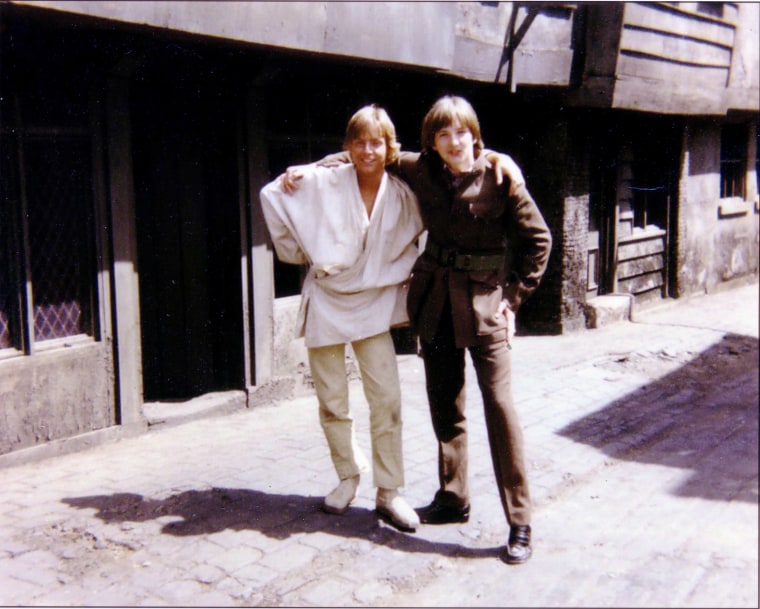 Lyons played a Massassi Temple guard and medal bearer, and was chosen to be one of the first medal bearers to good guys Han Solo and Luke Skywalker at the end of the film, which was shot at Shepperton Studios.
His first major appearance on screen was standing at attention as the heroes strode triumphantly into the hall after destroying the Galactic Empire's Death Star. Only, Lyons' face was hidden behind his helmet.
Moments later, Lyons would finally get a flash of face time when he was selected to be on stage to hand over the medals that Princess Leia would place around the heroes' necks.
"I'm just happy to be part of the first one," Lyons said. "My blood is part of that film."
'I Was in Awe'
John Chapman also bled for "Star Wars" — literally.
Chapman learned about a movie being made, and with all the nerve of a 21-year-old who didn't know any better, he knocked on the door of the studios and inquired about a job. Initially, he thought they were filming a TV movie, not a Hollywood blockbuster.
He was in luck. They needed X-wing pilots — the men in orange jumpsuits, white vests and helmets with visors who were tasked with taking down the evil Galactic Empire.
It was hot during the filming of the pilots' briefing room scene, and the actors would nod off as they waited for Lucas and the assistant directors to confer.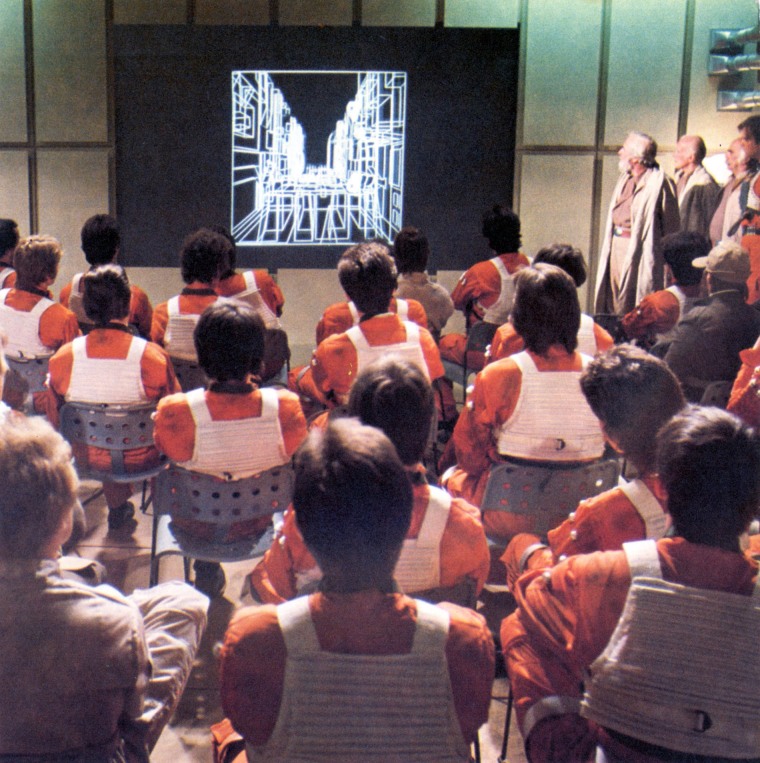 Chapman sat at the front of the briefing room, where the pilots were told before their big battle: "May the force be with you." He didn't know at the time that Lucas had chosen to film them all from behind.
"I was knocked out by the perfume and the magic — I was in awe," Chapman, now 62, said of being on set.
Chapman was also one of the scores of actors in the final medal ceremony scene. An attempt to get his face in the final cut was denied when the third assistant director made him yank his visor down. As he did so, he scraped his nose and had to stand there bleeding.
"I did manage to be in .345 seconds of the movie," Chapman joked. "I'm really famous for the back of my head."
'These Aren't the Droids We're Looking For'
For Anthony Forrest, who grew up in Canada and was a busker in New York City, "Star Wars" wasn't his first acting job. He had a role in the 1975 BBC miniseries "Anne of Avonlea."
Upon returning to England, where he was born, he learned about a movie being directed by Lucas, who three years earlier found acclaim with the coming-of-age classic "American Graffiti."
Related: Star Wars: Episode VIII' Title Revealed
The desert scenes in "Star Wars" were being shot overseas in Tunisia. After getting a meeting with Lucas, Forrest was eventually cast as a character known as Fixer.
"George was very quiet," Forrest recalled. "He was very focused. He's very single-minded when he's working."
In the movie, Fixer is a friend of Luke Skywalker, who returns to his home on the desert world known as Tatooine. Fixer was a small speaking role, but it also required Forrest to walk on the tough Tunisian terrain in uncomfortable shoes personally designed by Lucas.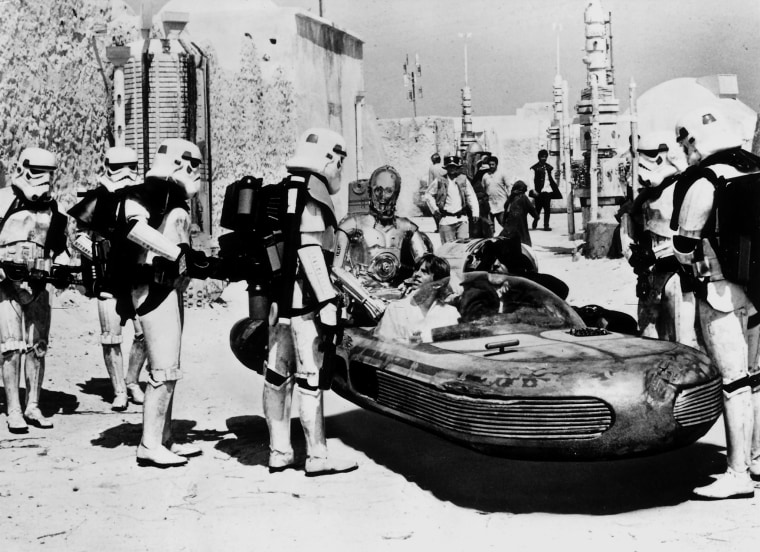 In addition, Lucas needed someone to play a nameless sandtrooper who is Jedi mind-tricked in the desert by Luke Skywalker's mentor, Obi-Wan Kenobi, played by the late Alec Guinness. Forrest was completely obscured by the faceless sandtrooper costume, but he was given a memorable line: "These aren't the droids we're looking for."
When the movie came out, Forrest was elated — and crushed. Fixer's part was cut without any explanation, although he would later live on as a deleted scene.
There was a consolation: His sandtrooper line was kept in.
Still, the final product blew Forrest away. "I was unsure [during filming] how it was going to turn out," he said. "In those days, we hadn't had a science fiction movie that looked that great on screen."
Small On-Screen Parts but a Lasting Impact
"Star Wars" turned out to be a crowd-pleasing hit.
It cost $11 million to make and would rake in nearly $461 million domestically. It was rebranded "Star Wars: Episode IV — A New Hope" and remains the No. 11 all-time top grossing movie, according to box office tracker The Numbers, which puts three subsequent "Star Wars" films at numbers one, seven and 10.
Stars of the franchise, as well as those with less visible roles, continue to see the movie's popularity live on, thanks to the line of toys and other merchandise and well-attended science fiction conventions.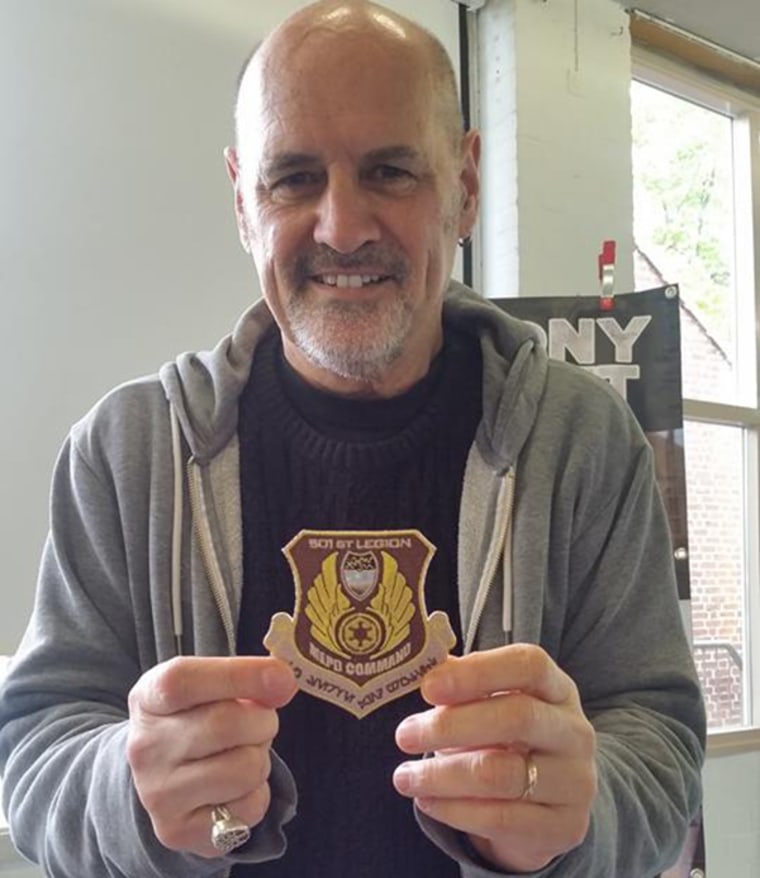 Forrest, who lived in Los Angeles during the 2000s, went to a convention and ran into friends from set, including Hamill. He was overwhelmed by the devotion from fans — some who fell over and cried upon meeting him, he said.
"It kind of looms in a way that I think is probably true for a lot of people who are involved in projects that are huge," Forrest said. "It does impact your life because you get identified for those things — but it's only a small part of your life."
Lyons, meanwhile, continued acting. He honed his craft with work in TV and film, including "Indiana Jones and the Last Crusade" and "Superman IV." He was asked to attend the occasional convention.
He also became interested in Buddhism, Indian mysticism and martial arts, and said he realized "Star Wars" resonates four decades later precisely because it's a story of good triumphing over evil.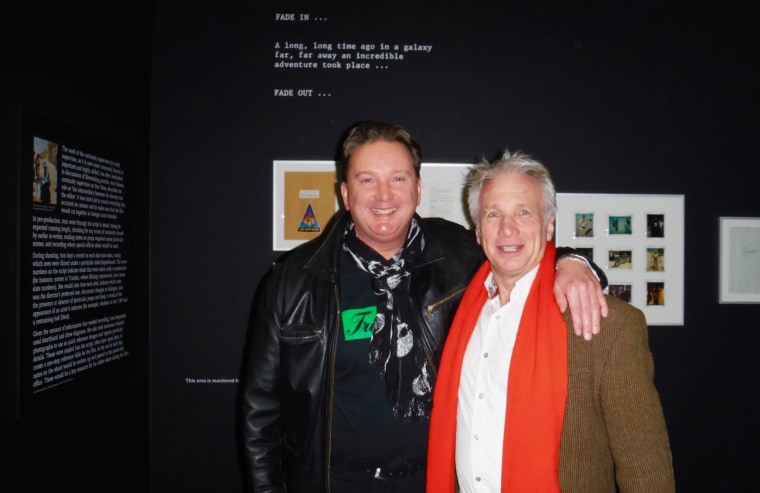 "'A New Hope' will be here for the millennia," he said. "It will be here forever and ever and ever."
Chapman said he feels only privilege to know he was part of a timeless and treasured movie. He even turned his love of space stories into a series of educational books for children called "The Adventures of Jonnie Rocket."
For a while, he yearned for a more robust career in movies, he said, but he didn't have the confidence to believe he was anything other than a body in the background. In recent years, he has done more acting, as well as producing and writing.
His knocking on the studio door as a young man in 1976 was just a beginning. "I had a lick at the cherry," he said, "but not a full bite."