David Bowie not only wrote some of the most iconic songs of the 20th century, he never stopped reinventing himself.
The star, who died Sunday aged 69, was often called a rock 'n' roll chameleon — although rather than transforming himself to blend in, his often flamboyant personas were consistently ahead of the curve.
Here are five of his best-loved characters:
1. Ziggy Stardust
Perhaps Bowie's most famous incarnation came with the release of his fifth album "The Rise and Fall of Ziggy Stardust and the Spiders From Mars" in 1972. He performed as Ziggy Stardust, a flame-haired, androgynous alien rock-star intent on bringing a message of hope to young people on Earth.
When Bowie and his band played the album's hit single, "Starman," on the British music show "Top of the Pops" in 1972, Bowie draped his arm around guitarist Mick Ronson. Bowie had recently told British music magazine Melody Maker he was gay, and in a later interview said that he was bisexual.
The gesture towards his male guitarist was seen by many at the time as overly effeminate, but later heralded as a important moment in a country grappling with changing attitudes on sexuality.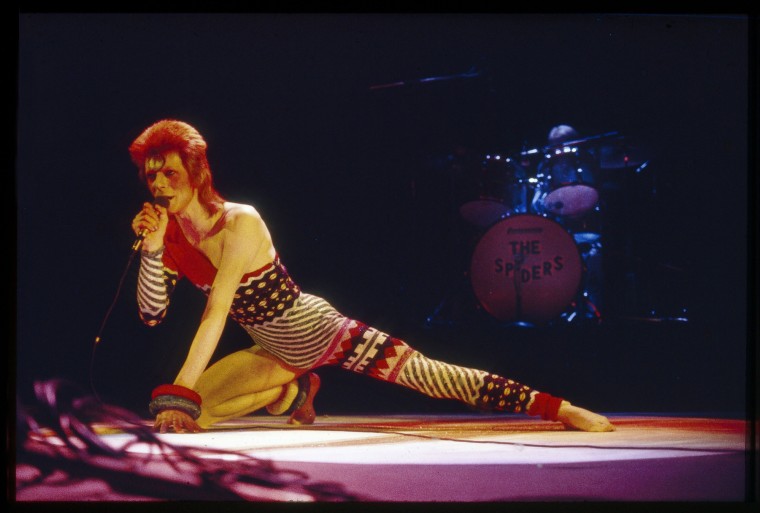 2. Thin White Duke
Just four years after the dazzling Ziggy Stardust, Bowie had ditched the extravagant hair, makeup and jumpsuit in favor of a far more restrained white shirt, black waistcoat and blond, slicked-back hair. This character was the Thin White Duke, a moniker still used as a nickname for Bowie to this day. It was around that time he he scored his first U.S. No. 1 hit, with "Fame," which was co-written by John Lennon.
The period was also a time of drug addiction and deep emotional stress for Bowie. By 1975, he was "living a cocooned existence, disconnected from the real world" in Los Angeles, David Buckley wrote in his 1999 book, "Strange Fascination: David Bowie — The Definitive Story."
He was living on a diet of red and green peppers washed down with milk, and engaged in erratic behavior such as storing his urine in the fridge so that "no other wizard could use it to enchant him," according to the book.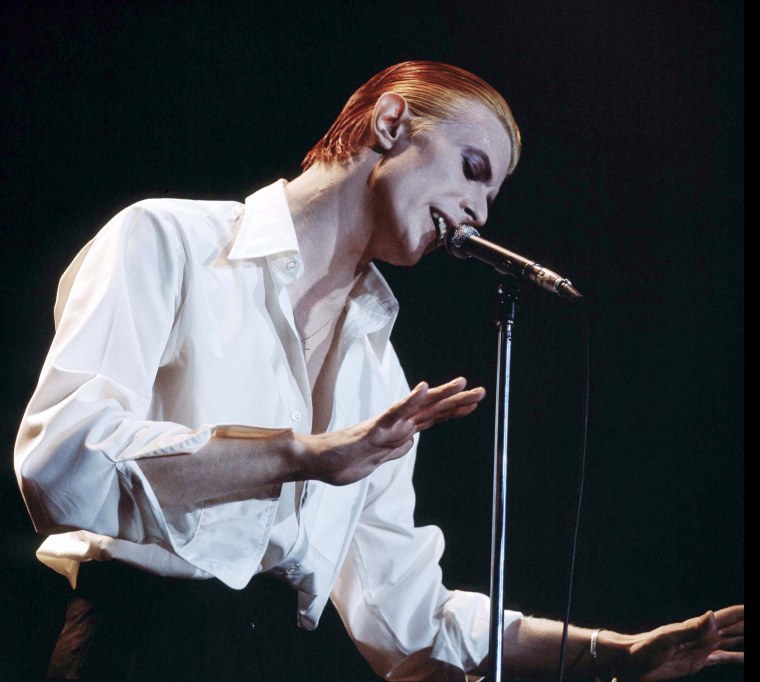 3. Major Tom
Bowie first announced his penchant for character creation with the 1969 song "Space Oddity," the story of a fictional astronaut called Major Tom who gets stranded in space. It was released the same year as the first Moon landings and captured the cosmos-obsessed zeitgeist. This theme of looking to the stars was to be a theme that ran through Bowie's career.
Major Tom was given a 21st-century reboot when Canadian astronaut Chris Hadfield performed the song aboard the International Space Station. The accompanying video recorded on the ISS has been watched more than 27 million times on YouTube.
4. Aladdin Sane
Inspiring constume-partygoers for decades, Aladdin Sane was defined by the red and blue bolt of lightning painted across his face. The character's eponymous album in 1973 was the follow-up to "Ziggy Stardust…," and while it was met with less critical acclaim, the character — whose name is a pun on "A Lad Insane" — has endured. The album reached number 17 in the U.S. album charts and solidified his celebrity in America.
5. Jareth the Goblin King
As well as recording a staggering 25 studio albums, Bowie made several notable forays into the world of cinema. He played the 19th-century physicist Nikola Tesla in the 2006 movie "The Prestige," which was directed by Christopher Nolan and starred Christian Bale, Hugh Jackman, and Scarlett Johansson.
However, he is best known for his portrayal of Jareth the Goblin King in the 1986 fantasy epic "Labyrinth." The movie's cult status was cemented with Bowie's performance of the song "Magic Dance."