Ebony Star Parson, a makeup artist who lives in Atlanta, planned to start working this week on a new season of the BET sitcom "Tyler Perry's House of Payne." The scripts were finished before Hollywood's screenwriters went on strike in early May, she said, so the crew was cleared to start shooting.
But on Thursday, after thousands of screen actors went on strike, Parson learned that production on "House of Payne" was shutting down. The show's producers told Parson and her colleagues to drop by the set and pick up their makeup kits. It was lights out for the time being.
Parson said she fully supports the film and television actors on the picket lines fighting for better base compensation, safeguards against the use of artificial intelligence and other protections. But she is also confronting the painful prospect of an immediate future without steady employment.
"We stand in solidarity with our talent, because they are the reason we are able to work. But we are also impacted here, so it's bittersweet," Parson said. "We understand why it's happening, but we are hurting. We are taking a hit."
She does not have another job lined up, and she is still trying to come up with an "action plan" in the event the SAG-AFTRA strike drags on through the end of the year. She is praying for guidance.
Parson is one of thousands of everyday entertainment industry employees whose livelihoods are at stake as the Hollywood assembly line grinds to a halt. In the business, they are known as "below-the-line" workers, a category that includes hairdressers, costume designers, camera operators, carpenters, gaffers, truck drivers and other professionals.
In practical terms, the dual work stoppages by SAG-AFTRA, the screen actors union, and the Writers Guild of America mean that physical production on the vast majority of studio-backed movies and television shows is indefinitely on hold, from late-night talk shows and network sitcoms to high-profile projects like "Gladiator 2" and the eighth installment in the "Mission: Impossible" film series.
The strikes pit SAG-AFTRA and the WGA against the Alliance of Motion Picture and Television Producers, or AMPTP, a trade association that represents major studios such as Disney, Paramount and Warner Bros. Discovery, as well as tech behemoths like Amazon, Apple and Netflix. (The group represents Comcast, the corporation that owns NBC News.)
Neslihan Arslan, 39, an assistant art director who worked on the HBO drama "Succession" and the A24 film "Past Lives," filed for unemployment benefits three weeks ago after production on an Apple TV+ series she was working on came to a halt. She is expecting a baby girl in September and increasingly unsure how she and her husband will make do this year.
"We were careful with our money, and we managed to survive the entire pandemic, which also affected our jobs … but we're going to have a lot more expenses," said Arslan, whose spouse works in the industry as a dolly grip.
Arslan is considering pivoting to a "backup" profession in event design, although right now she is "too big to work" on anything that would be physically taxing. Arslan's husband might drive for Uber to help pay the bills, she said.
"But there is no doubt," she said, that they both support the creative talent on strike.
In an impassioned speech Thursday, SAG-AFTRA President Fran Drescher acknowledged the wider ramifications of the work stoppage, saying in part that the "gravity" of the guild leadership's unanimous vote to go on strike was "not lost on me."
"It's a very serious thing that impacts thousands, if not millions, of people all across this country and around the world — not only members of this union, but people who work in other industries," said Drescher, who was previously best known for her starring role on the sitcom "The Nanny."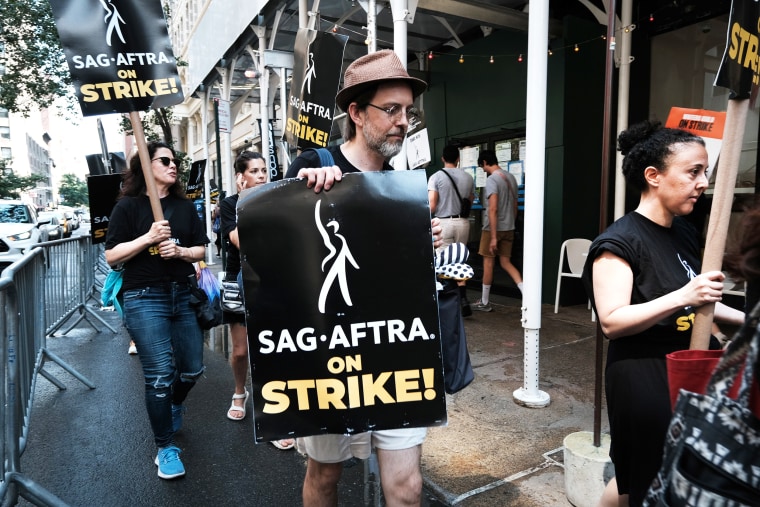 Los Angeles and New York City are famously home to many big studio projects, but other cities in states that offer generous tax incentives have also become robust production hubs. The film and television productions in places like Atlanta, New Orleans and Albuquerque, New Mexico, have been boons for local economies.
Tachic Hickman-Piazza, 43, a production travel coordinator and associate producer whose television credits include the Oprah Winfrey Network's "Queen Sugar," spent much of the last decade enjoying "plentiful" work in Louisiana. But like many others in the area, she has found it difficult to find film and TV work over the last three months.
"The film industry … provides entertainment to the world. Everyone on the planet leaned into our industry to help get them through the pandemic when we were all stuck inside with nowhere to go and only TV and streaming to help our sanity," Hickman-Piazza said. 
"Yet, whenever there is a strike in our industry that evokes extreme hardship on filmmakers and in particular below-the-line crew, we're never protected," she said, adding that she believes the federal government needs to "step in and provide protection and assistance" for entertainment workers who could face financial hardship for the duration of the strikes.
The strikes could ramp up competition for jobs in other filmed entertainment that are not subject to SAG-AFTRA rules, such as commercials and music videos. Laurel Hitchin, 48, a Teamster truck driver who mainly works in commercials, said she has observed that the slowdown in film and TV production has increased the number of people vying for jobs in her part of the entertainment business.
"We're kind of the only gig in town right now," Hitchin said.
Christian T. Kelley-Madera, 34, a union visual effects editor whose credits include the Warner Bros. musical "In the Heights" and Amazon's hit "The Marvelous Mrs. Maisel," said ground-level discontent across the industry's craft-and-trade professions has been building for years.
"The balance of power has always been in favor of the studios and the entertainment companies, but right now it's so out of whack. It's increasingly hard for anybody but the top, top, top earners to make a good living in this industry and build a sustainable life," said Kelley-Madera, who also described facing mounting pressure to meet tight project deadlines.
Thousands of below-the-line workers are represented by the International Alliance of Theatrical Stage Employees, a union whose members came close to going on strike in 2021 amid rank-and-file fury over grueling working hours and other issues. IATSE ratified new contracts with the studios by a thin margin that November.
In a statement, IATSE International President Matthew D. Loeb said the actors' and writers' battle against the AMPTP is "part of the same struggles of every worker whose labor powers America's film and television industry."
Loeb also took aim at the studios, writing in part that if the big firms "truly cared about the economic fallout of their preemptive work slowdown against below-the-line crewmembers, they could continue to pay crewmembers and fully fund their healthcare at any moment, as they did in 2020 during the onset of the COVID-19 pandemic." (He thanked "grassroots groups" of creative talent for efforts to "fund mutual aid that directly benefits our members.")
Kelley-Madera said he hopes the SAG-AFTRA and WGA strikes will eventually "shift the balance of power in the long run to benefit people like me."
"In hindsight," he said, "I really wish that IATSE had gone on strike when we had the chance."