Russell Brand has postponed his remaining U.K. comedy shows following the publication of multiple sexual abuse allegations against him over the weekend.
Brand was accused of sexual and emotional abuse by four women in a joint investigation by the Times of London, The Sunday Times and Channel 4 Dispatches. The comedian turned wellness influencer denied the allegations, saying that all of his relationships have been consensual.
The Theatre Royale Windsor management announced that it would be suspending the end of Brand's current "Bipolarisation" comedy tour in a statement Monday.
"We are postponing these few remaining addiction charity fundraiser shows, we don't like doing it — but we know you'll understand," the statement said.
It's unclear whether the dates will be rescheduled. Theatre Royal Windsor said it will be issuing refunds in line with the venue's policies.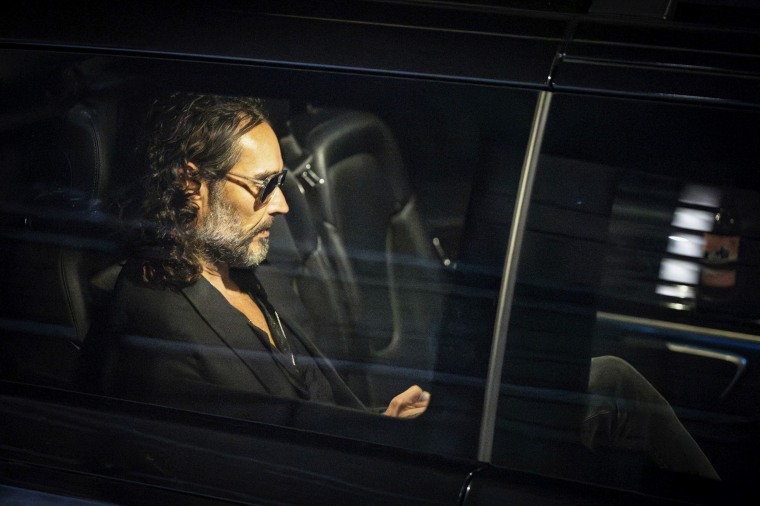 The Times of London, The Sunday Times and Channel 4 Dispatches spoke to four women, one of whom said she had a three month relationship with Brand when she was 16 years old.
That woman, who identified as Alice, said Brand was 31 at the time and alleged that he forced her to perform oral sex. Brand did not stop until she punched him in the stomach, she told The Times.
She also alleged that although she was of legal consenting age in the U.K., Brand guided her on how to present their relationship to her family and to save his contact under a different name. She also told The Times she reached out to Brand's literary agency in 2020 with her allegations.
Management agency Tavistock Wood said Sunday that they dropped Brand as a client, adding that they were "horribly misled" by him.
Another woman, who was identified by the name Nadia, accused Brand of raping her at his Los Angeles residence in 2012. She said Brand invited her to the home after they'd had consensual sex once before, but on this occasion wanted a "friend" to join them, according to The Times.
When she refused, Brand held her against a wall and raped her, Nadia alleged.
NBC News has not independently confirmed any of the allegations against Brand.
Metropolitan Police Service told NBC News that it received a report of sexual assault against Brand on Sunday, a day after the investigation's publication and a documentary that also aired Saturday.
The alleged sexual assault occurred in 2003, in London's Soho neighborhood, according to the police department.
"We continue to encourage anyone who believes they may have been a victim of a sexual offence, no matter how long ago it was, to contact us," Metropolitan Police Service said.
Bluebird, a division of Pan McMillian, also said Monday that it was suspending its pending publications with Brand.
"These are very serious allegations and in the light of them, Bluebird has taken the decision to pause all future publishing with Russell Brand," the company said.
Brand has denied all of the allegations against him in a social media post.
"But amidst this litany of astonishing, rather baroque attacks are some very serious allegations that I absolutely refute," Brand said in a video.
Channel 4 confirmed that episodes of "Big Brother's Big Mouth" and "The Great British Bake Off" which featured Brand have been removed from its streaming service. Brand worked with the network from 2004 and 2007, when some of the allegations occurred.
One staff member, a woman identified as Rachel, alleged to the Times that Brand flashed his penis at her in his dressing room and insinuated that she could perform oral sex on him.
Other crew members also alleged mistreatment from Brand in interviews with the times, including people who felt that they were working as a "pimp" for Brand as he pursued members of the audience for sex.
"We have asked the production company who produced the programmes for Channel 4 to investigate these allegations and report their findings properly and satisfactorily to us," the network said. "Channel 4 is also conducting its own internal investigation, and we would encourage anyone who is aware of such behaviour to contact us directly."