Kansas City Chiefs tight end Travis Kelce said he may have had "a little bit of a clue" that Taylor Swift would swap out the lyrics in her song "Karma" to reference their budding romance.
The change in lyrics — as well as Kelce's excitement over it — took social media by storm Saturday night. During her performance at Buenos Aires' Estadio River Plate, Swift sang "Karma is the guy on the Chiefs, coming straight home to me" — in place of "Karma is the guy on the screen, coming straight home to me."
The stadium immediately erupted in screams and cheers. Cellphone video posted on social media showed Kelce, 34, grabbing his face and breaking into a big grin as he danced to the song. Swift's father happily clapped his hands.
Kelce and his brother Jason Kelce addressed the moment on an episode of their "New Heights" podcast.
"Yeah, no, had no clue," Kelce said when his brother asked him how it felt to be "the guy on the Chiefs."
"Well, I might have had a little bit of a clue but definitely when I heard it come out of her mouth, still shocked me. I was like, 'oh, shh, she really just said that, alright,'" he said.
The Chiefs tight end went on to praise Swift.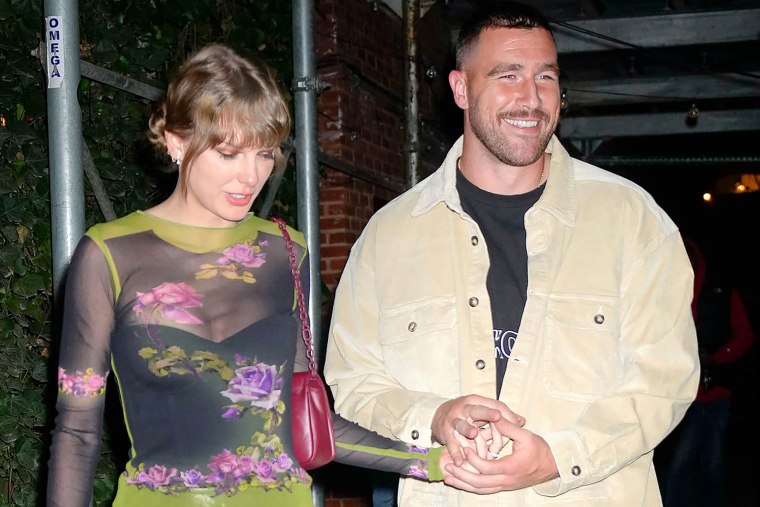 "Taylor absolutely ripped it, she killed it," he said. "And it looked like she was having some fun up there."
Following the show, Swift shocked fans again when she was seen on camera running into Kelce's arms and kissing him as they walked backstage. Kelce and Swift have not directly confirmed their relationship but have been spotted together, and Swift has attended multiple Chiefs games.