"Vanderpump Rules" has long reveled in messy reality television, but even hard-core fans were shocked by this season's "Scandoval" — an affair that has lit up the internet and attracted curious new viewers and will culminate in what's being teased as a bombshell finale.
The reveal this year of a monthslong secret relationship between series regulars Raquel Leviss and Tom Sandoval, quickly dubbed Scandoval, was devoured and autopsied all over social media.
Producers of the Bravo series, now in its 10th season, were apparently unaware of the affair but quickly capitalized on the audience interest. Even though the tryst was revealed only in the last episode of the regular season, the show's three-part reunion has been almost entirely dedicated to its fallout.
The third part of the "Vanderpump Rules" reunion is teased to have a dramatic reveal in the final five minutes Wednesday night.
Here's what you need to know about one of the hottest topics in pop culture.
What is 'Vanderpump Rules'?
"Vanderpump Rules" is technically a spinoff show of Bravo's successful "Real Housewives" franchise. Bravo is owned by NBCUniversal, the parent company of NBC News.
First airing in 2013, the show followed the young and attractive staff members of Lisa Vanderpump's restaurants and bars in Los Angeles.
Vanderpump, 62, was a cast member of "The Real Housewives of Beverly Hills" until she quit in 2019, saying the show was too "emotionally difficult."
But the former "housewife" had already been named executive producer of "Vanderpump Rules" and opened three businesses featured on the show: SUR Restaurant & Lounge, Pump Restaurant and Tom Tom Restaurant & Bar.
While Vanderpump certainly appeared on the spinoff, the show's focus remained on her staff members and their relationships — which were often fraught and complicated.
Who are the major players in Scandoval?
"Vanderpump Rules" stars Ariana Madix and Tom Sandoval had been together for nine years when Scandoval was revealed in March.
Sandoval, 40, was a founding cast member of "Vanderpump Rules," and Madix, 37, joined in its second season. When Madix joined the show, Sandoval was dating former castmate Kristen Doute.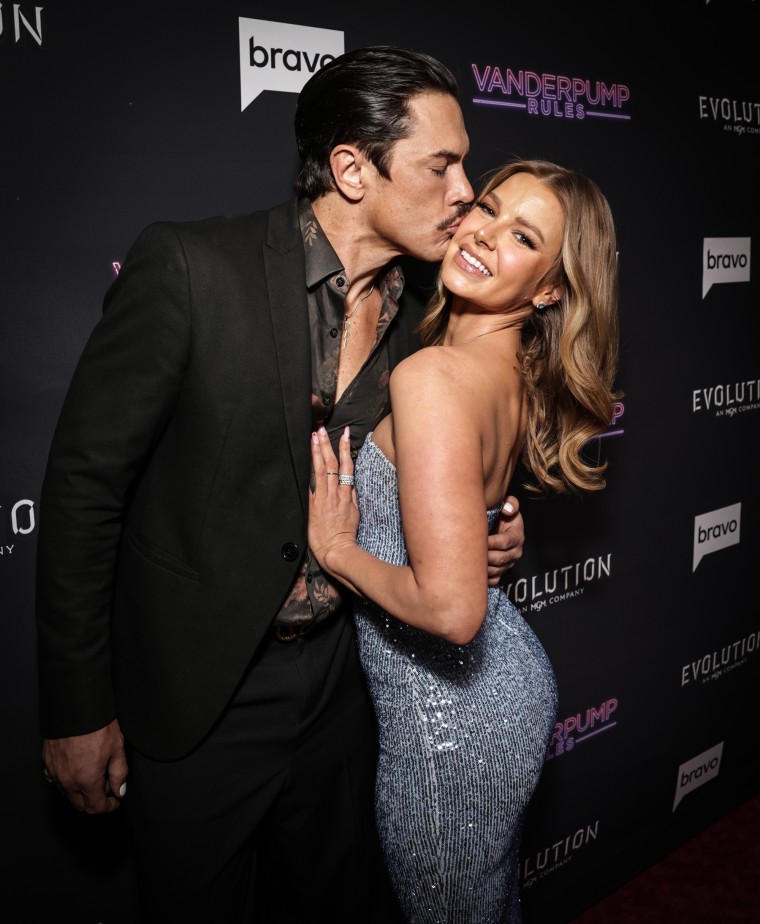 Doute cheated on Sandoval in season two, and he began seeing Madix before he broke up with Doute, according to the show's official storyline. Amid their own cheating allegations, Madix and Sandoval began officially dating around 2014 and stayed together for nine years.
They bought a home together, promoted their own cocktail recipe book together and were seemingly planning the rest of their lives together.
Leviss, whose birth name is actually Rachel, was introduced to "Vanderpump Rules" viewers during the show's fifth season as the love interest of cast member James Kennedy. She and Kennedy were engaged in May 2021 but broke up just months later, announcing in a joint statement that they were no longer in love.
Leviss and Madix appeared to form a genuine friendship on and off screen in recent years. Madix was even present with Sandoval when Kennedy proposed to Leviss.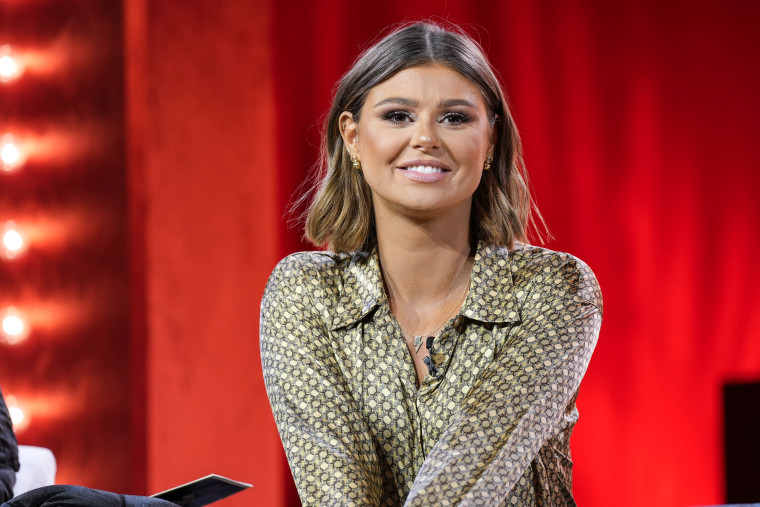 What is 'Scandoval,' and how was it uncovered?
On March 1, when Madix and Sandoval were together at a performance with his band in Los Angeles to celebrate his new single, Madix was given Sandoval's phone to hold onto as he took the stage.
According to Madix's retelling in the show's finale, she suddenly got the urge to check his phone, where she saw a screen recording of Sandoval and Leviss on FaceTime. The video is implied to have been sexually explicit.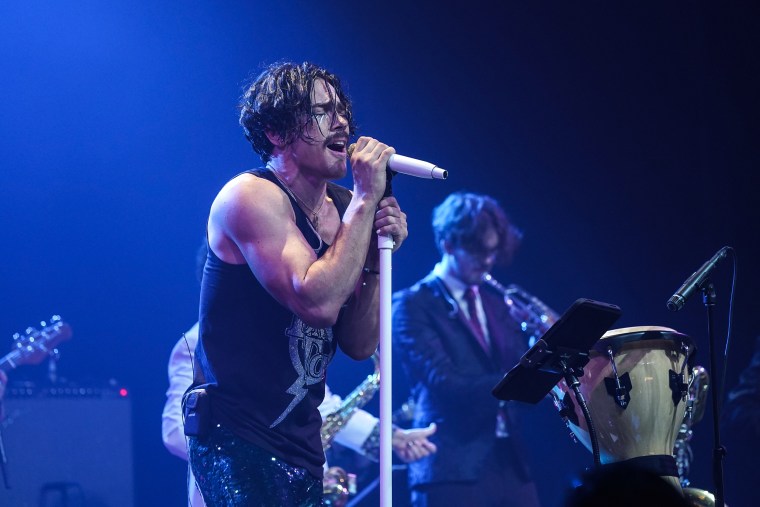 Leviss was in New York City filming an episode of the Bravo talk show "Watch What Happens Live" with castmate Scheana Shay at the time. Madix said she called Leviss almost immediately after her discovery to hear her friend's explanation.
"Raquel comes up to me and I'm like, 'What is going on?'" Shay said in the show's finale. "And she just nonchalantly looks at me and was, like, 'Yeah, Sandoval and I have been having an affair for seven months. Ariana just found out.'"
TMZ broke news of the affair two days later, and Scandoval quickly exploded across the internet.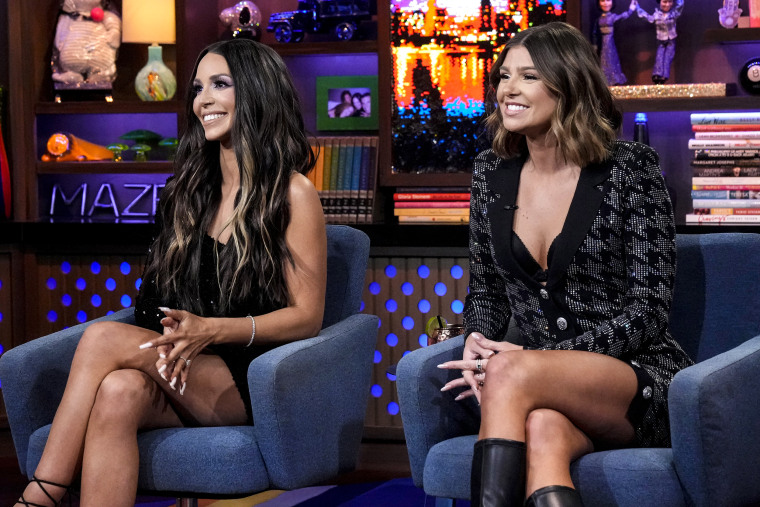 "Vanderpump Rules" had finished filming its 10th season by then, and only a few episodes had aired. Showrunners reportedly scrambled to reignite production to catch the aftermath for viewers.
The episode was a ratings high for the reality show, with a combined 4.1 million views across live cable, on-demand television and streaming in three days, according to Variety.
"I was ride or f----ing die for you," Madix told Sandoval in the finale. "I had her back, as well. The fact that she continued to smile in my face while also smiling on FaceTime with you is one of the most God-awful, disgusting things I've ever heard of. ... I regret ever loving you."
The affair allegedly began around September, right after Madix's beloved dog Charlotte died, and it continued until at least May, when reports surfaced that Sandoval and Leviss had ended their relationship.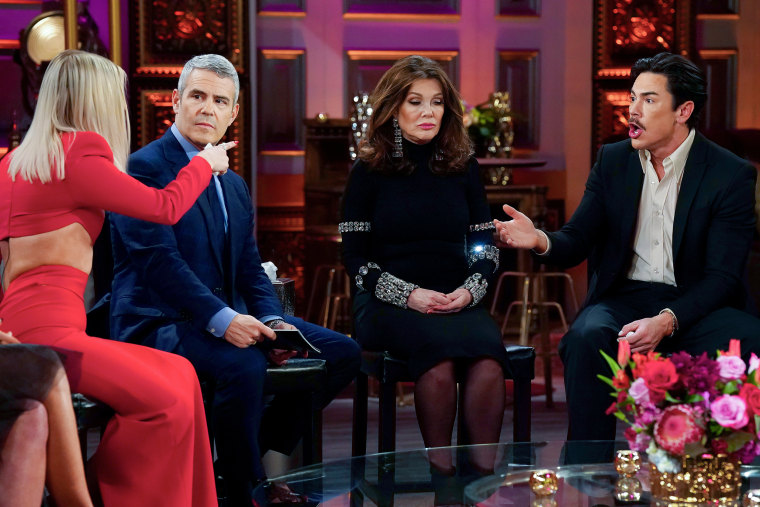 Sandoval tried to explain his reasoning for engaging in the affair, saying his relationship with Madix was strained for months and there was "zero intimacy." At one point during the finale, he appeared to blame Madix for not catching him.
He also alleged that Madix threatened to self-harm when he tried to break up with her, a claim that Madix has rebutted.
What is Wednesday's big reunion reveal?
Although rumor has it Sandoval and Leviss have broken up, Scandoval has yet to reach its on-air conclusion. Bravo has teased that the third and final reunion episode Wednesday will have a shocking reveal in the final five minutes.
Fan theories have run rampant as viewers speculate about what could possibly add to this season's drama.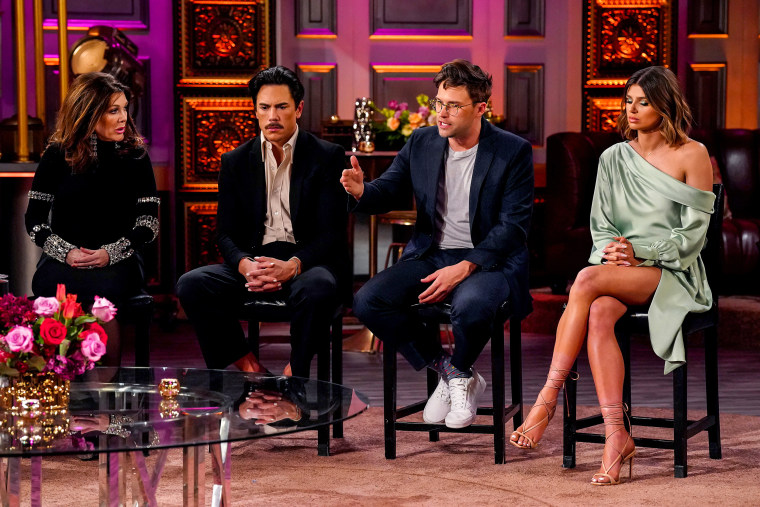 Some believe the surprise will be focused on Leviss — that she could be pregnant or had been "hooking up" with her former fiancé and Sandoval at the same time. Other guesses are more benign, among them that Lisa Vanderpump is stepping away from the show.
The show's executive producer, Alex Baskin, told the New York Post's Page Six last month that the twist was so shocking it could affect whether some cast members decide to return to the show.
"Vanderpump Rules" experts Rob Schulte and Molly Schwartz believe the reveal will be related to the logistics of the show itself, such as announcing a spinoff. Schulte is the host and producer of the "Vanderpump Robs" podcast, which he frequently co-hosts with Schwartz, who is also a producer of WNYC radio's "On the Media."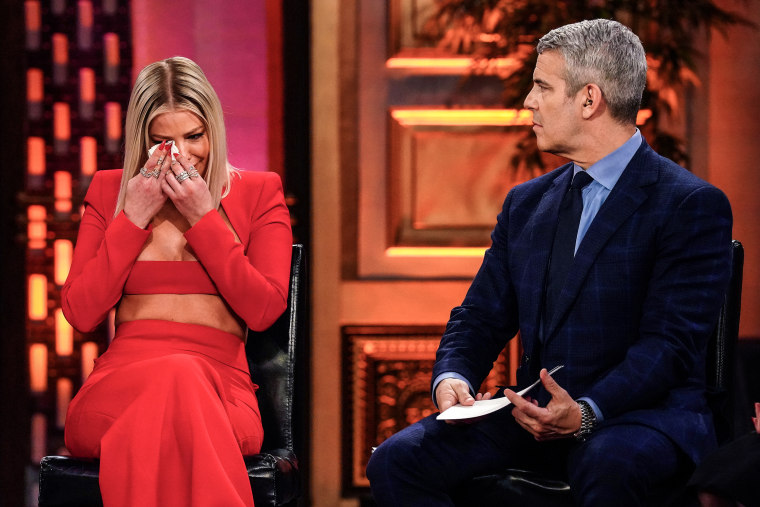 "I do think, like, logistically, it would make sense that Bravo was going to ring the bell and cash as many checks as possible so they can split this into two shows," Schulte said. "That would be a big deal, and it'll be painted with a brush of Lisa Vanderpump saying there's too much fighting, I need to start new."
It could also be something with Scandoval that's so shocking "people don't want to continue," Schwartz said.
"I feel like the popular myth floated is that Raquel and Sandoval actually started their affair before Raquel had broken up with James," Schwartz said. "I don't know. To me ... as much as I would love it to be about the drama, I have a feeling it's a logistics thing."
Why are people so interested?
It is hardly the first affair to unravel on reality television — or even on "Vanderpump Rules" — and it is unlikely to be the last. But somehow this scandal has dominated pop culture conversations for weeks.
Even castmates, who have been called out for their own infidelities, have expressed their ire and disappointment with Sandoval in the finale and the first two parts of the show's reunion.
But if Scandoval isn't unique, even within the "Vanderpump" universe, that raises a question: Who cares?
Part of the appeal of "Vanderpump Rules" is that its cast, originally a group of young people making their way in the service industry, has been more relatable than the casts of other Bravo reality shows, Schulte said.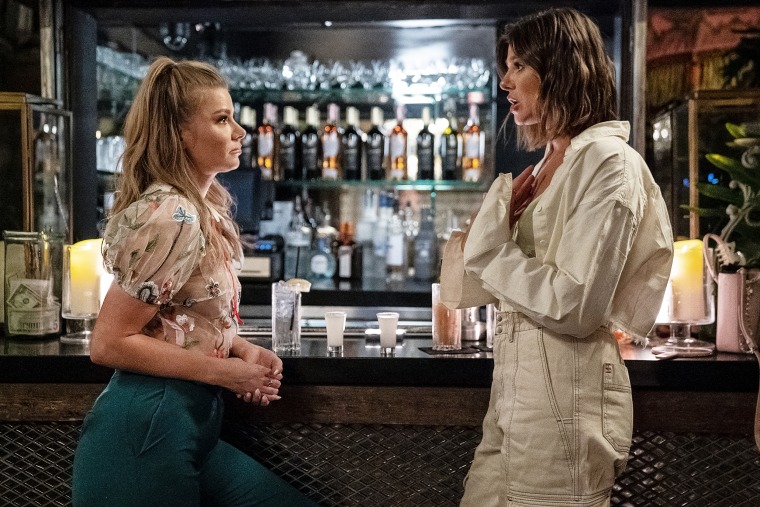 Madix in particular has served as the audience proxy on the show, viewed as the more grounded half of the relationship with the flamboyant Sandoval, Schulte said.
"So we trust her," Schulte said. "And then to see that this isn't just a random fling ... . You know, this is a calculated affair that happened for many months against the audience proxy. It hits home, and people feel intensely about it."
Schwartz added that viewers have watched the cast's relationships grow for 10 years. Audiences understood the stakes involved in these seemingly genuine friendships, not only for the three main players in the affair but also for the entire group.
"Sometimes I feel like people even have a kind of, like, judgey attitude toward reality TV," Schwartz said. "And I'm like, no, you don't understand. What makes the show great is the same thing that made Jane Austen novels great. ... It's like taking a glance between two people and making it mean everything. This is about documenting human relationships, you know?"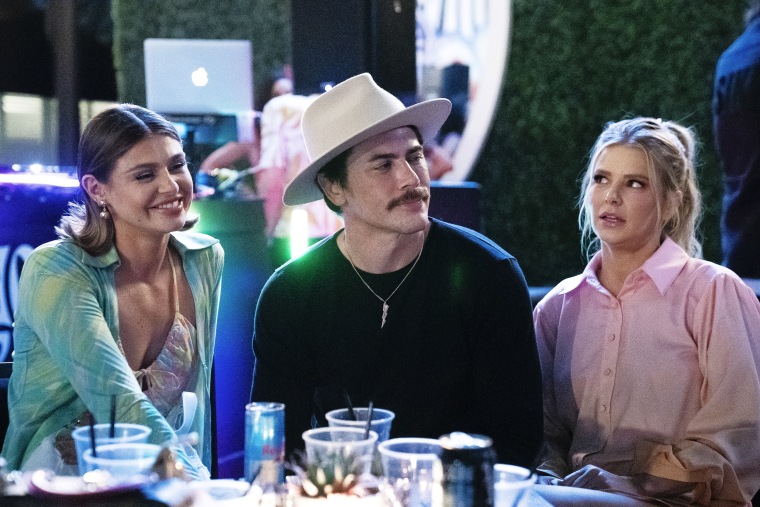 Viewers also had the benefit of watching the rest of the season with the knowledge that the affair was happening, "so we could actually see the lies play out on camera," Schulte said. He called "Vanderpump Rules" a new generation's "Melrose Place," the hit 1992 melodrama series.
"Scandoval has been exactly the high drama moment that's like the season three finale of 'Melrose Place,' where Kimberly blows up Melrose Place ... someone actually planting an explosion at the place where everyone hangs out," Schulte said. "This is an emotional explosion in real-life circumstances with real-life fallout."