White House Press Secretary Sean Spicer has become the latest member of President Donald Trump's administration to get the "Saturday Night Live" treatment, courtesy of actor and comedian Melissa McCarthy.
In a surprise cameo, McCarthy mimicked Spicer's famously combative first appearance with the White House press corps, at which he angrily took issue with reports about the size of the crowd at Trump's inauguration.
"I'd like to begin today by apologizing on behalf of you to me," McCarthy yells at reporters.
"And that apology is not accepted!"
McCarty, a four-time "SNL" host, screamed, poured an entire container of gum down her throat and literally used her lectern as a bully pulpit, pushing troublesome reporters back into their seats during the sketch.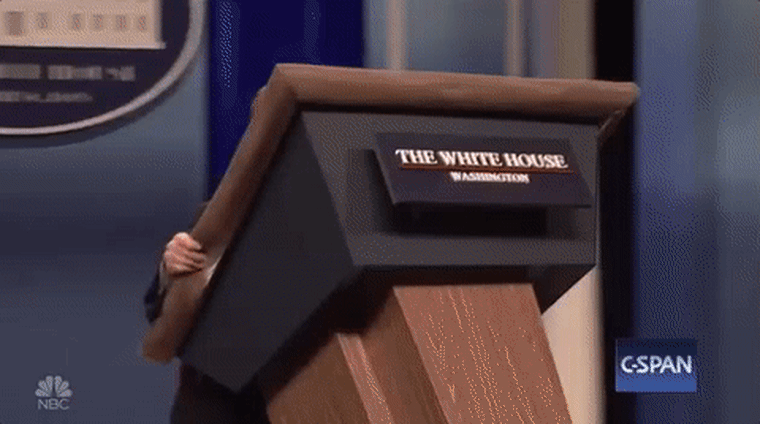 McCarthy has been nominated for Emmy awards for each of her appearances hosting the show.
The sketch also took aim at Spicer and the administration's spats with individual media outlets, featuring a diaper-clad CNN journalist caged in the corner of the press room.
In a possible case of life imitating art, Spicer was engaged in a Twitter spat on the evening the show was broadcast with a Washington Post reporter over a story he described as "false."
McCarthy is the latest in a string of high-profile performers to make fun of prominent politicians on the show. Alec Baldwin has made frequent guest appearances as Trump, and Larry David won over viewers with his comedic portrayal of Sen. Bernie Sanders, I-Vermont, a Democratic presidential candidate
Her appearance was not the only time the show took aim at team Trump this week. Baldwin returned as the president for this week's cold open sketch, featuring an Oval Office meeting with Steve Bannon, played by a cast member in a full Grim Reaper costume.
Host Kristen Stewart also took a jab at Trump, mocking his habit of tweeting about her former relationship with her "Twilight" co-star Robert Pattinson.
While Spicer has yet to comment on his portrayal on the show, Trump has made his feelings clear about Baldwin's impersonation — he's not a fan.