British billionaire Richard Branson christened the world's first facility designed for private-sector space travel in grand style today, rappelling down the glass-sheathed side of Spaceport America's spaceship complex with a champagne bottle in hand.
Branson's acrobatics served as the climax of a spaceport dedication ceremony that also featured some aerobatics from the SpaceShipTwo rocket plane and its massive WhiteKnightTwo mothership. The double-plane flight system is designed to carry passengers to the edge of outer space from Spaceport America in the New Mexico desert. Branson's company, Virgin Galactic, could conceivably start passenger service on SpaceShipTwo in late 2012 or 2013, depending on how the flight tests go.
Branson and his children, Sam and Holly, popped up as surprise guest performers during a wall-walking dance staged by the California-based Project Bandaloop. The champagne bottle was lowered down to Branson on a rope. He uncorked the bottle and gave Spaceport America's alien-looking, 110,000-square-foot terminal/hangar facility a celebratory splash of bubbly. Then he declared that the building would be called the "Virgin Galactic Gateway to Space," and finished off the rites with a deep swig of champagne.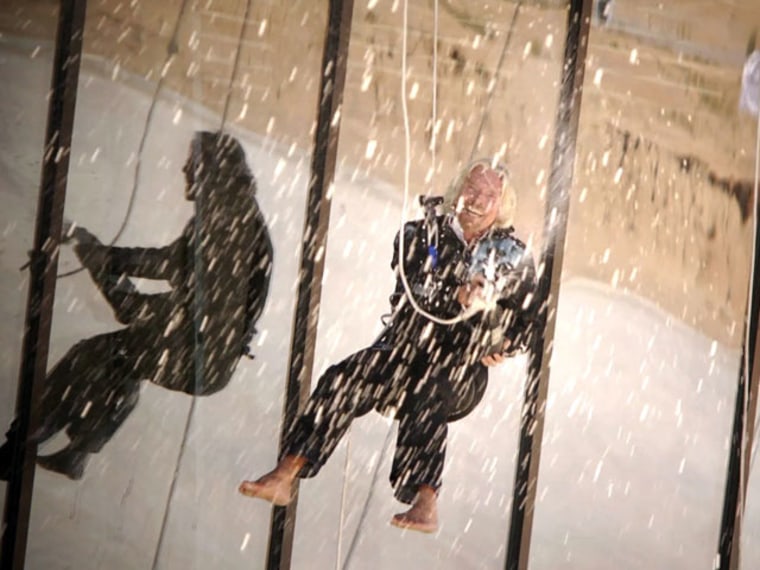 When Branson was lowered to the ground, he told New Mexico Gov. Susana Martinez that he hoped the performance would be "the first of many safe landings at Spaceport America."
Virgin Galactic's chief executive officer, George Whitesides, said it was Branson's idea to get in on the act, and Branson told me that no one rejected the idea. "I think they've given up trying to convince me not to do things," he said.
Today's ceremony drew hundreds of onlookers — including Martinez and other New Mexico politicians as well as Apollo 11 moonwalker Buzz Aldrin — to a site 30 miles east of Truth or Consequences, N.M., in an area so isolated that cellphone coverage was hard to come by. Spaceport director Christine Anderson joked that the $209 million facility might be out in the middle of nowhere, but it's a "beautiful middle of nowhere," set amid the San Andres Mountains.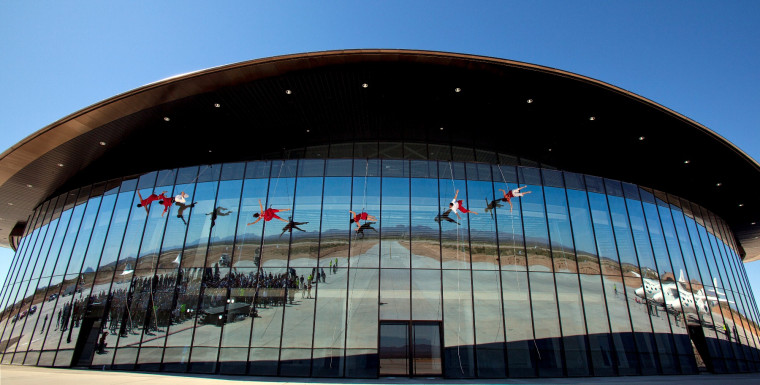 Among those in the audience were more than 150 spaceflight fans who have already put down deposits for SpaceShipTwo's $200,000 fare. Virgin Galactic says that, in all, it has taken more than 450 reservations for suborbital spaceflights. One of the would-be fliers, Namira Salim of Dubai, said that today's dedication marked "an exciting moment."
"It's not just about going into space — the dream of the common man," she told me. "It's so much more historic and significant. The development of the private space industry and the contribution that Virgin Galactic is making to private spaceflight will actually enable payloads, researchers, scientists, all kinds of people to go up to space."
Alan Stern, a space scientist at the Southwest Research Institute who has reserved his seat to conduct scientific experiments on SpaceShipTwo, said the rise of suborbital spaceships would be a "game-changer" for his field. Just last week, in fact, Virgin Galactic said it had worked out contract arrangements with NASA for up to three research flights on SpaceShipTwo, with a value of up to $4.5 million. 
Virgin Galactic's flight plan calls for the WhiteKnightTwo carrier plane (also known as VMS Eve) to take SpaceShipTwo (also known as VSS Enterprise) up to a height of 50,000 feet, and then let it go to fire its rocket engine. The smaller plane would blast up to more than 62 miles (100 kilometers) in altitude, past the internationally accepted boundary of outer space. After a few minutes of experiencing weightlessness and gazing at the curving Earth, the riders would glide back to a landing at Spaceport America. The up-and-down trip would take about three hours in all.
Eventually, Branson plans to extend Virgin Galactic's reach to point-to-point suborbital flight as well as orbital outings. "This is a Virgin birth," he joked.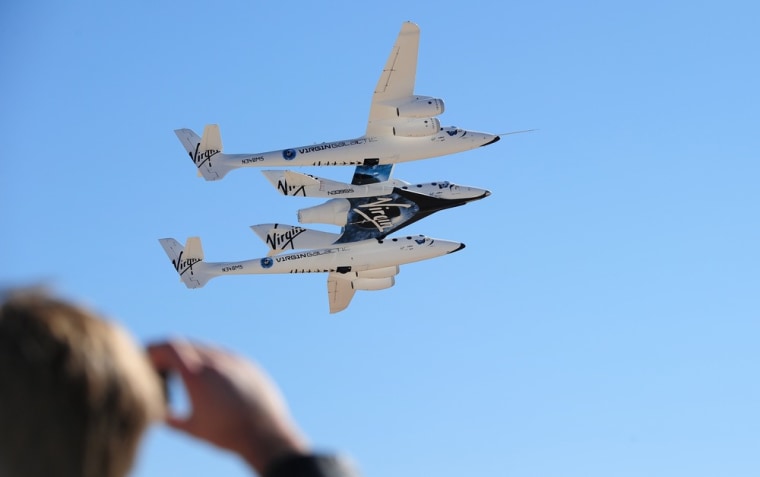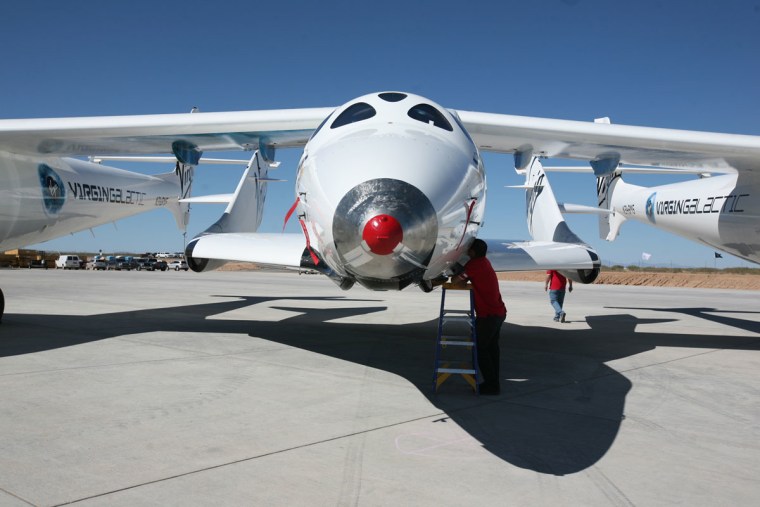 During today's half-hour demonstration flight, SpaceShipTwo remained firmly attached to its carrier airplane, and the altitude was capped at about 10,000 feet. But the plane has already gone through 16 free-flying, unpowered glide tests at its Southern California test site — including one last month that was characterized as a "nail-biter." Sometime in the next year, SpaceShipTwo's developers at Scaled Composites are expected to begin powered tests with a hybrid rocket engine made by Sierra Nevada Corp.
Meanwhile, construction work will continue at Spaceport America. The facility is said to be more than 90 percent complete, and the exterior of the "Gateway to Space" bseems to be essentially finished. But lots of work remains to be done on the interior — particularly in the facility's terminal area, where the floors and the walls are little more than bare concrete and unadorned drywall. The hangar, which is designed to hold as many as two WhiteKnightTwo motherships and five SpaceShipTwos, seems cavernous today.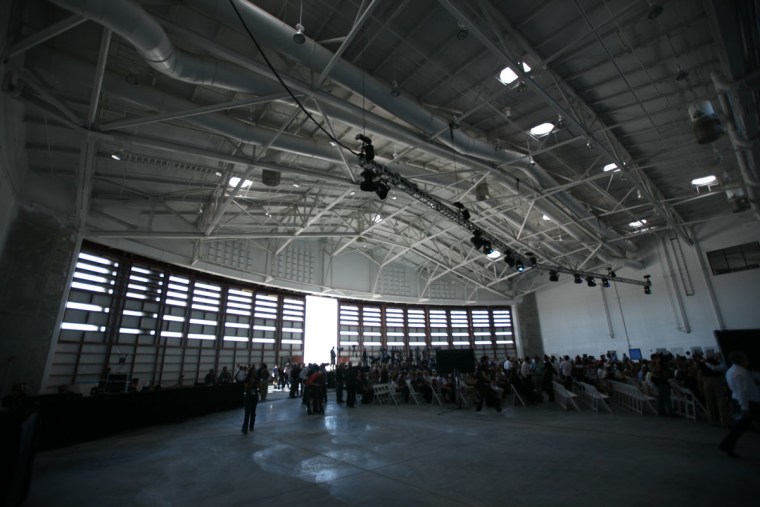 Another year should make a big difference, both for the Gateway to Space's interior and for Branson's space aspirations. He's hoping to take a suborbital space trip on SpaceShipTwo with his family for Christmas in 2012. Does that sound too ambitious, coming from a guy who has just rappelled down a 60-foot-high building? You tell me, by registering your comments below.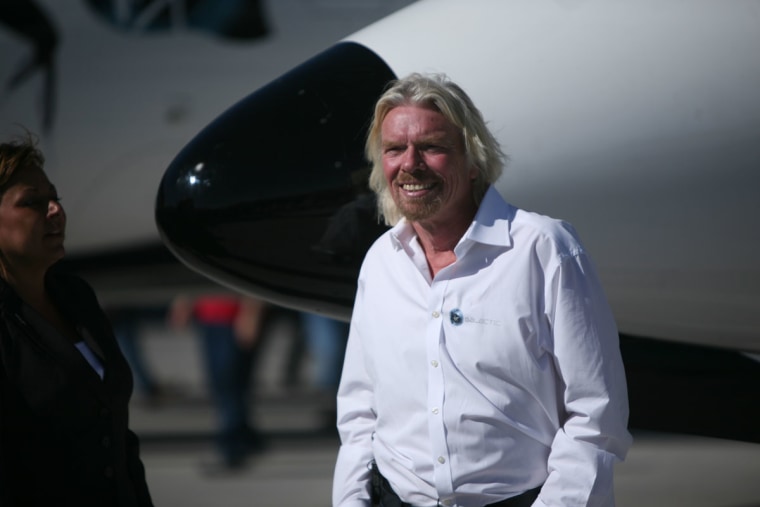 More about commercial spaceflight:
Connect with the Cosmic Log community by "liking" the log's Facebook page, following @b0yle on Twitter or adding me to your Google+ circle.