More than one-third of the world's coral reefs this year are at risk from some level of bleaching — an effect that can whiten and kill coral as ocean temperatures rise — researchers from groups including the National Oceanic and Atmospheric Administration said Thursday.
Reefs around Hawaii, Haiti, the U.S. Virgin Islands and Puerto Rico are among those that stand to suffer as ocean waters warm, NOAA said, with as many as 95 percent of U.S. corals exposed to possible bleaching conditions by the end of this year. The findings have caused NOAA to declare the third global coral bleaching event ever on record — the others having occurred in 1998 and 2010.
In all, the scientists expect more than 4,600 square miles of reef to be killed off by bleaching in 2015.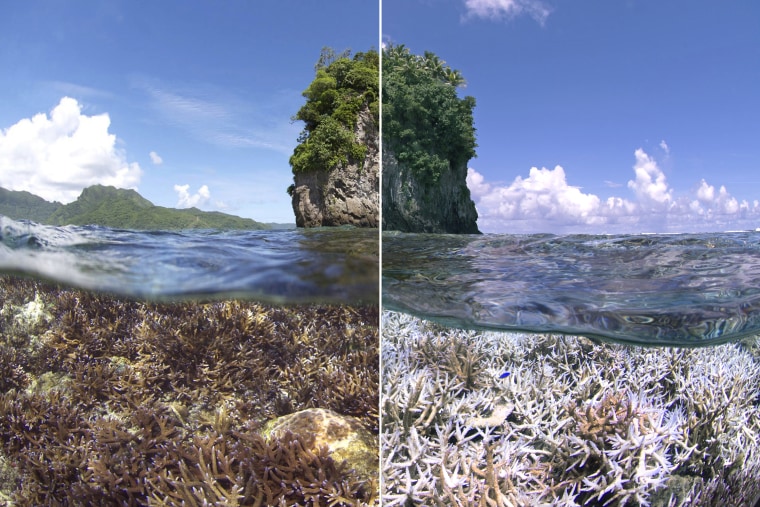 Read More: Bleaching Poses a Threat to Hawaii's Coral Reefs, Scientists Say
"The coral bleaching and disease, brought on by climate change and coupled with events like the current El Niño, are the largest and most pervasive threats to coral reefs around the world," NOAA coral reef researcher Mark Eakin said in a statement. "What really has us concerned is this event has been going on for more than a year and our preliminary model projections indicate it's likely to last well into 2016."
While climate change continues to drive rising ocean temperatures, researchers said, El Niño (combined with a large area of warm water in the Pacific Ocean that has been referred to as "The Blob") stands to worsen the bleaching effects this year.
Researchers drew on information collected by the NOAA Coral Reef Watch satellite and the University of Queensland, as well as reef-watching organizations ReefCheck and the XL Catlin Seaview Survey.
Read More: Warning About Warming: NOAA Raises New Alarm Over Coral Bleaching