A bronze chair arm — possibly the remains of an ancient throne — and a piece of a Greek board game are among the latest treasures raised from the site of the famous shipwreck Antikythera.
The ship, which went down in 65 B.C., sits off the coast of the Greek island of the same name. It was discovered in 1900 by sponge fishermen and has been periodically studied since.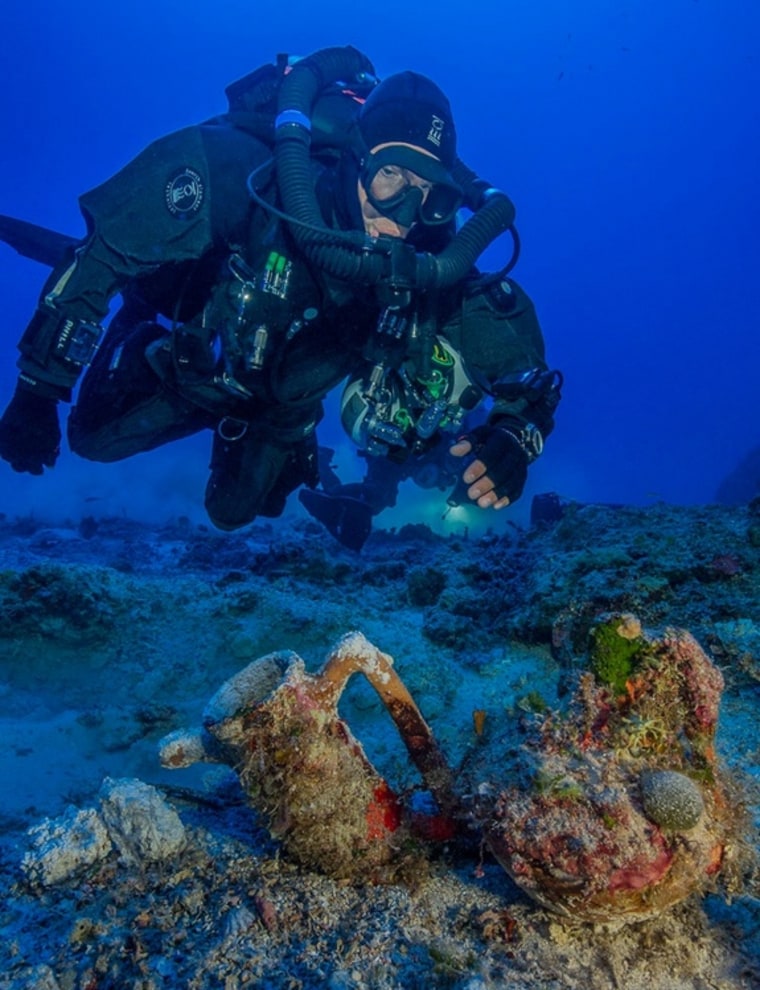 This year, archaeologists discovered an intact amphora (a vaselike container), a small table jug (known as a lagynos) and a rectangular chiseled stone, probably a statuette base. Digging on the seafloor, they found broken ceramics, a piece of a bone flute, and broken bits of glass, iron and bronze. A section of bronze furniture may be the arm of a throne, according to the Woods Hold Oceanographic Institution (WHOI). A small glass piece looks to be a pawn in a chesslike game. [See Photos of the Ancient Antikythera Shipwreck and Treasure]
"This shipwreck is far from exhausted," project co-director Brendan Foley, a marine archaeologist at WHOI, said in a statement. "Every single dive on it delivers fabulous finds, and reveals how the '1 percent' lived in the time of Caesar."
The first sponge diver to explore the wreck in 1900, Ilias Stadiatis, managed to bring a bronze arm from a statue up 164 feet (50 meters) to the surface. The Greek government quickly sent naval support to the area, and divers brought up 36 marble statues of heroes and gods, along with other luxury items and skeletons belonging to the crew and passengers. In 1901, the divers brought up an incredible astronomical calendar, the Antikythera mechanism, which could determine the positions of heavenly bodies like Mercury, Venus and Mars. It remains the most complex ancient item ever found, according to the Hellenic Ministry of Culture and Sports.
Related: Zombie Burials Suggest Ancient Greeks Feared the Undead
The ministry and the WHOI are currently involved in a long-term project at the site. In 2014, archaeologists conducted the first modern scientific excavation of the wreck, creating a three-dimensional map of the site. But little time was spent in the depths with the wreck because of bad weather.
Related: Centuries-Old Shipwreck Found Off North Carolina Coast
This year, archaeologists were able to spend 40 hours diving amid the wreckage. Along with the cargo they discovered, the researchers also found a lead salvage ring and two lead anchor stocks, lead hull sheathing and nails and wood from the ship itself.
This is a condensed version of a report from Live Science. Read the full report. Follow Stephanie Pappas on Twitter and Google+. Follow Live Science @livescience, Facebook & Google+.
More from Live Science:
Copyright 2015 LiveScience, a Purch company. All rights reserved. This material may not be published, broadcast, rewritten or redistributed.