From Fairbanks to Fort Lauderdale, from Hartford to Honolulu, millions of Americans headed to the polls Tuesday to choose their next president and bring to a close one of the most bitter and divisive elections in modern U.S. history.
Some 90 million voters were expected to cast ballots and long lines were reported at polling places in New York and other major cities up and down the East Coast — and in the hotly contested battleground states of Ohio, Florida and North Carolina — as voting got underway.
Related: How to Watch and Follow NBC News' Election Day Coverage
And after a contentious campaign that polarized the nation in ways not seen in past elections, multiple major city law enforcement agencies told NBC News that Election Day was going smoothly with few problems at the polls, only sporadic reports of voter intimidation, and so far no reports of violence.
"Go vote," President Obama, who was one of the legion of early voters who cast their ballots last month in Chicago, said. "It's up to you."
PHOTOS: America Heads to the Polls
History was in the making as Democratic nominee Hillary Clinton, who leads Republican rival Donald Trump by 4 points in an NBC/WSJ poll taken in the final days of campaign, was poised to become the nation's first-ever female president if the trend were to hold.
Clinton and her husband, former President Bill Clinton, went to their local polling station in Chappaqua, New York, just after 8 a.m. ET. A beaming and confident-looking Clinton shook hands and hugged her supporters afterward.
"It is the most humbling feeling," she said. "I'll do the very best I can if I'm fortunate enough to win today."
Trump, a tough-talking Manhattan real estate mogul, was banking on the nationwide desire for change to repudiate the polls that show him trailing Clinton in the contest to become the nation's 45th commander in chief.
"We're going to win a lot of states," Trump said in an early-morning interview on FOX News. "Who knows what happens ultimately?"
LIVE BLOG: Follow the Latest Election Day Coverage
Despite Trump's repeated claims in recent weeks that the election is "rigged," few voters encountered problems beyond lengthy wait times in densely populated places like Chicago and Brooklyn, New York.
In New Jersey, there were just three voting machines for his district at a polling place in downtown Jersey City resulting in waits of two hours or more for voters. But 56-year-old Chadwick Brown was not giving up as he inched forward in a line that snaked around the building.
"The longer it takes the more tenacious I'm becoming," Brown said.
There were also scattered reports of broken voting machines in places like Providence, Rhode Island, and Maricopa County, Arizona.
In Miami, a Democratic and a Republican poll watcher were fired after police were called to the scene following complaints of voter intimidation.
Meanwhile, law enforcement officials said they have not seen any attempts by Russians hackers or anybody else to disrupt the election.
In New York City, two topless female protesters chanting anti-Trump slogans were marched out of the Manhattan polling place before the GOP candidate, his wife Melania, and his family arrived to vote. The Trumps were met at Public School 59 by sneers and jeers from many people waiting in line to vote, but there were also cheers from a small group of construction workers across the street.
Many female Clinton supporters showed up at the polls wearing variations of the candidate's trademark pant suits. Many more wore white as an homage to the U.S. suffrage movement that won women the right to vote in 1920.
Most voters appeared to be on their best behavior as they waited patiently for their chance to exercise their right as Americans to pick the person they want in the White House.
"Whether they're voting for somebody or against, they're going to come out," Andrew Shuirra, 64-year-old poll worker in Springfield, Ohio, told NBC News. "And we'll welcome them with open arms and say, 'Glad to see you today.'"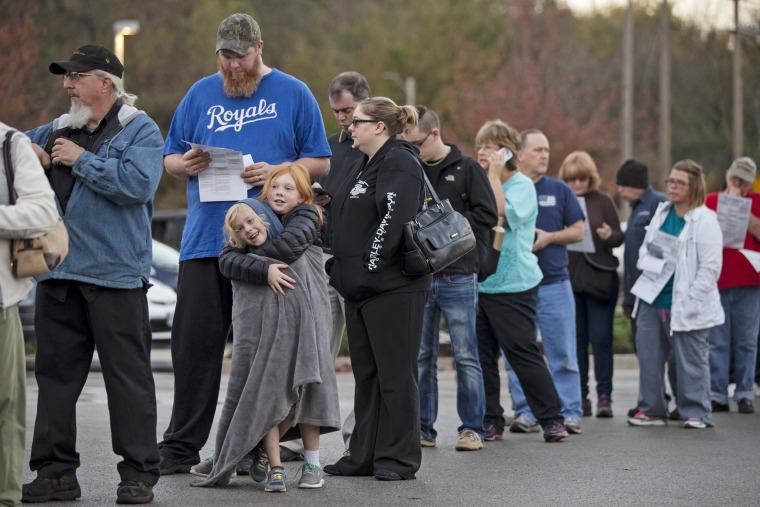 Even before Election Day, some 46 million ballots were cast by early voters and the Democrats were bouyed by reports of heavy turnout by Hispanics and women in key states like Nevada and North Carolina.
All in all, it appeared to be an upbeat ending to a presidential campaign that was anything but.
Trump has been dogged by allegations of past sexual misconduct from numerous women, and has been accused of fudging facts on everything from his personal wealth to his various political positions. Clinton has faced scrutiny for her use of a private email server when she was secretary of state.
Using the same bare-knuckled approach that helped him knock off his Republican rivals, Trump derided the Democrat as "Crooked Hillary" and a "nasty woman" and tried to tar her as an enabler by dredging up Bill Clinton's past indiscretions.
But Clinton gave as good as she got, using Trump's controversial remarks about women, Mexicans, Muslims and others as ammunition while shooting herself in the foot by dismissing half of his supporters as "what I call the basket of deplorables."
As the candidates made a final push in key battleground states Monday, Clinton pledged that Americans would be more unified if they voted for her.
"Tomorrow, you can vote for a hopeful, inclusive, big-hearted America," she said at a Pittsburgh rally. "And our core values are being tested in this election. And I know that people are frustrated, a lot of people feel left out and left behind. There's fear, even anger in our country. But I've gotta say, anger is not a plan, my friends."
Trump has refused to say whether he would concede if he loses, adding another twist to the already dramatic election. His son, Donald Trump Jr., told MSNBC'S "Morning Joe" on Tuesday that his father will concede if the results seem "fair."