The Clinton campaign and its allies have been focusing heavy energy on turning out Latino and other minority voters as the presidential race has tightened. To do so, some supporters are reaching for the cultural touchstones - like pastelitos - to drive up turnout numbers.
Earlier this year, some 60 percent of Latinos said in Latino Decisions polling that they hadn't been contacted by political parties, community groups or campaigns about the election.
But when there has been outreach, the Latino culture has been a huge well of creativity for capturing the attention of Latinos. There have been Trump piñatas, taco trucks to #GuactheVote, "bad hombres" hashtag and corridos.
The language, the food and more have all been swept up into campaign ads, political slogans and events that are continuing in the final frenzy to turn out this vast and diverse group of voters.
In some states, it may be working. There are reports of early voting by Latinos that is far outpacing early voting in 2012. A Nov. 1 snapshot of early voting in Florida, showed Hispanics made up 13.77 percent of the early vote in Florida, compared to 9.89 percent in 2012, also on Nov. 1. The analysis was done by NBC's News Data Analytics Lab, using voter file data provided by TargetSmart.
In Miami, #ProjectPastelito, a grassroots group of Latino leaders, activists and community members that has partnered with the Democratic Party, is appealing to the sweet tooth of Latino voters.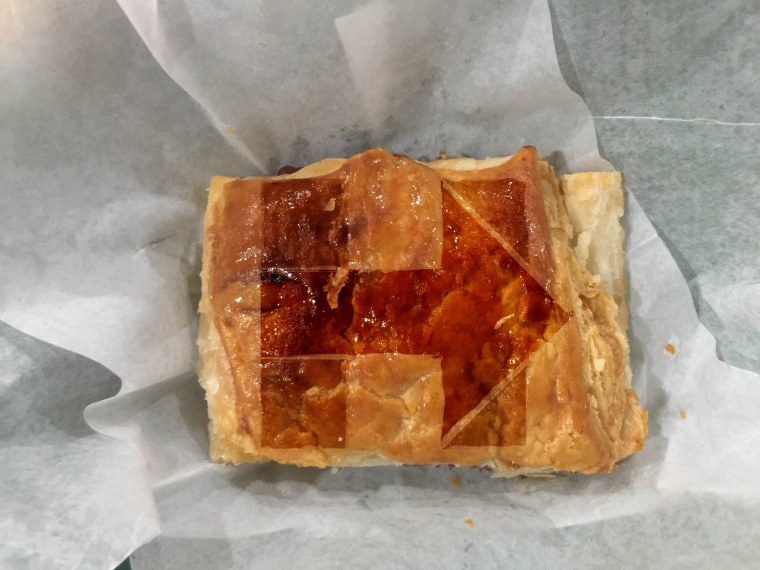 The group, which includes former Obama administration officials, is giving out the guava-filled pastries that bear the Clinton logo - an H with a right-pointed arrow through it - at early voting sites, hoping the much-loved pastelitos help people pass the time as they wait in lines.
Pastelitos are a staple in Miami, especially among its Cuban community. They are so enjoyed that fans are known to make a bee line to vendors who sell them at the airport the minute they land on Miami soil.
The group is holding events to encourage the community to get out and vote and to keep the early vote sites fun, according to organizers. Among some of the plans are Get Out the Vote Gozadera, a pan Latino party, and phone bank; a day of pachanga, which refers to both a party and a dance style, and a caravan of chiva buses that is traveling to different heavily Latino neighborhoods and to early voting sites as well as to a Latin festival over the weekend.
"Miami is two-thirds Hispanic, and we have an amazing group of volunteers that has come together for the last two elections for Obama. So, we pulled back many of those same volunteers — real leaders with amazing organizing ability — and as well as a bunch of new ones," said Patrick Hidalgo, who worked in the Obama White House as Deputy Director of Public Engagement and was campaign's Florida Hispanic Vote Director in 2008.
He calls himself a Project Pastelito wrangler.
"This is a mini-movement that keeps popping up every four years here in Miami," said Hidalgo, who is Cuban American.
Andres Chong-Qui Torres, a Project Pastelito volunteer, said that when people ask where the millennials are, he has an answer.
"We are here and we are voting for Hillary. Let me tell you something else. We believe that Hillary Clinton is the candidate for diversity and for tolerance, and that is why we are going to show up to the polls," said Torres. "Latin Americans, with our experiences in Venezuela and Ecuador with dictatorial leaders, we understand the Donald Trump is detrimental to our society."
Another Florida group is reaching out to another segment within the community, Afro Latinos, and are linking their combined heritage with that of Haitian and Jamaican communities in Broward County.
RELATED: Florida: Groups Use Transportation and Tacos to Get Early Voters to Polls
Ruth Moreno, a Florida state coordinator with iAmerica/iAmerica Action, said the group, in partnership with other organizations, has had a Haitian band and salsa orchestra walk along with a parade to the polls and help stage a block party. "People had tons of fun voting," Moreno said.
She and other Afro Latinos have been reaching out to the black and Afro Latino community and immigrants on voting.
"As an Afro Latina, when I first moved here from the Dominican Republic, it was the first time I had a racialized experience and saw that I didn't fit in the traditionally white community. Seeing a lot of the ads targeting Latinos, they had people who didn't speak to me. If I didn't speak to you in Spanish, you wouldn't know I'm Latina," Moreno said.
The group also spent time Friday on Biscayne Boulevard handing out cortaditos, small cups of Cuban espresso, pastelitos and croquetas "to pay respect to the Cuban culture here and to speak to our Cuban brothers and sisters about the importance of turning out to vote and to turn out the rest of the Latino community."
Perhaps one of the biggest nods to the Latino culture was Tim Kaine's full speech in Spanish at a rally in Arizona Thursday. In the speech, Kaine, Clinton's vice presidential running mate, noted just how long the language he was using and the culture he was celebrating has been part of the nation's fabric.
"The Hispanic community has been part of our country since the Spanish arrived in St. Augustine in 1565," said Kaine. "That was well before the British landed in North America, 42 years before the British arrived in Jamestown, Virginia. Spanish was the first European language spoken in this country."
President Barack Obama had Beyoncé; Hillary Clinton has JLo and a stream of other Latino entertainers.
RELATED: 'I'm With Her': JLo Rallies Support For Clinton At Miami Concert
In fact, there's a deep catalogue of Latino music that has been used this election. Many musical acts, particularly among younger Latino groups such as La Santa Cecilia and Las Cafeteras, already had activist messages woven into their repertoires and the election gave them a chance to rev them up. JLo rocked out Miami to get Latinos to vote early. She was joined by ex-husband Marc Antony as well.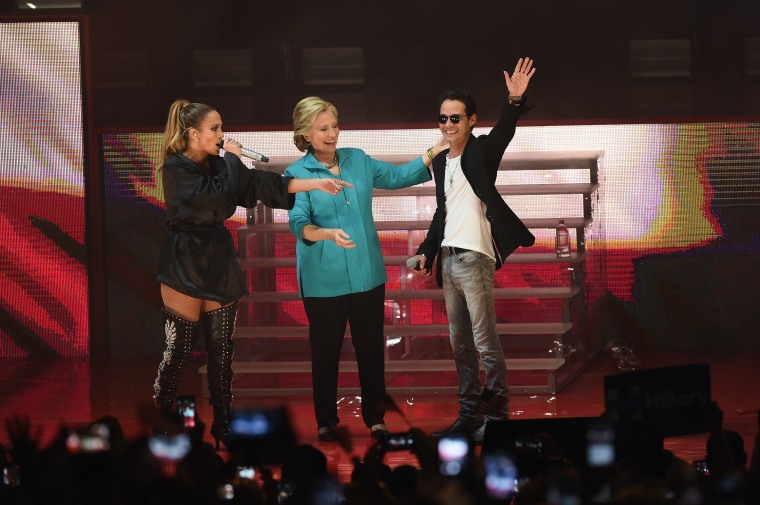 Separately, the Mexican rock group Maná made a return appearance to the political arena - having shown up for Obama in his campaigns – and is on a Latino Power Tour to urge young Latinos to vote.
Mexican crooner Vicente Feranandez sang her a corrido.
The Latino glitterati has been out in force.
Many Latino stars have loaned their celebrity to the election and turning out voters, too many to name. In one of the latest appearances of one of our estrellas, award winning actor Gina Rodriguez is appearing with President Barack Obama - or is it Obama appearing with Rodriguez – in a mitú video.
Rodriguez asks questions of Obama in the video aimed at Latino millennials, who make up 44 percent of the vote. In a teaser to the interview, Rodriguez confesses she "didn't know how to be vocal in this election."
NBC Latino contributor Carmen Pelaez contributed to this report.