MANCHESTER, N.H. — Hillary Clinton campaigned with one of the most effective messengers her campaign has employed here Sunday night: a Gold Star father who has an uncanny ability to get under Donald Trump's skin.
Khizr Khan recounted the way the Republican nominee repeatedly "attacked" his family after he spoke at the Democratic National Convention this summer.
Khan's son died while serving in Iraq in 2004 and his speech in Philadelphia gained significant traction after he held up a pocket constitution and challenged Trump to read it.
On Sunday, Khan said he had a few "questions" for him.
"Would my son, Captain Humayun Khan have a place in your America? Would Muslims have a place in your America? Would Latinos have a place in your America? Would African Americans have a place in your America, Donald Trump? Would anyone who isn't like you have a place in your America? Well thankfully, Mr. Trump, this isn't your America," he said.
In response to each question, the crowd inside the Radisson ballroom yelled "No!"
Related: Families of War Dead Demand Apology From Trump
He lauded Clinton as "the strongest, most qualified representator of the fundamental values which have made this country the symbol of hope and dignity for all through out the world."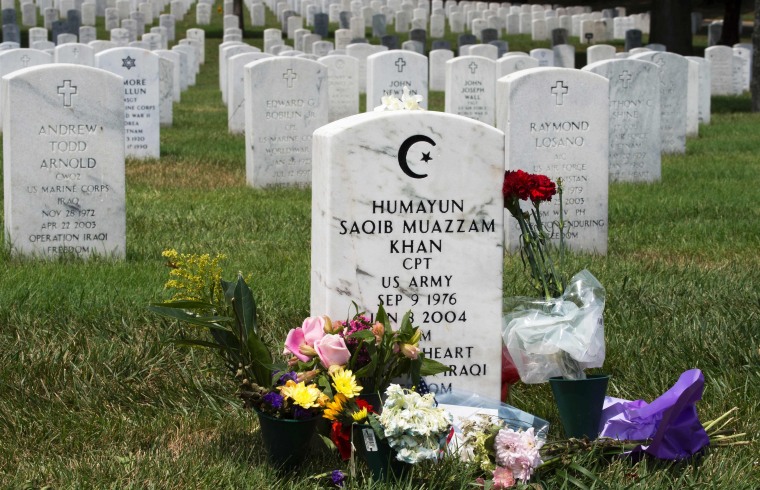 Khan and Clinton took the stage together — to a rousing and sustained standing ovation. She sat behind him as he spoke and he did the same during her remarks.
Clinton, for her part, delivered a version of her closing argument, urging people to vote in order to reject Trump's "dark and divisive" vision.
"We have to begin listening to one another and respecting one another," she said. "This election is a moment of reckoning. It is a choice between division and unity. Between strong, steady leadership or a loose cannon, who could put everything else at risk."