The Teamsters are trying to punish Big Pharma for flooding the country with prescription painkillers by hitting one of its top leaders where it hurts — in the eyes of shareholders.
The union has taken the unusual step of directly calling on McKesson Corp. shareholders to turn thumbs down on July 26 to the $1.1 million bonus that was awarded earlier this year to Chief Executive John Hammergren.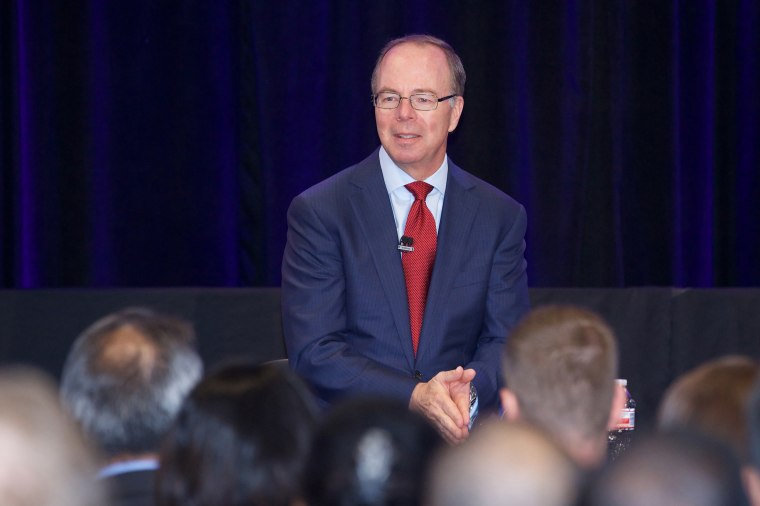 They say Hammergren, who heads the nation's largest pharmaceutical wholesaler, shouldn't have been rewarded after McKesson paid a record $150 million fine to the federal government this year for violating the Controlled Substances Act by failing to report suspicious orders of oxycodone and hydrocodone pills.
"It is not only a matter of poor optics," Ken Hall, general secretary and treasurer of the International Brotherhood of Teamsters, wrote in a message to "fellow" McKesson shareholders. "It is staggering that Hammergren received a $1.1 million boost to his bonus just months after the company announced it had reached a $150 million settlement" with the Drug Enforcement Administration.
Besides the "record fine by the DEA," Hall wrote, "over the past year, McKesson has faced a rising tide of criticism that it failed to control the supply of prescription opioid in hard-hit states like West Virginia."
"The company's sales practices have sparked a Congressional investigation by the House Energy and Commerce Committee as well as numerous pending lawsuits from cities and counties across the state," Hall wrote.
Michael Pryce-Jones, the Teamsters' senior corporate governance analyst, said it's too late to strip Hammergren of the money, "but we can send a strong message to the board that it needs to rethink how they are paying their top executives."
"This is a non-binding vote, and most votes on bonuses like this sail through with 95 percent support," Pryce-Jones told NBC News.
Anything less would be considered an embarrassment for Hammergren. "This would be a vote of no confidence," Pryce-Jones said.
In its response, McKesson insisted that the company "and its shareholders have been well served during John Hammergren's service as both CEO and chairman of the Board."
"John's in-depth knowledge of the healthcare industry and of the complex businesses and operations of the company allows him to lead the Board's work and focus, ultimately helping deliver long-term value to our investors," the company said in a statement.
McKesson and other big pharmaceutical distributors, like AmerisourceBergen Corp. and Cardinal Health Inc., have been accused of fueling the deadly opioid epidemic that has been ravaging the country. Many union members live in some of the states that have been hardest hit by the crisis — Ohio, Pennsylvania, West Virginia and Michigan.
At the Teamsters convention last summer in Las Vegas, Travis Bornstein, who heads Local 24 in Akron, Ohio, moved many to tears as he described losing his son, Tyler, to drugs. And in April, Hall laid out the union's strategy for go after Hammergren in a harsh editorial.
"Amid the annals of corporate America, this must rank as one of the most tragic failures of corporate integrity — a devastating breakdown in values, culture, ethical conduct and regard for the law," he wrote.
There is no love lost between the Teamsters and McKesson. In 2014, a National Labor Relations Board judge ruled that McKesson had violated federal law by plotting to decertify a Teamsters local in Florida.
Bonus or no bonus, Hammergren isn't hurting for money. His base salary this year is $1,680,000, which has remained unchanged since May 2010, according to McKesson's 2017 stockholder report.
But Hammergren's total compensation is $20.1 million, making him one of the best-paid chief executives in the country. And with that kind of money, he could afford to take a bath on the palatial mansion in Orinda, California, that he's been trying to unload.
Hammergren put it on the market last year for $22.5 million, and the accompanying video shows a veritable palace with Ferraris parked in the four-car garage. It's still on the market for $16.5 million.
In a related matter, Attorney General Jeff Sessions announced that the Justice Department reached a $35 million settlement with Mallinckrodt Pharmaceuticals "for failing to notify the DEA of suspicious drug orders, in large numbers."
"These failures resulted in millions of oxycontin pills being sold on our streets," Session said at the annual convention of Drug Abuse Resistance Education, or D.A.R.E., in Grapevine, Texas.
Mallinckrodt confirmed the settlement in a statement but denied "government allegations that it violated applicable laws in connection with its suspicious order monitoring program."
"We chose to resolve the legacy matter in order to eliminate the uncertainty, distraction and expense of litigation and to allow the company to focus on meeting the important needs of its patients and customers," Mallinckrodt lawyer Michael-Bryant Hicks said in a statement.
Counterfeit Mallinckrodt oxycodone pills that are actually made from far more dangerous fentanyl have been flooding New England and were blamed for the death of a 30-year-old Hamden, Connecticut man, in March, according to the DEA.
Agustin Cirino, 29, who also lives in Hamden, was arrested a short time later and is the first person in the state to be hit with a federal charge of distributing fentanyl disguised as oxycodone, or Oxycontin, the feds said. He faces up to 20 years in prison if convicted.
"I can confirm it's the first case of its kind that we're prosecuting federally here in Connecticut," Tom Carson, a spokesman for the U.S. attorney's office in Hartford, told NBC News.