BERLIN — The Christmas market where 12 people died in a truck rampage reopened Thursday as more details emerged about Anis Amri, the suspect at the center of an international manhunt.
The Breitscheidplatz reopened at 11 a.m. local time (5 a.m. ET), three days after the attack in Berlin that also left almost 50 injured, many of them seriously.
German police and the country's disaster response team, the Bundesanstalt Technisches Hilfswerk, were seen installing concrete barriers around the market before shoppers were allowed to return.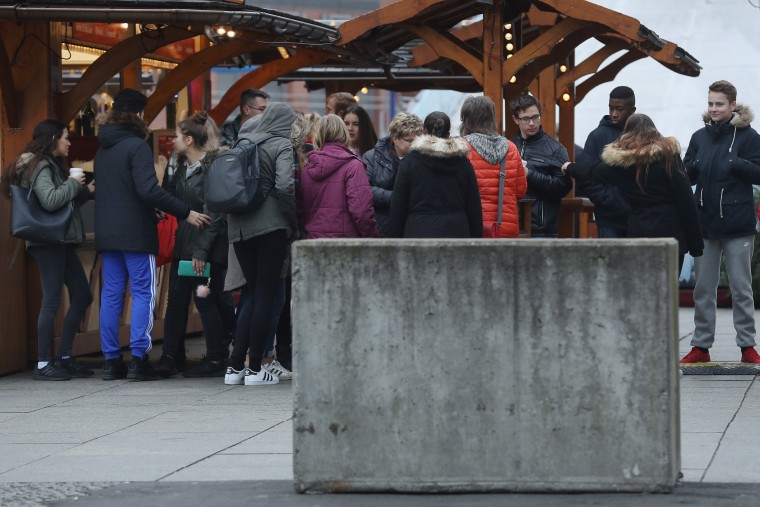 It followed a vigil for the victims at the adjacent Kaiser Wilhelm Memorial Church.
"Our work at the crime scene is finished," Berlin police said on Twitter, referring to their operations at the crime scene. "We are returning #Breitscheidplatz to the Berlin public. #WeAreBerlin"
Christmas markets across Germany were shuttered in the aftermath of the truck attack. While most of these reopened Wednesday, the Breitscheidplatz remained closed while a memorial service was held there in defiance of safety threats on public spaces.
Meanwhile, international authorities were still hunting 24-year-old Amri, who entered Europe via Italy in the wake of the 2011 Arab Spring uprisings.
A man identifying himself as the suspect's brother urged Amri to turn himself in.
"I ask him to turn himself in to the police," Abdelkader Amri told The Associated Press. "If it is proved that he is involved, we dissociate ourselves from it."
The man said Amri may have been radicalized while in prison in Italy.
German police conducted several anti-terror raids in connection with the case but no arrests were made, a spokesman of the federal prosecutor's office in the city of Karlsruhe told NBC News.
Some of the raids were in the western German state of North Rhein-Westphalia, where authorities said Amri had been living. He was temporarily "classed as a potential risk" before authorities dropped their investigation because of insufficient evidence.
Italian media reports said Amri spent four years in jail for starting a fire in 2011 but authorities lost track of him after a failed bid to deport him back to Tunisia. Italian officials did not immediately respond to a request for confirmation from NBC News.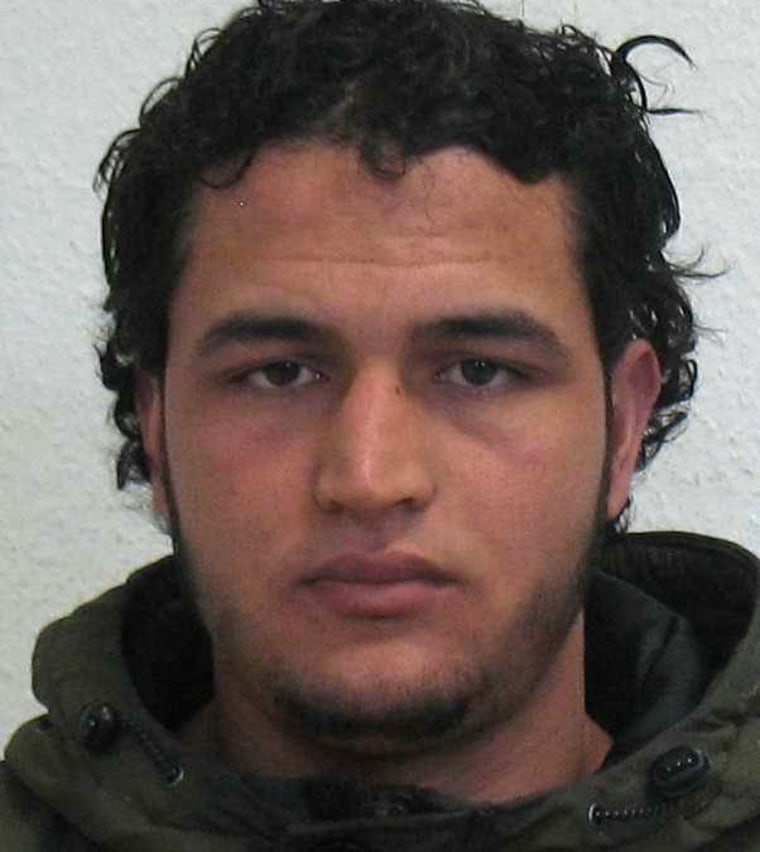 German officials said Amri came to the country in July 2015 using several aliases and remaining "very mobile."
At one point he was even placed under surveillance and German officials planned to deport him, the officials added, but delays in the process meant his deportation papers only arrived on Wednesday — two days after the attack.
Another suspect, a Pakistani migrant, was released Tuesday without charge after police said there was insufficient evidence.
The media arm of ISIS has claimed the attack was done in its name, although it gave no evidence and did not identify the attacker, according to analysts at Flashpoint Intelligence.