NORRISTOWN, Penn. — Andrea Constand, the prosecution's main witness in the Bill Cosby retrial, took to the stand on Friday and testified for a second jury that the television star drugged and sexually assaulted her.
Constand, 45, told the jury that she was initially ashamed about the alleged assault and fearful about coming forward to both family members and law enforcement.
"I was very scared," she said. "He was a Temple [University] trustee, a powerful man, an entertainer, a very famous person," she said.
Her testimony concluded a dramatic week at the Montgomery County Court of Common Pleas, where six accusers, including former supermodel Janice Dickinson, testified before the jury that Cosby drugged and sexually assaulted them.
Cosby's first trial ended in a deadlocked jury, and his retrial is the first big celebrity court case since the #MeToo movement exposed scores of men in the media, entertainment and business worlds as sexual harassers.
He faces three counts of aggravated indecent assault, with each of three counts carrying a maximum penalty of 10 years in prison.
Cosby has repeatedly denied all the allegations against him, and has said the sexual encounter with Constand was consensual.
Cosby is not charged in any of the assaults alleged by the five women, who are being allowed to testify to give the prosecution a chance to establish that the assault alleged by Constand fits a pattern.
A spokesman for Cosby, Andrew Wyatt, told reporters this week that the testimony of the additional women testifying to accusations unrelated to the criminal charges at issue was a "prosecution by distraction."
Constand, a former professional basketball player, had a towering presence when she walked into the courtroom wearing a white suit. She appeared calm on the witness stand, smiling at times.
She described how she first met Cosby at a Temple University women's basketball game in the fall of 2002. He soon began calling Constand ask her questions about the women's basketball team, who paid for things, and generally what was happening with Temple University's sports programs.
She said she began to discuss her personal life with him, including her aspirations to be a broadcast news sports commentator. He began to invite her to dinner a his home, and out with friends to a concert and the Foxwoods Resort Casino in Connecticut.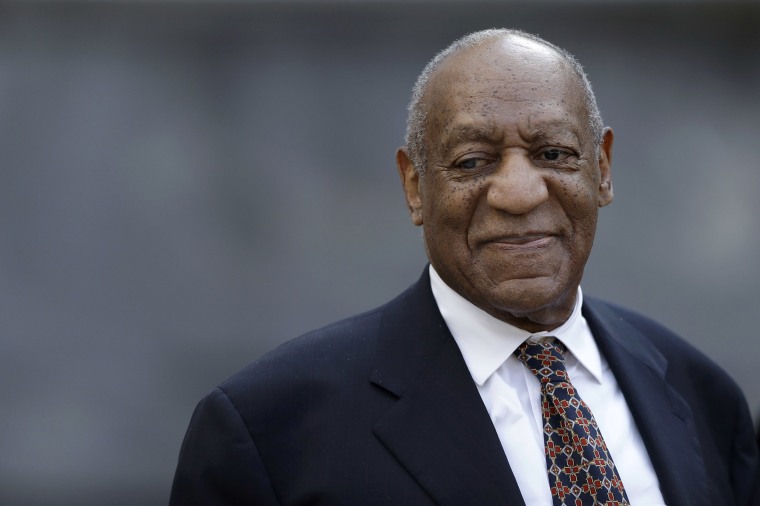 She said before the alleged instance of assault, she visited Cosby's home for dinner. Once he touched her thigh; another time, he tried to unzip her pants when sat next to her on the couch in his living room.
"I could feel him trying to get a hold of my zipper," she said. "He never went inside of me, he stopped before he got to that. I leaned forward and said I didn't come here for that, and he complied."
She said she thought he had gotten the message that she did not want a romantic relationship and continued to spend time with him.
A few months later, in January 2004, she went to his home again. On that night she was making a decision about whether to leave her job and sought out Cosby's advice. It was then, she alleges, Cosby offered her brandy and three circular blue pills, which made her feel wobbly and she began slurring her words. He allegedly guided her to his living room couch.
"He placed me on the sofa and put a pillow under my head and said, 'Just relax there.' I was very scared. I didn't know what was happening with my body," she said.
The next thing she remembered, she said was being jolted awake and feeling Cosby's fingers in her vagina and touching her breast. He also placed her hand on his penis while he masturbated.
Prosecutor Kristen Feden asked Constand, "Were you able to tell him to stop?"
"No," Constand replied. " I wanted it to stop and I was trying to get my hands and legs to move," but, she added, "I was limp and I could not fight him off."
"I was humiliated, in shock and confused," she said.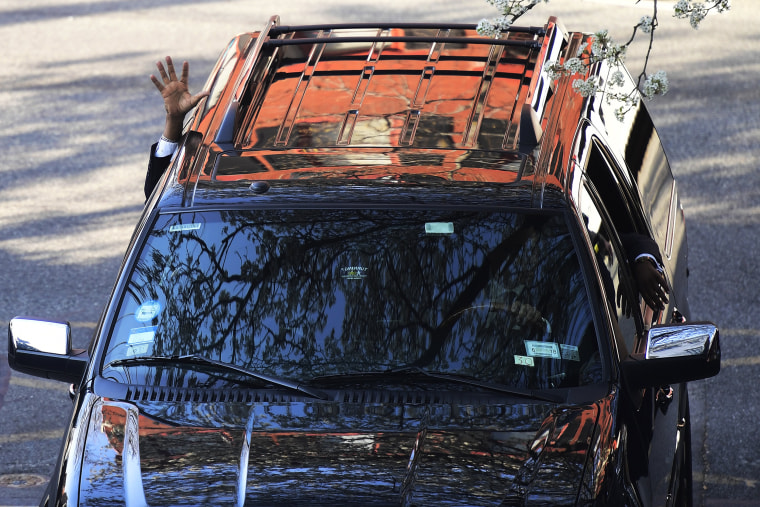 She later recalled waking up with her bra around her neck and disheveled. She recalled him wearing a robe with slippers. He did not say anything to her, but she recalled seeing "a muffin and tea on the table." She remembered taking a sip of the tea and left his home. She said she had not totally understood what had happened until she was driving home.
Earlier in the day, she confirmed that she had received a previously undisclosed $3,380,000 million civil settlement from Cosby in 2006, which is admissible as evidence in the criminal trial.
On cross-examination, defense attorney Tom Mesereau drilled into why she continued to spend time with Cosby even after he made advances toward her. Constand said she was confused and that his advances, at the time, seemed innocent.
"What did you think, when he reached over and touched your thigh?" Mesereau asked.
"I was embarrassed," she said. "I thought it was kind of silly."
"Nothing suggested that he was physically attracted to you?," he continued.
"No, he was married man, I didn't think he would be attracted to me," Constand replied.
He pressed on: "First time, thigh and waist, second time he tried to put his hands in your pants and still, you didn't think he was interested in you physically or sexually?"
"I didn't know what to think, I thought he made a pass at me," she said.
Over the course of the first week, the atmosphere at the courthouse has been both tense and circus-like.
On Thursday, Cosby's spokespeople, Wyatt and Ebonee Benson, and attorneys for the accusers, Gloria Allred and her daughter Lisa Bloom, got into a heated argument on camera as they were delivering statements to the media.
And on Monday, as Cosby approached the courthouse, a topless woman jumped the barricade cordoning off protesters, stopping him in his tracks. She was tackled by police officers seconds after crossing the barrier and detained.
The woman was later identified by police as Nicolle Rochelle, 39, an actress who appeared on several episodes of "The Cosby Show" from 1990 to 1992 under the name Nicole Leach.
Cosby's first trial last year ended in a mistrial after a jury deliberated for 52 hours and failed to reach a verdict.
The trial resumes Monday with Constand on this witness stand.