About a hundred anti-Dakota Access Pipeline protesters and clergy held a prayer rally on the lawn of the North Dakota state Capitol in Bismark on Thursday evening, ending in a police-ordered lockdown of the Capitol and more than a dozen arrests.
Highway Patrol Lt. Tom Iverson said 14 people were arrested in the Capitol's judicial wing for refusing to leave the building. Iverson said the protesters, who were holding a sit-in and singing prayer hymns, faced disorderly conduct charges.
Related: Police Fire Rubber Bullets as Protesters Try to Protect 'Sacred Site'
The protesters had entered the building demanding a meeting with Gov. Jack Dalrymple to state their opposition to the $3.8 billion Dakota Access Pipeline in Cannon Ball, North Dakota, said Caro Gonzales, a Native American activist who attended the rally.
"The protectors tried to deliver a letter to the governor in support of the tribe," Gonzales told NBC News. "And they wanted to hear from him why he has ordered riot police to engage in police brutality at Standing Rock."
Gonzales was part of a smaller group of about 100 protesters who later left the Capitol grounds and marched to the governor's residence less than a mile away. They were met outside the residence by dozens of riot police, she said.
The protest at the Capitol followed an interfaith day of prayer about 50 miles south at Cannon Ball where hundreds of clergy from the U.S. and abroad marched near the route of the pipeline and ceremonially burned a copy of a 600-year-old document. The document from the 1400s sanctioned the taking of land from indigenous peoples.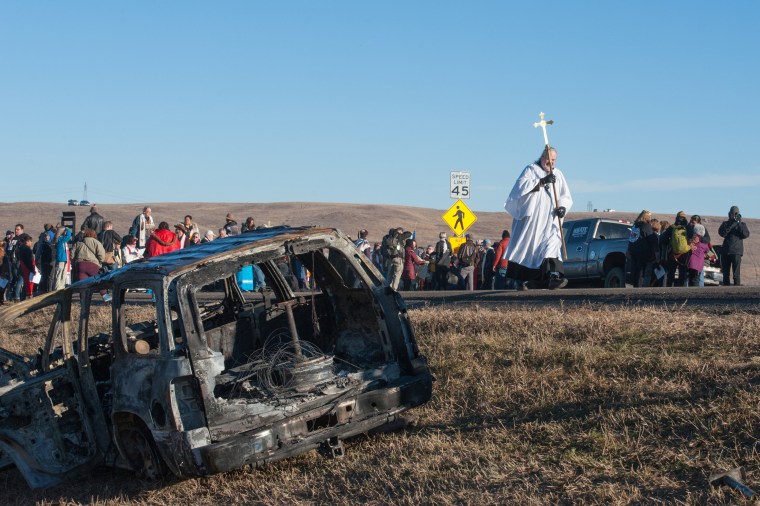 Related: Clinton Caught Between Key Allies on Dakota Pipeline
The Standing Rock Sioux tribe says the 1,172-mile pipeline, which would come within a half mile of their reservation, would adversely impact drinking water and destroy sacred sites where many of their ancestors are buried.
The group sang hymns while they marched to a bridge that was the site of last week's clashes between protesters and law enforcement as police monitored from vehicles at a barricade on the other side, from surrounding hillsides and from a helicopter flying overhead.
Photos: Fight for Standing Rock: Native Americans Defend Water, Land
"It was very moving to be there in solidarity," Bishop Dwayne Royster, a Philadelphia-based minister, told NBC News. "I wanted to be present as an African -American clergy person to let the people at Standing Rock understand that we as African Americans need them to know that we stand with them in their fight."
Royster said he told tribal leaders at the Oketi Sakowin camp "that what's happening at Standing Rock is no different than from what happened in Ferguson, in Charlotte, in Cleveland and everywhere where there is oppression."