Chuck Blazer was perhaps the most powerful American in the world of international soccer. And South Africa, bidding to host the World Cup in 2010, was shopping for votes.
It was 2004, and the competition was down to South Africa, Morocco and Egypt. Blazer and Jack Warner, members of the powerful FIFA executive committee, traveled to Morocco, which was offering Warner $1 million for his vote, according to prosecutors.
But South Africa had a better offer: It was willing to pay $10 million to a Caribbean soccer organization controlled by Warner to "support the African diaspora."
Warner offered to cut Blazer in for $1 million. The two of them, plus a third committee member who was aware of the deal, cast their votes for South Africa, which beat Morocco 14-10 for the right to host the World Cup.
That was the narrative laid out by federal prosecutors Wednesday as they unveiled wide-ranging indictments in what they described as massive corruption in the governance of world soccer.
Blazer pleaded guilty in November 2013 to 10 federal counts, including racketeering, fraud, money laundering and tax evasion. The guilty plea remained secret until Wednesday.
He left soccer in 2013 and has cooperated with investigators as a government informant since at least then. And Attorney General Loretta Lynch told reporters Wednesday that prosecutors are not finished with their probe of FIFA, raising the prospect that Blazer has more to say.
A lawyer for Blazer declined a request for comment from NBC News. Warner, in a statement, said he was innocent of rigging the South Africa bid process and all other charges.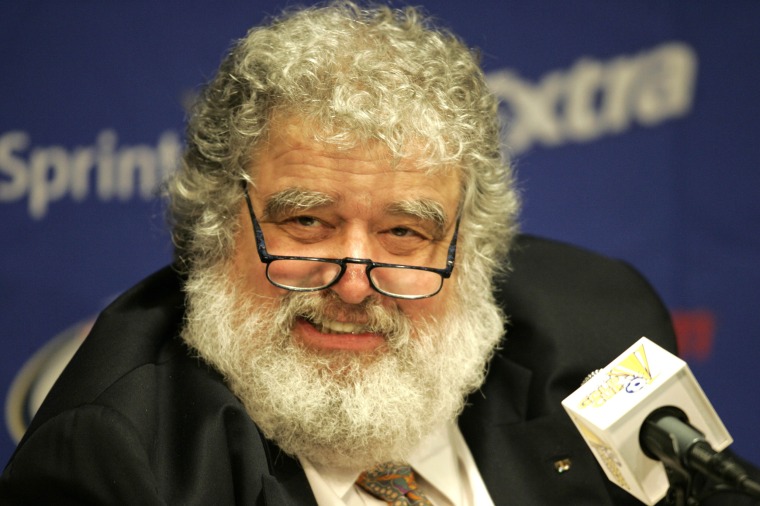 Blazer, now 70, cut a broad and unmistakable figure during his time in the highest ranks of soccer, with a tangle of white hair and a Santa Claus beard.
He has been credited with helping transform soccer in the United States from a failing and foreign sport to the blockbuster success it is today. Prosecutors said Wednesday that bribers were all too willing to exploit that growing market.
From 1990 to 2011, Blazer was general secretary of CONCACAF, the soccer federation for North and Central America. And from 1997 to 2013, he was on the FIFA executive committee, the only American with a World Cup vote.
In all, an IRS official told reporters Wednesday, Blazer amassed $11 million in unreported income during his time at the top echelon of soccer.
He agreed to forfeit almost $2 million when he pleaded guilty, representing some of the money he received from bribes, kickbacks and unauthorized World Cup ticket sales, according to prosecutors.
They said he will pay more before he is sentenced. He faces up to 10 years in prison on a charge of failing to report foreign financial accounts and up to five years for tax evasion, the Justice Department said.
In May 2012, an internal investigation by CONCACAF found Blazer guilty of grand-scale financial mismanagement and ethics violations.
Blazer, who had stepped down as general secretary the year before, said in a statement at the time: "I spent 21 years building the confederation and its competitions and its revenues and I'm the one responsible for its good levels of income. I'm perfectly satisfied that I did an excellent job."
According to documents unsealed by federal prosecutors, Blazer never got all his money for the South Africa scheme.
For years, he pestered Warner about what happened to his cut of the $10 million. FIFA, not the South African government, ultimately wired the money to Warner-controlled accounts, according to prosecutors.
Warner later told Blazer that he would have to pay the $1 million cut in installments because he had already spent the money, prosecutors said. The payments came in 2008, 2010 and 2011 — but totaled only $750,000. Blazer never got the rest.
It was not the first time that Blazer had been involved in corruption surrounding a World Cup vote, according to prosecutors.
The first time was in 1992, before Blazer got his seat on the executive committee. FIFA was deciding who should host the 1998 World Cup. Prosecutors said Blazer served as an intermediary between Morocco and a committee member whom it was bribing for a vote.
Morocco lost that time, too. The 1998 World Cup was played in France.
Richard Esposito of NBC News contributed to this report.