If you're going to announce a potentially groundbreaking method of clearing lead and other contaminants from drinking water, this is a good time.
Swiss scientist Raffaele Mezzenga did just that this past week, publishing the results of a two-year water-filter project as a lead-pollution crisis raged in Flint, Michigan.
The prototype, which could be adapted for use in homes and massive waste-water treatment facilities, is relatively simple: a paper-like membrane, packed with carbon and processed milk proteins, that grabs heavy metals, radioactive waste and other industrial byproducts as polluted water passes through.
It worked in Mezzenga's lab at ETH Zurich, a university in Switzerland. Now the question is whether his results can hold up in real-life circumstances, and be reproduced, cheaply, on a mass scale.
Mezzenga, who heads the school's Laboratory of Food and Soft Materials, described his discovery in the journal Nature Nanotechnology on Monday, the same day that Michigan Attorney General Bill Schuette announced he was seeking ways to provide financial relief to the people of Flint, where a switch to a new water source left residents exposed to lead, Legionnaires' disease, E. coli and dangerous chemicals.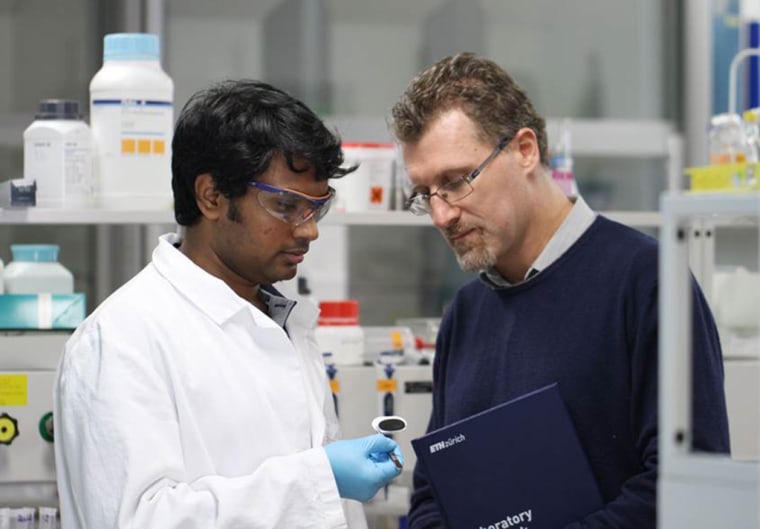 Authorities are also debating long- and short-term fixes to Flint's water system. Mezzenga said in an interview that his new method could be part of the solution in that city and any number of communities around the world facing similar problems.
He cited as examples such as a November mine sludge disaster in Brazil and the tsunami that led to the 2011 meltdown of a Fukushima, Japan nuclear power plant.
Flint residents are mostly dealing with the crisis by drinking bottled water. Those who can afford it are installing filters, which cost hundreds of dollars or more. Mezzenga, 43, says his filter can be made cheap enough that just about anyone will be able to get one.
A kilogram of the prototype membrane, enough to purify more water than the average human will drink in a lifetime, will cost about $100 to make, Mezzenga said. He envisions a portable version of the filter that delivered to people in stricken communities. His research involved drawing water through the filter with a vacuum, which could be made with a run-of-the-mill hand pump, he said.
"It can be used basically anywhere," he said..
Mezzenga was speaking as a scientist, but also as a salesman. He and his research partner, Sreenath Bolisetty, own a patent on the new technology, and are already taking calls from potential buyers: mining companies, water companies, technology companies, including some in the United States. But not anyone in Flint.
He said the product could begin production within months, or less.
"It's very cheap, and very fast," he said.
But Qilin Li, a professor of civil and environmental engineering at Rice University, said Mezzenga's lab isn't the same as the real world, where the proteins will be subject to more intense biological and microbial conditions. It's unclear whether they'd survive for very long, she said.
Then there's the question of commercialization: it's difficult to predict how much it will cost to manufacture and distribute the filters, Li said.
That said, Li acknowledged she was impressed with the amount of pollutants the filters removed from water: Mezzenga said more than 99 percent of lead was removed.
"It has great potential because the per-unit absorption rate is phenomenal. Huge," Li said. "That is really the most exciting aspect of the research."