DURHAM, N.C. -- Roselia Flores rushes into La Superior and quickly genuflects before the encased Virgin of Guadalupe statue in the corner of her supermarket.
"My first priority is God, then family and then work," said Flores, who built the expansive Latino grocery-, bakery-, meat shop-, tortilleria-in-one.
A native of Mexico, Flores came to Durham from California in the mid-90s when the Latino population was about 2,000 people, just 1 percent of the city's population, according to a study by the Latino Migration Project at University of North Carolina-Chapel Hill.
As Durham's Hispanic population has grown to about 36,000 people - about 14 percent of the city's 288,000 in 2010 - so did Flores and her business, with the help of a community intent on seeing Latinos integrate, succeed and mature.
Shared Values
In 2001, Flores started Super Taqueria restaurant, which continues to operate in a brightly painted, yellow building just a little ways from her specialty supermarket.
"I had to buy that property. No one wanted to rent to me. They were afraid," the home-grown entrepreneur said. She was able to secure grants and a loan from Mechanics & Farmers bank, a historically black-owned community bank, to get started.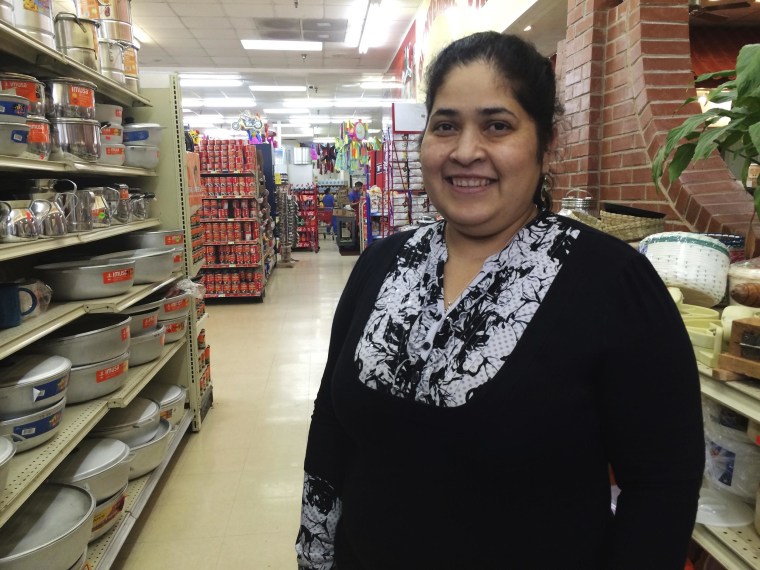 By 2005, she had started La Superior. The supermarket is housed in a robust, former furniture showroom that dwarfs other African American and Latino businesses on North Roxboro Street. Flores employs 49 people.
Her father, Higelberto, lights candles every morning beneath the large Virgin of Guadalupe statue showcased in a wood and glass cabinet. Her customers leave flowers at its base.
"A saying that I love is 'whatever you do, you have to do it better.' I worked in housekeeping, so if you clean bathrooms, you have to do them to the best of your ability," Flores said. "That stayed in my head and in my heart."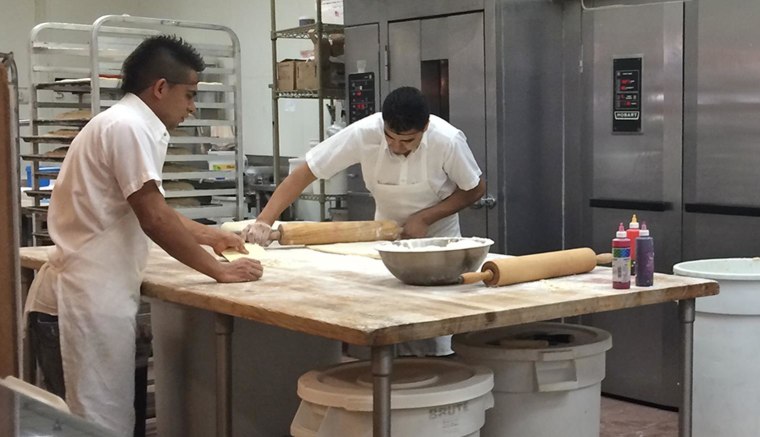 The majority of Flores' vendors are Mexican, Central or Latin American companies, her way of not having to compete with groceries that stock American products. So on La Superior's shelves are Rosa Maria oats, Tres Estrellas cake mix, Tampico "aguas frescas" (fruit drinks), chayote near the broccoli, chile poblano, large pots for steaming tamales, tortilla presses and molcajetes (mortars and pestles).
Although she's part of a newer ethnic group, Flores seems a good fit, based on the city's definition of itself, found on a sign of an historic railway station that the community is converting to a museum.
"Durham's sometimes boisterous, but always fascinating record of entrepreneurship will enliven this space," the sign states.
Cultivating A Hispanic Heritage
The rapid Latino population growth jolted Durham economically and socially. The city, once a railway stop and tobacco and textile town, is now an international leader in research, healthcare and higher education. But the city already has seen another racial minority group succeed. Black Americans thrived in Durham, despite the city's slavery and Jim Crow history.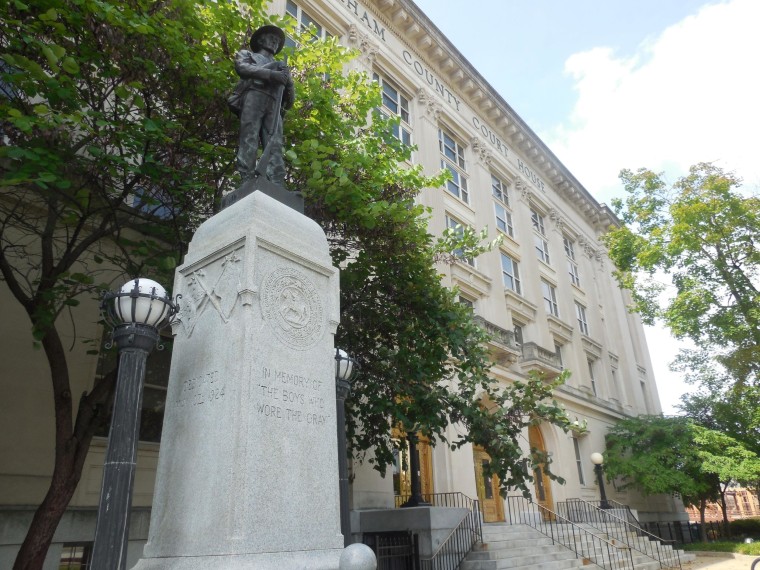 It is home to Black Wall Street, one of the most well known of such black financial districts nationally. The largest and oldest African American-owned life insurance company, North Carolina Mutual Life Insurance Company, and the historically black college North Carolina Central University were established here. About 39 percent of Durham residents are black.
Some of the neighborhoods that were once predominantly African American are now also home to large parts of the Latino population. Hence, on Roxboro Street, La Superior sits next door to a salon that offers African hair braiding.
After a two-decade period of adjustment, this city of Southern heritage appears also to be cultivating a Hispanic heritage.
"The first wave of immigrants, they came with agriculture and construction, to work mostly in those two fields. They didn't have the language, a kind of understanding of the system," said Ivan Parra, executive director of the North Carolina Latino Coalition, a community group, and a senior organizer with Durham Congregations, Associations and Neighborhoods.
Parra said Durham now has Latino entrepreneurs such as Flores, as well as a Latino-owned and run credit union, various restaurants and businesses and a Catholic church with a congregation that has multiplied and added services in Spanish. Also, more Latinos engage in grassroots organizing to reshape the school systems their children are attending, he said.
"People are getting used to the fact that Latinos are here," said Parra, an immigrant from Colombia.
A turning point came when local community leaders and the credit union industry established the Latino Community Credit Union (LCCU) in 2000. Recognizing that immigrants were targeted for robberies because they carried cash or kept it in their homes, local community leaders, including Parra, formed the credit union.
"The only peers we had were African American credit unions and they had grown at a rate of 500 new members per year," said John Herrera, a senior vice president at Self Help Service Corp., a financial organization that provides community development financing for people of color and was instrumental in getting the credit union started.
Herrera, who is originally from Costa Rica, said he first had to convince friends to open accounts, but soon word of mouth spread. The award-winning and nationally recognized credit union now boasts of 11 branches in Durham and 55,000 members.
Unlike middle and upper-middle class North Carolina Latinos like Herrera, who obtained a Master's from North Carolina State University, many of the credit union's initial members had no more than third- or fourth-grade educations. The credit union provided classes to teach such things as compound and annual interest rates and basic checking, Herrera said. When they complete them, the credit union holds graduation ceremonies with caps and gowns that are heavily celebrated.
"For many folks, you see tears, you see families, grandparents, moms, kids," he said. "For many of our members, it's the first time they graduate (from anywhere), so it's a major accomplishment."
Increasingly, places in Durham such as hospitals and social services agencies post signs in Spanish and hire bilingual personnel, Herrera said.
"That in itself, I think, is an indication the community has embraced the growing Hispanic community, the immigrant communities," said Herrera, who was recognized as a White House Champion of Change for his work in the credit union. "They've recognized that we are human beings too and we have the same needs they do."
The Feeling is Mutual
Twenty-year resident Mark Higgins, owner of Hall-Wynne Funeral Service and Crematory, said his staff has had to learn Latino traditions surrounding funerals and burials as a result of the city's demographic change, which he welcomes.
Latino families expect to hold funerals quickly after a death and often want to stay with the body overnight as part of the veneration or wake, he said. Sometimes a family wants a mariachi band to play for the services, said Higgins, who is white.
Higgins is practically giddy to respond in Spanish when asked about the city's Latinos. Having studied Spanish in Pittsburgh as a young man, he's been able to brush off an underused skill, he said.
"Para mí, ha sido un gran placer conocer la comunidad Latina aquí en Durham," Higgins said. Translation: For me, it's been a great pleasure to get to know the Latino community here in Durham.
"Having a heart for the Latino community has greatly enriched my life, so I've introduced other friends and Anglos to what is a great dimension to our community."
Some Troubles
The relationship is far from perfect. The November 2013 death of Jesus Huerta while handcuffed in the back of a police cruiser sparked protests. Some violence drew a heavy police response with tear gas and batons and led to arrests, according to reports. An investigation of Huerta's death found police failed to follow policies, resulting in a short suspension for the officer, but no charges against officers.
About a third of Durham's Latino population lives below poverty level. Many of the Latino immigrants in the city have lower educational achievement than the rest of the population, a gap heightened by the presence of Duke, North Carolina Central University and other nearby universities.
Many Latinos here struggle with English and a number still have no legal status. Flores, the supermarket owner, said her poor English keeps her from moving from legal resident to American citizen.
Nelson Flores, one of several construction workers who provide Durham its most visible Latino presence downtown, said although he earns more in Durham, the cost of living has kept him from getting ahead since moving to the city from Waco, Texas in 2003.
"The manual labor of Hispanics is the best … but Americans have the better salaries … Hispanics can only go so far because many are undocumented," said Flores. "If I had that (legal status), I'd be the boss."
Finding their Footing
Elia Hernandez, a 16-year Durham resident, flits from the kitchen to the breakfast area at a local hotel, restocking fruits and milk and replacing the batter in a pancake maker for guests.
In the time she's been here, she said, Durham's Latinos have gained confidence and become more assertive. She's an example of that, she said. In Mexico, her life was about survival. In Durham, she focuses on not just making a living, but also self-development, she said.
Hernandez had worked in another hotel whose sanitation score, an indicator of cleanliness, was below 100. She promised her manager she'd get him a perfect score. She washed the drapes herself, scrubbed them of stains, cleaned grime and filth embedded in corners and scrubbed floors on her knees, she said.
"I promised him that in one year I'd have the score up to 100 and I did it. In one year," Hernandez said, wearing a proud smile.
For Emma, who did not want her last name used, the school system has been her challenge and her way to weave herself into American infrastructure.
A mother of two, Emma admits she knew nothing about the U.S. school system. That began to change when her son was having attention deficit disorder problems. Her church, Immaculate Conception, started a Committee of Latino Parents. The parents were asked to identify problems they and likely other parents were experiencing.
"This to me seemed very interesting. I volunteered . . . It was awesome and exciting. It was the first time I saw a group of Latino parents who brought problems … but also had ideas and solutions," Emma said.
About a quarter of students in the Durham Public Schools district are Latino, according to the district. Sixty-five percent receive free and reduced lunch.
At a meeting with several community groups, Emma heard Channa Pickett explain Enlaces (Connections), a program formed by Duke University's Durham and Regional Office, where Pickett is senior program coordinator. Enlaces assists Latino students in 4th through 7th grades and their parents.
"We thought, OK, we are Latino parents working for changes in the community and the schools and Channa is working for Duke for changes in education. Why don't we meet with her?" Emma said.
As a result of the parents' work with community groups, the district has added more translators and allowed parents wanting to volunteer to provide passports or consulate ID if they are unable to provide Social Security numbers or other required documents.
This school year, Emma will serve as a member of the PTA, along with three other Latino parents.
"We want to make a difference," Emma said.