The emergency department halls are still fairly quiet at Halifax Health Medical Center in Daytona Beach, Florida.
But in a hospital storage room, dogs are barking exuberantly in a makeshift animal shelter. The 123 dogs, 42 cats, three birds, and even one bunny and one pig are pets, sheltering at the hospital while their owners, all hospital staffers, work.
It's one of the best ways to encourage staff to stay on and provide the vital services needed before, during and after Hurricane Mathew's onslaught, hospital administrators say.
"I feel like this is Noah's Ark for my family," says Dr. Margaret Crossman, interim CEO for the hospital.
Halifax is the only public hospital in Florida's Volusia County and there was never any question that it would stay open as Hurricane Matthew blew up the coast, even as other hospitals closed and evacuated patients.
Related: The Fight to Save Patients During Katrina
And there was little question that key staff would stay. But the hospital, like many others, has learned there is one great way to keep their staff calm and focused during an emergency: families and pets are here, too.
About 100 staff and 800 family members are holed up in the 110-bed center, says Dr. Peter Springer, who runs the emergency department.
"I feel like this is Noah's arc for my family."
"We're the safety net for the whole county. That's what we do," Springer told NBC News. "Without us, patients would have nowhere to be treated."
The hospital's windows are boarded up and giant bottles of drinking water are on pallets in a storage room.
"If the power goes out, we can set our generators up and I think it's a five to seven day fuel source that we have. We can keep going for quite some time," Springer said.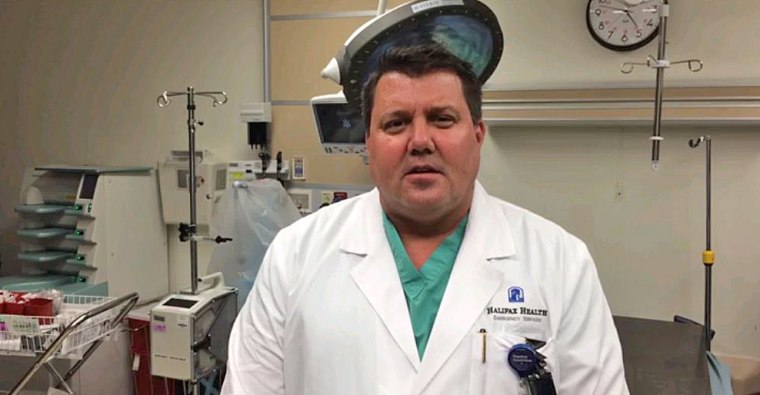 It was calm enough on Friday morning, as the hurricane dithered just offshore. The medical calls will come later, as people venture out.
"People will go outside and begin to work on trees and roofs and things and unfortunately accidents happen." said Jeff Feasal, President and Chief Executive Officer of Halifax Health, the system that runs the Daytona center.
Related: Katrina Survivors Upset Over Pets Left Behind
They'll need staff in place to take care of them — not stuck behind flooded or washed-out roads, across bridges or evacuated to high ground two counties away.
"If they have their loved ones here, then that takes one thing off their mind."
"If we ask them to come here and leave their family members at home, many of them are going to be worried about their family members and spend a lot of time focused on that," Feasel said.
"We need them focused on taking care of patients," he added. "If they have their loved ones here, then that takes one thing off their mind."
Crossman is happy about it.
"My daughters joined me yesterday, so I can be here for the command center and have the girls in the same place," she said.
"I look out the window and it takes just a second to see how rough it is. I'm very thankful and grateful that they're here," Crossman added.