The United States has started military operations in Iraq for the first time in over two years to defend a small community of ethnic minorities with a rich and colorful history — and whose relatives in the U.S. can only listen helplessly to their tales of terror as militants have them trapped.
There are tens of thousands of Yazidi trapped on Mount Sinjar in Northern Iraq by ISIS militants with little food and water, waiting in terror to find out if Kurdish and American forces can beat back the Islamist threat. And as they wait, relatives in the U.S. are holding their breath and hoping for any good news, but not getting much.
Dr. Omed Kashakhi, who does cardiology research in Atlanta, was born in Mosul, Iraq, and raised in the Yazidi-heavy province of Dohuk, before coming to America as a teen with her family. Now 35, she still has relatives, including a older sister, in the now-threatened region.
She heard from them just hours before talking to NBC News on Friday night.
"They just called us, she was crying and pleading for help," said Kashakhi, who couldn't hold back her own tears. "They have no idea where her husband is or his brother, they stayed behind because they wanted to send the women and children first."
Who Are the Yazidi, and Why Is ISIS Targeting Them?
While many Americans first learned of the Yazidi plight when Barack Obama on Thursday said the United States "could not turn a blind eye" to genocide, Kashakhi said she first got a frantic call from her relatives at about 2 a.m. ET, last Saturday, Aug. 2.
The Islamic militants of ISIS attacked "without any warning, they didn't receive any warning," said Kashahki. "They had nobody to defend them, they had nobody over there."
She said the Yazidis knew the ISIS terrorists were rampaging through Iraq, but thought they were only planning to move south towards Baghdad and didn't predict the militants would overwhelm northern Kurdish Peshmerga forces. The Peshmerga, who have reputation as formidable fighters, could barely compete with the heavy — and often U.S.-made — weaponry ISIS has acquired through raids on Iraqi army outposts.
Kashakhi said she has now heard stories of the ISIS fighters killing hundreds of men, and raping women and young girls — often in front of their husbands and fathers — and then selling them into sex slavery.
"They're dying by the minute," she said. "They are getting slaughtered by the minute."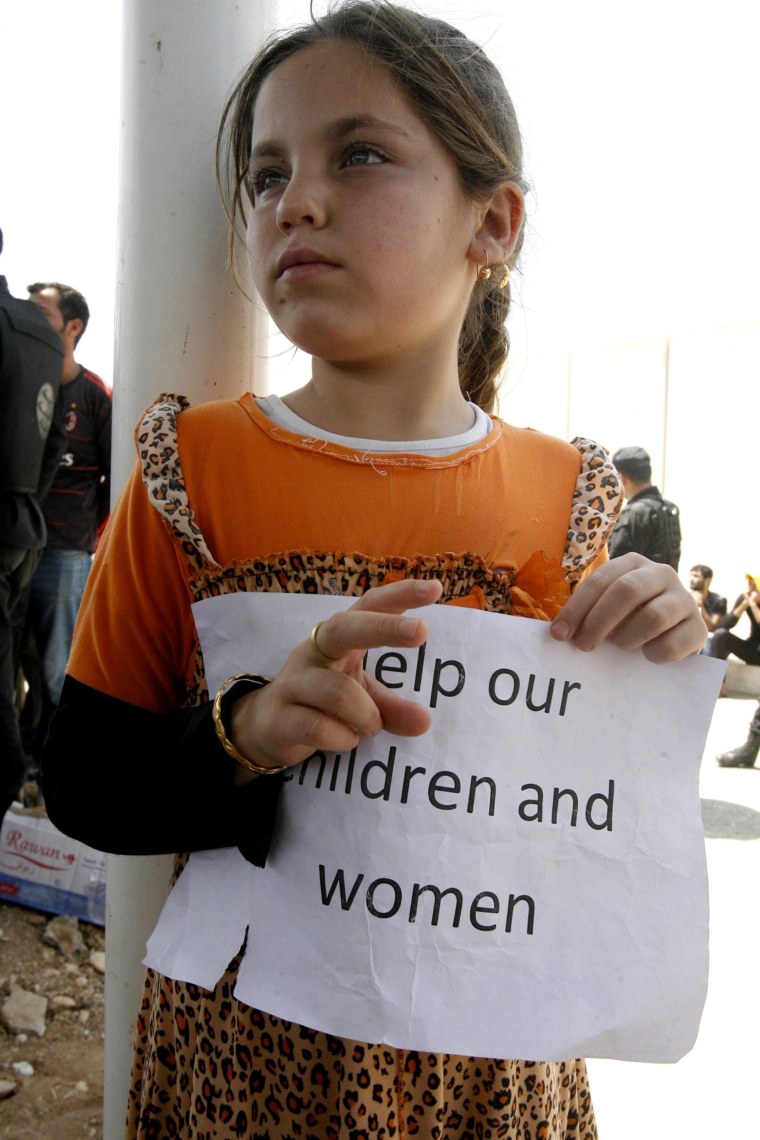 Kamil Amin, a spokesman for Iraq's human rights ministry, said some of the women were being held in schools in Iraq's second-largest city, Mosul. "We think that the terrorists by now consider them slaves and they have vicious plans for them," Amin told The Associated Press. "We think that these women are going to be used in demeaning ways by those terrorists to satisfy their animalistic urges in a way that contradicts all the human and Islamic values."
For days, Kashakhi's mind was full of despair for her relatives, not knowing if any of her people would survive the onslaught. Her first ray of hope was the president's speech.
"Finally when President Obama gave the speech yesterday, finally we had a bit of sense of relief that somebody was finally going to do something about it," she said.
"They have nowhere to go, and no transportation to use to flee the area either and no weapons to defend themselves; they are surrounded by ISIS group. If ISIS get their hands on those innocent people, they would be slaughtered mercilessly. They have no one to defend them, at this time the only hope they have is the United States."
Fighting ISIS in Iraq: Questions Linger As U.S. Strikes
The "campaign of terror against the innocent, including the Yazidi and Christian minorities, and its grotesque and targeted acts of violence bear all the warning signs and hallmarks of genocide," U.S. Secretary of State John Kerry said Friday. "For anyone who needed a wake-up call, this is it."
The U.S. has conducted at least two air strikes against the militants, but it's unclear what effect the bombs are having.
"My cousin said, 'We keep hearing explosions, but we don't know who's firing,'" said Kashakhi. "We have absolutely no idea what's going to happen. I really hope somebody's going to put a stop to ISIS, somebody has to stop these people, there are thousands, thousands of people over there that are on the verge of extinction."
In Nebraska, there is another small Yazidi enclave, where relatives wait for news from the besieged mountain.
Dakhel Zanadinan worked for U.S. Special Forces in Iraq for six years as a interpreter, but now lives in Lincoln, and has not been able to eat or sleep for five days with worry: He has four brothers, four sisters and both parents in the Sinjar region.
He told NBC News he talked to his father early Friday morning, and his dad was crying.
"He told me, 'We are all going to die (on the mountain). This is our fate,'" said Zanadinan. "I told him no Dad, hold on for a few more hours, that the U.S. is taking action and it's going to be pretty soon.
"Today is like their fifth day with no food or water. And the heat, its ike 100 degrees. So we are just hoping that some people can rescue them," he added.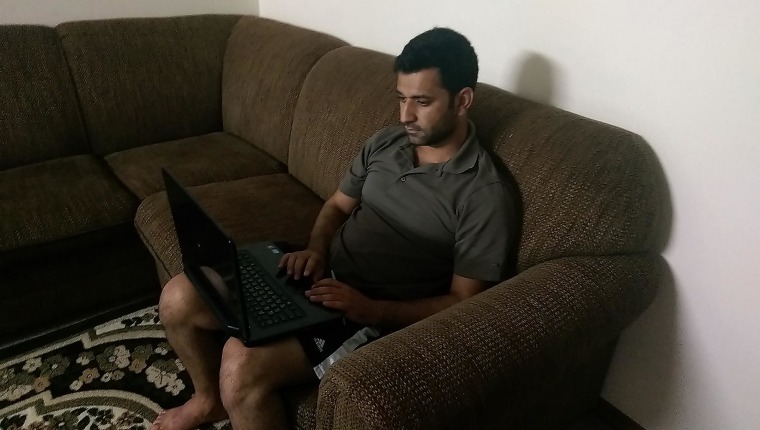 "Its really hard," said Zanadinan. "I can't sleep. All me friends are staying with me and they can't sleep. We don't eat and don't drink because we want to feel what they feel. So we just put ourselves in their position. We wish we were out there so we could all die together. We don't want to survive while they are dying slowly out there."
— with Jim Doblin in Lincoln, Nebraska