After two years of fighting alongside al Qaeda-backed militants in Syria, Abu Saif thought he was done with jihad and ready to return to his "normal" life as a chef in Belgium. But everything changed when Sunni militants swept through northern Iraq and brought their brand of holy war to a global audience.
The 31-year-old cut ties with his old fighting force and put in with the rival Islamic State of Iraq and al-Sham (ISIS), setting out for the militants' stronghold of Raqqa and then, he hopes, on to Iraq.
"Fighting against the Americans and the Shiites is one of my biggest wishes," Abu Saif, 31, told NBC News. "I would go straight to paradise."
For a long time, Abu Saif's life was more about kitchens than gunbattles. The Belgium-born restaurant cook said all of that changed two years ago when he saw a video on YouTube purporting to show Syrian soldiers massacring children. He told NBC News that he felt compelled as a Muslim to leave his life in Belgium behind and fight against atrocities in Syria.
Joined by his younger brother Soufian Alilou, Abu Saif flew to Turkey and later crossed the border into Syria. When they reached Aleppo, the brothers sought out a strong Islamist fighting group to join. Jabhat al-Nusra fit the bill.
The al Qaeda-backed group was waging war against the soldiers loyal to Syrian President Bashar Assad. Al-Nusra also had long been at loggerheads with ISIS, clashing violently with fighters from the rival militant group.
"I'm more useful in Syria than in prison in Belgium"
The brothers from Belgium took up arms with al-Nusra, battling Assad's soldiers on the streets of Aleppo and Idlib. All around them, Abu Saif said, were foreigners who like him had abandoned everything to come fight a holy war – a phenomenon that has Western counterterrorism officials in a tizzy.
"I saw fighters from all around the world," he said. Abu Saif told NBC that his 70-strong fighting force was mostly made up of French and Belgian fighters – but "many brothers," too, came from America, the U.K. and Canada.
The threat of radicalized and battle-hardened Westerners returning from Syria and Iraq to carry out attacks on their home soil has been deemed the biggest security challenge for counter-terrorism officials since the 9/11 attacks – and the ranks of foreign fighters are growing.
Abu Saif doesn't hide the fact that he encouraged others back home to come join him on the battlefield.
"I did it and I'm proud of it," he said. Another one of his brothers heeded the call: Abu Sara came but died in Aleppo in January, according to Abu Saif.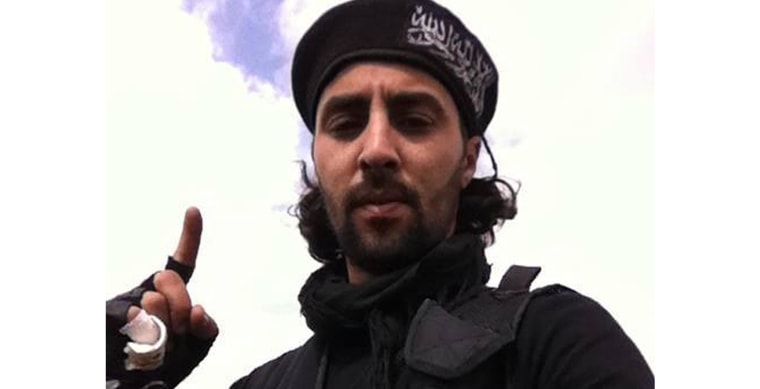 Abu Saif's wife and mother joined him in Syria for awhile, but over time started to miss their "normal life." Abu Saif's mother was the first to leave – she went back to Belgium. His wife of five years ended up in Morocco because of fears she would face arrest back in Belgium. Even his younger brother – and fellow fighter – Soufian Alilou grew tired of the battlefield, turning to humanitarian work for a while before trying to re-enter Europe where he was arrested upon arrival at the airport in the Netherlands, Abu Saif said. That brother remains in prison.
Abu Saif knows he would also face jail if he tries to go back to Belgium. He thinks that getting stranded in Turkey for around 10 days because he had no legitimate passport and no way to get a new one thanks to his fighting experience - forced him to reevaluate his dedication to jihad.
"I got so many phone calls from foreign brothers in Syria who want me to come back," he told NBC News. "I'm more useful in Syria than in prison in Belgium."
When ISIS declared the establishment of an Islamic state covering parts of Syria and Iraq and took their cause global – for all Muslims – Abu Saif took note. The calls became impossible for him to ignore.
"Caliphate stays and Islam extends," he explained, saying that many of his fellow fighters from the battlefields of Idlib and Aleppo left Al-Nusra to join ISIS too.
"I will go with my brothers to Iraq ... I will never come back"
"Now so many of my friends joined ISIS and are living in the Islamic state and I will do the same," he told NBC News. "We are brothers in Islam. We will share everything together. We will eat together, pray together, sleep together and of course fight together."
With fighting at the forefront of his mind, Abu Saif went back to Syria this week and is now on his way to Raqqa - the city of 220,000 where ISIS is at its strongest.
"I will join ISIS in Raqqa and from there I will go with my brothers to Iraq," he told NBC News. "I will never come back."
Cassandra Vinograd of NBC News contributed to this report.