Two ISIS sympathizers were arrested after they threatened to carry out a terrorist attack on a military base that has a U.S. presence, Italian prosecutors said Wednesday.
The men - a Tunisian and a Pakistani national - are accused of targeting Ghedi Air Base, near the northern city of Brescia, which is home to the 704th Munitions Maintenance Squadron of the U.S. Air Force.
Prosecutor Maurizio Romanelli told a press conference in Milan that the suspects had also planned to travel to Syria to join up with ISIS and participate in training.
Romanelli said the men did not have any weapons nor the capability to carry out an attack. But on a Twitter account they had posted messages identifying Ghedi Air Base, Milan's Duomo and Rome's Colosseum as potential targets, The Associated Press reported.
The men were named at the news conference as Briki Lassaad, born in Kairouan, Tunisia, and Waqas Muhammad, born in Gujarat.
"The Pakistani and Tunisian did not just show complete adherence to [ISIS], with plans to travel to Syrian territory to participate in military training with the mujahedeen, but [also] spoke with each other about possible terror attacks within Italy," Romanelli said, according to the AP.
The pair downloaded a manual from the internet called "How to Survive in the West," a jihadi guide on bomb-making, how to escape following an attack and how to avoid detection, officials said according to the AP.
Prosecutors also said the two also were planning an attack against a food packaging company where one of the men worked, the news agency added.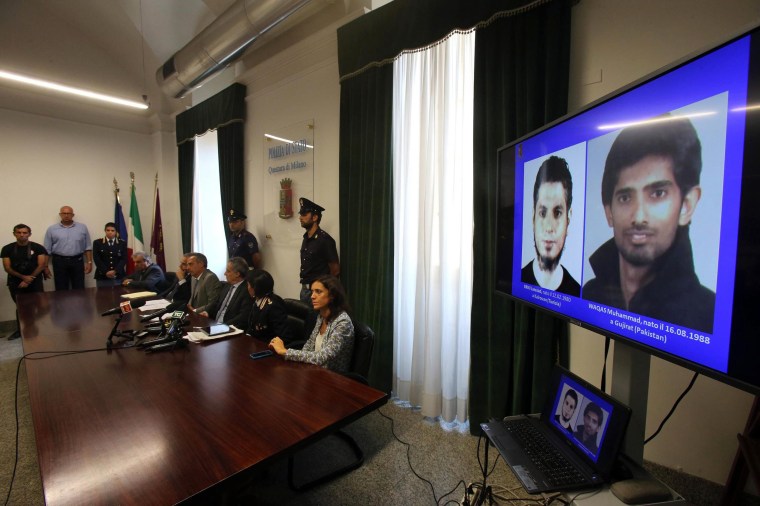 The suspects were arrested in Brescia on suspicion of terror association and subversion, and searches were being carried out throughout the Lombardy region. Both were long-time residents in Italy with families.
According to the U.S. Air Force, the 704th Munitions Maintenance Squadron of the U.S. Air Force is "responsible for receipt, storage, maintenance and control of U.S. war reserve weapons committed to NATO's 6th STORMO Italian Wing (PA-200 Tornado Aircraft). The squadron directly supports NATO and its strike mission."
Both Ghedi and Aviano Air Base, also in northern Italy, are widely reported to have nuclear weapons, though the Pentagon refuses to confirm or deny that, the AP reported.