One year ago, the killing of 18-year-old Michael Brown by a white police officer in Ferguson, Missouri, lay bare the toxic relationship between police and the black residents of St. Louis County, where a jumble of tiny cities use traffic stops, tickets and court fines to pay their bills.
Officer Darren Wilson wasn't prosecuted locally or federally for Brown's death, but the feds did notice the way the cost of policing affects the county's black and poor residents. A scathing Justice Department report blasted Ferguson's version of law and order, calling it racially biased and revenue driven, and strongly urged local authorities to make changes.
A new state law that takes effect this month is designed to answer these criticisms, and relieve the tension between citizens and police. "Senate Bill 5" is supposed to prevent municipal courts from treating residents like money machines, and could even lead to the dissolution of some of St. Louis County's 90-plus municipalities.
"You have a lot of municipalities, particularly in North County, that viewed people as nothing more than ATMS and were really engaged in a lot of predatory practices," said State Sen. Eric Schmitt, a St. Louis County Republican who authored the bill.
But others say the law fails to address the pattern of policing in St. Louis County, and may even be counterproductive. The cities most at risk of losing home rule –- and political power and police oversight -- are the poor, majority-black cities of North County.
"The fundamental failure of Senate Bill 5 is to treat this as if it's only motivated by revenue generation and there's no underlying racism here," said Thomas Harvey of ArchCity Defenders, a non-profit that brought litigation against Ferguson and several other municipalities. "There's a lot of racism and patriarchy going on in those courts that has nothing to do with revenue."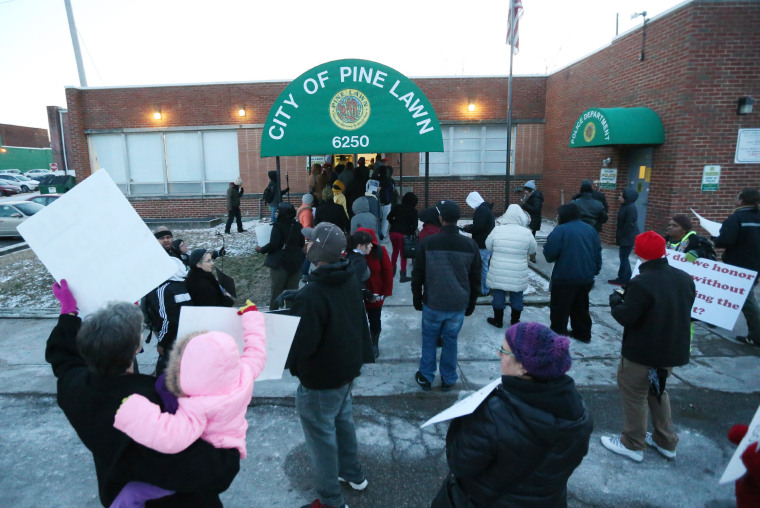 Few dispute the law is a step toward halting some of the most egregious practices in northern St. Louis County's courts. In 2014, an NBC News analysis found that in the preceding years, Ferguson and other nearby jurisdictions had issued citations for low-level traffic and other violations at a per capita rate as much as a dozen times higher than cities in other parts of suburban St. Louis. Many who were hit in the ticket blitz could not afford to pay fines or wouldn't show up for court, triggering yet more fees and fines.
In fiscal year 2014, for example, Ferguson, a city with just over 21,000 residents, filed 11,800 traffic cases and 12,000 "quality of life" ordinance violation cases. It tallied nearly 45,200 outstanding arrest warrants--more than twice the number of people who live in the city. Such policing and court practices, found the DOJ, were designed to bring the city as close as possible to what was then the state-mandated cap of generating 30 percent of its revenue through the court. The report found explicit language in city documents that showed officials wanted to "pump up" such revenues.
Enforcement was not felt evenly -- black drivers were four times as likely as whites to be stopped, and black residents were virtually the sole people to be levied with "quality of life" tickets such as "failure to comply." The practices of the city's police and courts "disproportionately harm African Americans," the Department of Justice found.
Under the new law, starting on Aug. 28th, traffic fines and fees will be capped at a combined $300. People determined to be indigent can't be forced to pay fines they can't afford. People who fail to appear in court for a traffic violation can't be jailed, and those jailed on a different charge must see a judge within 48 to 72 hours.
The law also requires that cities accredit their police departments and limit the percentage of revenue cities in St. Louis County derive from fines to 12.5 percent –- a huge drop from the previous cap of 30 percent. (In Ferguson court revenue had reached 14 percent of the budget in 2014.) If a city fails to meet these standards, it automatically triggers a vote to dissolve.
Many hope the new law will bring changes to cities like Pine Lawn, population 3,300, which derived more than 48 percent of its revenue through its court last year -- and where statistics show black drivers were three times as likely as white drivers to be searched for contraband. (Pine Lawn officials did not immediately respond to a request for comment.)
How much the law will affect Ferguson itself is yet to be seen, but in the past year, Ferguson's leadership has been upturned.
At the time of the Brown shooting, there were only three blacks on a police force of 53 officers, even though the city's population is more than two-thirds black. Now the city has a new city manager, judge and police chief, all of whom are black. The new chief, Andre Anderson, is focusing on improving community relations by having officers get out of their cars, and into the community.
"Those kind of things go along way in bridging that gap, or perceived gap, between the community and the police department," said city spokesperson Jeff Small. He also says Anderson would reject any pressure to increase revenues via fees and fines.
A Change in Policing?
Yet the city has not embraced all change with open arms. Earlier this week, Ferguson rejected a draft proposal from the Justice Department that would have reformed the city's justice system. And while full court data from the most recent fiscal year has yet to be released, a preliminary analysis by CNN indicates that while ticketing is down, the Ferguson court is "still pumping out thousands of new arrest warrants and jailing people over minor offenses."
Small "strongly disputed" CNN's findings, though he would not go into specifics.
Some local observers think that police in Ferguson and other municipalities have become more cautious since the Brown shooting. Frank Vatterott, a municipal court judge in Overland, told NBC News that he believes courts across all of St. Louis County have seen fewer minor offense cases in general over the past year because police are now wary of having their enforcement criticized.
But whether or not there's really been a county-wide shift in police attitudes, the new state law intended to change police behavior may have a limited impact.
Part of the issue is Senate Bill 5's focus on what percentage of a city's revenues comes from tickets. Viola Murphy, mayor of majority black Cool Valley, thinks that using ticket revenue as a measure will take an outsized toll on poor black communities, while doing little to address racially disparate policing in more affluent cities.
The law, Mayor Murphy told NBC News, "is going to hurt a lot of people. They're strictly talking to the African-American cities."
The reason is that some of the county's affluent, majority white towns can have a relatively low percentage of ticket revenue while still writing a large share of tickets to black motorists. For example, in upscale Ladue, where blacks make up less than 1 percent of the population, 14 percent of traffic stops last year involved a black driver. The city is unaffected by the revenue trigger of Senate Bill 5, however, because a robust tax base means tickets are less than 12.5 percent of city revenue.
A spokesperson for Ladue said the city doesn't target black drivers, and attributed the traffic stop stats to the two major highways that cross the town. She said Ladue is voluntarily monitored by the Justice Department and has not been found to be discriminatory.
Senate Bill 5 also does little to change how cities deal with "quality of life" violations. Municipalities across the county have passed ordinances that allow police to ticket for mangy lawns and sagging pants, out-of-season Christmas lights and unlicensed dogs. Failure to appear in court for one of these tickets can, even under the new law, still trigger jailing. And money generated from these tickets does not go toward the 12.5 percent revenue cap.
"Unfortunately a lot of the courts that are sort of realizing the time may be over for traffic violations are switching over to quality of life violations," said Brendan Roediger, a St. Louis University law professor who has joined with ArchCity to bring litigation against several municipalities. "By and large I would say that the municipal courts look pretty much the same."
Next month, the Ferguson Commission, an independent advisory body appointed by Missouri's governor last November, will come out with a report that may recommend changes that go beyond Senate Bill 5, such as consolidating all of the county's 80-plus municipal courts.
But a year after Ferguson, the most enduring legacy may not be changes in policy but the exposure of an unequal system that was the backdrop for the life and death of Michael Brown. Now no one can say they do not know -- including those who presided over it.
"I didn't realize people didn't show up [to court] because they were afraid they were going to get arrested because they didn't have the money," said Judge Vatterott. "I didn't know that."