Intensifying violence perpetrated by Islamist radicals and government troops in Nigeria has for the first time claimed more than 10,000 lives in just 12 months, according to new figures.
The rate of violence in Africa's most populous country is comparable to the civilian death toll in Iraq, where a U.S.-led coalition is fighting ISIS.
Nigeria's bloodiest year is the result of a relentless insurgency by the Islamist sect Boko Haram. Bombings, shootings and kidnappings have become weekly events, and the group is estimated to control an area of northeast Nigeria the size of Rhode Island.
Nigeria's President Goodluck Jonathan has vowed to defeat Boko Haram. But human rights organizations say the carnage has only been exacerbated by the sometimes brutal response of government troops, many of whom have been accused of human rights abuses against civilians.
"The violence has become so bad that people don't have lives anymore," said Sen. Ahmed Zanna, who represents Nigeria's violence-plagued Borno state. "They cannot go to their farms, they cannot go to their businesses. It dominates people's lives every single day. They have no help from the army, the people who are supposed to protect them. They are scared, and that fear is real."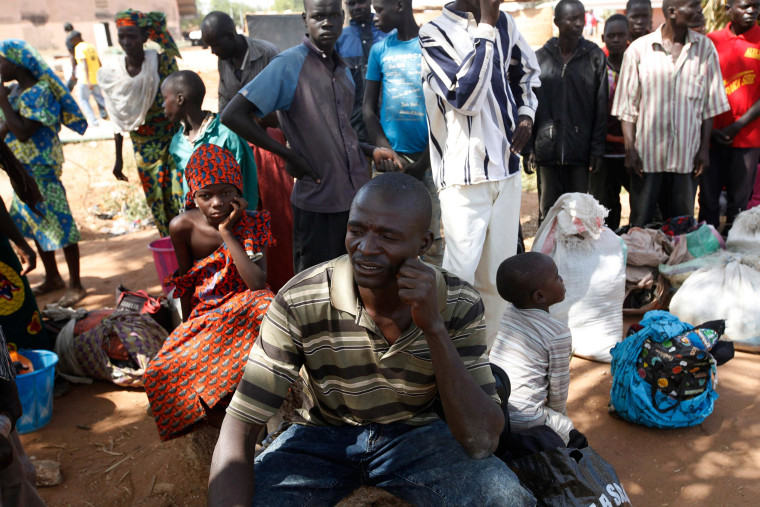 According to data compiled by the Council for Foreign Relations (CFR) and analysed by NBC News, 10,340 violent deaths between November 2013 and November 2014 were linked to Boko Haram-related violence. In that period around the same number of civilians, 10,733, were violently killed in Iraq, according to the United Nations.
"The state security services claim that everybody it kills is a member of Boko Haram, and Boko Haram claims that everyone they kill deserves to die," said former U.S. ambassador to Nigeria John Campbell, who is now a senior fellow for Africa Policy Studies at the think tank. "Most of these people, however, are likely to have been innocent."
Because CFR's statistics are aggregated from media reports, which are limited by a lack of government access and transparency, Campbell said they are likely an understatement of the true scale of the slaughter.
"The group is killing anyone who is not a member of Boko Haram"
Boko Haram roughly translates to "Western education is a sin." Relatively little is known about its aims or command structure, but the group has vowed to destroy the Westernized economy of southern Nigeria, and set up its own state based on strict Islamic law.
Nigeria's 173 million people are divided pretty equally between the Christian south, and the largely underdeveloped Muslim-majority north. It is also rated as one of the world's most corrupt countries.
Boko Haram gained worldwide infamy in April when its members kidnapped 276 schoolgirls from the town of Chibok in northeast Nigeria.
The incident was "just a drop in the bucket in the context of the total number of people kidnapped in recent years," according to Campbell. But it put the global spotlight on Nigeria, driven by the social media hashtag #BringBackOurGirls.
This online movement gained support from Michelle Obama and Nobel Peace Prize winner Malala Yousafzai, among others.
In response, the White House dispatching drones and other surveillance aircraft to search an area in northeast Nigeria about the size of New England. Some 80 U.S. personnel were deployed to neighboring Chad to assist with the hunt. But the girls have not been found.
Since then the killings and kidnappings have only gathered pace; the death toll in the past 12 months has dwarfed any other year.
According to Jacob Zenn, an analyst at The Jamestown Foundation in Washington, D.C., it is not only the similar death toll that links Boko Haram and ISIS. The Nigerian group has begun mimicking the tactics of its Iraq and Syria-based jihadi cousin in a number of ways.
Boko Haram has shifted from conducting hit-and-run attacks to attempting to make territorial gains, according to Zenn. In the summer, after praising the work of ISIS, it too declared its own religious kingdom, called a "caliphate."
Zanna, the Nigerian senator, said six of his eight electoral wards are now under the control of the militants.
"They have clearly reached out to the Islamic State in the way they now use the flag of the Islamic State and its chants," said Zenn, who has advised the State Department on Boko Haram.
Zenn added that, like ISIS, Boko Haram has also become more indiscriminate in its slaughter. "Basically the group is killing anyone who is not a member of Boko Haram, on the grounds that if you are not choosing to join their jihad [or religious war] then you are against them," he said.
While Zenn and Campbell agree it is in U.S. interests to help Nigeria combat Boko Haram, the maelstrom shows no sign of abating. The group will almost certainly attempt to disrupt the country's elections in February next year, in which President Jonathan is seeking a second term in office.
The president asserted earlier this year that the extremists presented a "temporary challenge." His media adviser, Reuben Abati, declined to comment on the CFR statistics.