The first thing that hits you is the wire.
It's everywhere in South Africa, high voltage lines strung up atop the towering walls surrounding homes, and 'security villages,' even whole shopping malls. So you get it right away: fear of violent attack is ever present in this country.
We're always hearing that America is an unusually violent country. Here, we discover, the homicide rate is almost seven times higher. Wealthy South Africans, blacks and whites, tell us security is a very real part of life in this country.
We are trying to understand Oscar Pistorius's claim that he lives in constant fear of violence. We discover that he is by no means alone. Source of the violent crime? Much is blamed - right or wrong - on massive illegal immigration. Hundreds of thousands flood the country from poorer parts of the world and when hoped-for jobs don't materialize, some migrants turn to crime.
But then, courtesy of so many years of inequality, South Africa already suffers from a yawning gap between rich and poor. We hear about this as we cruise past sparkling new industrial parks, speeding along a modern freeway in the back of our car. No one blames Oscar for worrying about crime; many South Africans worry as much as he.
We visit an upscale self-contained shopping district: insanely expensive frocks, worn by beautiful people sipping exquisite local wines in tony bistros. Over lunch in the summer sunshine - it is mid-summer here - we discover that a member of our South African crew owns an olive orchard. We're treated to a discourse on the very best South African oils, why they're as good as any in the world, how they're made, and how to distinguish between the exceptional and the merely good.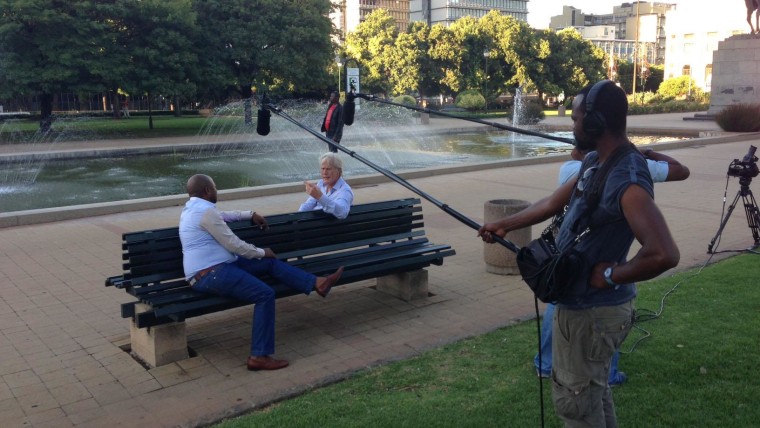 A second crew member helps us understand why Nelson Mandela is so revered by blacks and whites alike, how human and humane the man was, how his smile would light up a room, or a whole stadium full of whites who once may have believed the only acceptable path for them was apartheid. This is an emotional story, the true story that inspired the book and movie "Invictus." Our man was there, was moved in a way he hasn't forgotten. It helped him deal with other memories of his years of filming the horrors before Mandela's freedom.
So we listen, and watch Lamborghinis driven by sleek young men growl around narrow, fake-Italian streets. And the whole place is surrounded by miles of 220 volt wire.
A smart, successful young woman tells us everyone knows you can't really trust the police. 'That's a huge problem for us,' she says. 'How can a society function if law and order doesn't operate in a predictable, orderly way?' Not quite her words, but close. She knows people, she tells us, who were stopped on the highway for a minor infraction and wound up in jail for the weekend. This happens with disturbing frequency, she says.
If you have money, you have private police and protective walls and electrified wire. Directly behind Oscar Pistorius's house, in a gate guarded security suburb of Pretoria, is a game park which seems to have morphed into a conference center. Visitors can take a mini safari and see giraffes, lions, and cheetahs wandering around a few yards from the high wire-enhanced wall that borders and guards Oscar's house. Could an intruder have entered from here? Seems doubtful, but who knows?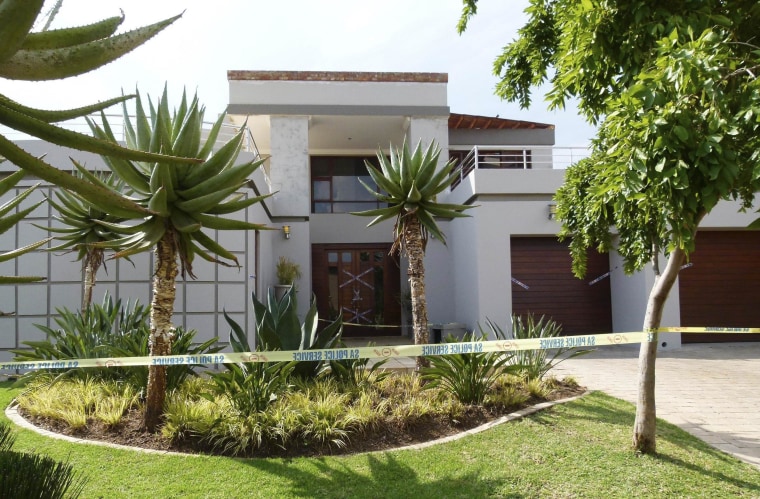 A neighbor tells us about a humble and sweet-tempered Oscar. Other neighbors avoid talking to us. Some will be testifying but have been told not to talk publicly until there's a verdict. What will they say at the trial? That they heard arguing, shots, screams and more shots? That's the testimony trial watchers will be waiting for. That, and the security guard who called Oscar's house after the shooting and was allegedly told - by Oscar - that everything was fine.
Johannesburg and Pretoria, where Oscar lives, are a commuter ride apart. To a visiting American, the region is both familiar and slightly foreign. In part of Johannesburg—the financial hub of South Africa--I'm thinking, this could be Toronto, or here we're driving through what looks for all the world like Beverly Hills.
Except the walls are topped with wire that could fry your dinner.
And yet we can't get over how friendly the people are: blacks, whites, everybody, apparently. Have we forgotten how to be this way? Were we ever?
The courthouse, in downtown Pretoria, is a hulking brown brick structure with courtrooms lined in paneling bruised by a generation or two of constant use. We do a little unscientific estimate: room for 80 people, maybe? Hundreds of reporters alone have applied to sit here, along with the staff and gear for TV coverage.
Television will be allowed to broadcast some, not all, of the trial. Expert and police testimony, yes. Private citizen testimony, no.
A huge issue hangs over the Pistorius case, an issue that comes up often in conversation here: domestic violence. It's a big problem in South Africa. More than a few times we hear about Reeva Steenkamp's campaign against domestic violence and the irony of her death at the hands of her lover.
So think of this: there are no juries in South African courts. All cases are decided by judges alone. We ask around, wouldn't you rather be judged by a jury? No, they tell us, juries are far too unpredictable, but you can trust a judge. Judges, they tell us, know the law and how to apply it. Oscar's judge is a woman known for her struggle to contain domestic violence. But not a whiff of concern has been expressed that she will be anything but fair.
A local reporter recounts the story of another famous South African sports hero who - a decade ago - shot at what he believed was an intruder. And killed his own daughter. He was set free, having "suffered enough."
What will happen to Oscar Pistorius?
Dateline's report on the case against Oscar Pistorius airs Friday at 8p/7c.