When he was locked up in Texas awaiting trial for killing and dismembering his neighbor, real-estate scion Robert Durst taped himself practicing testimony -- and then pressed his wife on whether he sounded "sincere."
"It sounds like an A plus?" Durst asked Debrah Lee Charatan in a jailhouse conversation that was recorded in 2002 and played during a hearing in Los Angeles on Thursday.
"Oh yes," Charatan replied.
"And the tone of my voice sounds sincere?" he asked.
"Yes," Charatan said.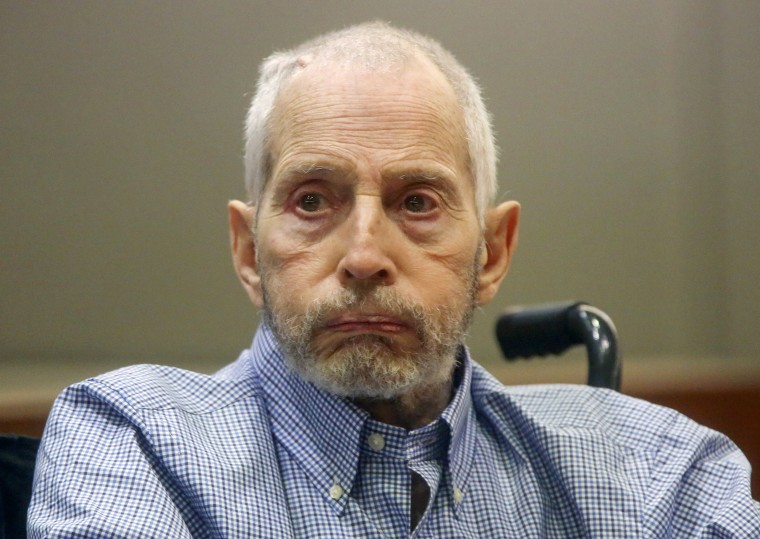 When Durst later testified about the 2001 death of Morris Black in front of a jury, he claimed he accidentally shot the elderly neighbor during a struggle over a gun and then chopped him up in a panic. In a shocking verdict, he was acquitted of murder.
Now Durst is set to go on trial again — this time for the alleged murder of his confidante, Susan Berman, in 2000. Prosecutors say she was killed because she knew too much about the disappearance of Durst's first wife, Kathie, who went missing in 1982 and is presumed dead.
Durst, the eccentric heir to a New York City real estate fortune, has pleaded not guilty and denies he was behind Kathie's disappearance or Berman's death.
Both cases and the slaying of Black were the basis for the HBO series "The Jinx," which brought widespread attention to Durst just before he was arrested for Berman's murder in 2015.
The trial is not expected until next year, but the prosecution has been collecting testimony from what are known as conditional witnesses who might not be available by the time a jury is seated.
Among those testifying this week was Stewart Altman, a longtime friend of Durst who also served as his personal attorney. He said Durst made the practice tapes in jail before the Morris Black trial.
"I listened to them and destroyed them," Altman said. "They were work product."
Altman also testified about Durst's portrayal on the big and small screen.
Of the 2010 movie, "All Good Things," which was based on Durst's life, Altman said his former client liked the movie and "liked the fact that Ryan Gosling was playing him."
Asked about Durst's interview for "The Jinx" — which ended with Durst blurting out on a hot microphone that he had "killed them all" — Altman said he "begged him not to do it."